PlayStation 5 enjoys second biggest month so far | UK Monthly Boxed Charts
March 2021 can't match March 2020, but it was still a strong month for physical game sales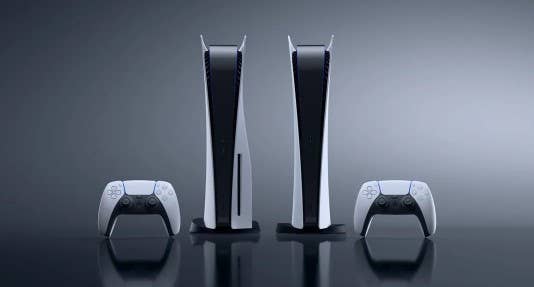 PlayStation 5 was the best-selling console in the UK for a second month in a row.
Sony's new console enjoyed its second biggest month so far, and it's already overtaken PlayStation Vita, Wii U and Dreamcast in terms of sales in the UK.
This is based on GfK Entertainment data.
There was new stock of Xbox Series X and S as well, which saw a boost in sales for Microsoft's new machines. It means that for the first time in years, Nintendo Switch was in third-place for the month.
However, Switch sales continue to trend upwards. Year-to-date, the console is up 13.6% over the first three months of 2020, not bad for a machine now entering its fifth year on the market.
March 2020 was a significant month for physical games and consoles sales in the UK due to the start of the COVID-19 lockdown, and as a result the comparisons for 2021 don't look great.
217,268 games consoles (panel retail data, not upweighted) were sold in the UK over the four weeks to April 3rd, 2021, which is an impressive figure but still down 7.6% over the same period in 2020.
In terms of boxed software, just over one million games were sold during March 2021, which is down 20% over the same period in 2020. Nintendo Switch dominated the charts for March, with Animal Crossing: New Horizons the best-selling game of the month 12 months after it launched, followed by Super Mario 3D World + Bowser's Fury at No.3, Monster Hunter Rise at No.3, Mario Kart 8: Deluxe at No.5.
The one non-Switch game in the Top Five is PlayStation-exclusive Spider-Man: Miles Morales at No.4.
One area of the industry that did grow year-on-year was the accessories market. 886,091 accessories were sold during March, which is a rise of 9% over February, and almost 14% up over March 2020. So far this year, accessory sales are up 36.7% with 2.57 million headsets, controllers and more being sold through retail.
Sony is the no.1 accessories provider for March, just ahead of Turtle Beach. This was driven by accessories for PlayStation 5, including the DualSense controller (the No.1 accessory of the month), the Pulse 3D headset (No.5) and the DualSense Charging Station (No.7).
Here is the GfK March Top 20 UK Boxed Games
| Position | Title |
| --- | --- |
| 1 | Animal Crossing: New Horizons (Nintendo) |
| 2 | Super Mario 3D World + Bowser's Fury (Nintendo) |
| 3 | Monster Hunter Rise (Capcom) |
| 4 | Spider-Man: Miles Morales (Sony) |
| 5 | Mario Kart 8: Deluxe (Nintendo) |
| 6 | Super Mario 3D All-Stars (Nintendo) |
| 7 | FIFA 21 (EA) |
| 8 | Minecraft: Switch Edition (Nintendo/Mojang) |
| 9 | Call of Duty: Black Ops Cold War (Activision) |
| 10 | Grand Theft Auto 5 (Rockstar) |
| 11 | Ring Fit Adventure (Nintendo) |
| 12 | Assassin's Creed: Valhalla (Ubisoft) |
| 13 | Minecraft Dungeons (Microsoft) |
| 14 | Super Mario Odyssey (Nintendo) |
| 15 | Luigi's Mansion 3 (Nintendo) |
| 16 | Just Dance 2021 (Ubisoft) |
| 17 | Watch Dogs Legion (Ubisoft) |
| 18 | 51 Worldwide Games (Nintendo) |
| 19 | Pokémon Sword (Nintendo) |
| 20 | LEGO Harry Potter Collection (Warner Bros) |