PlayStation 4 sells 320k in Japan
Two-day sales figures beat Wii U and PS3, global total now at least 5.6 million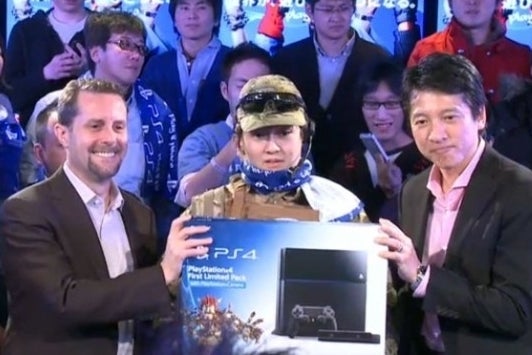 Sony's PlayStation 4 sold just over 320,000 units in its first two days in Japan.
According to the popular Japanese gaming magazine Famitsu, 322,083 consoles were sold in two days in Sony's native market - narrowly beating the Wii U, which sold 308,570 units in the same time period.
However, the PlayStation 4 showed a marked improvement over its predecessor, the PlayStation 3, which reached just 88,443 units. Based on Famitsu's data, the PlayStation 2 remains Sony's fastest selling console in Japan, hitting 630,552 units in its first two days on sale.
The PlayStation 4 was released in Japan on February 22, around three months later than its launches in North America and Europe. All previous PlayStation consoles hit the Japanese market at least a few days before every other territory, so Sony's reversal for the PlayStation 4 seems to represent a fundamental shift in the company's priorities.
And Sony certainly hasn't suffered as a result. Last week, Sony confirmed that it had sold 5.3 million PlayStation 4 consoles worldwide. Now that the console is out in Japan, that takes the total to at least 5.6 million.