Planning a Remedy Dev Day
How the Finnish studio puts on its own one-day conference for the entire company, all for about the cost of sending five people to GDC
(On April 6, Remedy Entertainment held its second annual Remedy Dev Day event to foster professional development among its employees. After receiving a number of questions from other developers interested in running their own such events, Remedy head of communications Thomas Puha wrote an overview for GamesIndustry.biz covering a bit of the why and how.)
At Remedy we believe that information sharing should be an important part of our career as game developers. It not only helps us learn from the experience of other studios, but it also aids us in getting inspired to make even better video games. These are matters that our HR and management really care about.
However, the financial reality is that we cannot send our entire 165-person studio to Game Developers Conference, which is something I know most game studios sympathize with. But it turns out, for the cost of sending roughly five of our people from Finland to attend GDC in San Francisco for a week, you can do a full day off-site event for your entire company.
That's why last year we started Remedy Dev Day, an off-site conference where we bring in guest speakers from game development studios across the world to share their knowledge with our employees. We obviously send people to GDC every year, it's an awesome event, but only very few can attend, so we wanted to find a solution.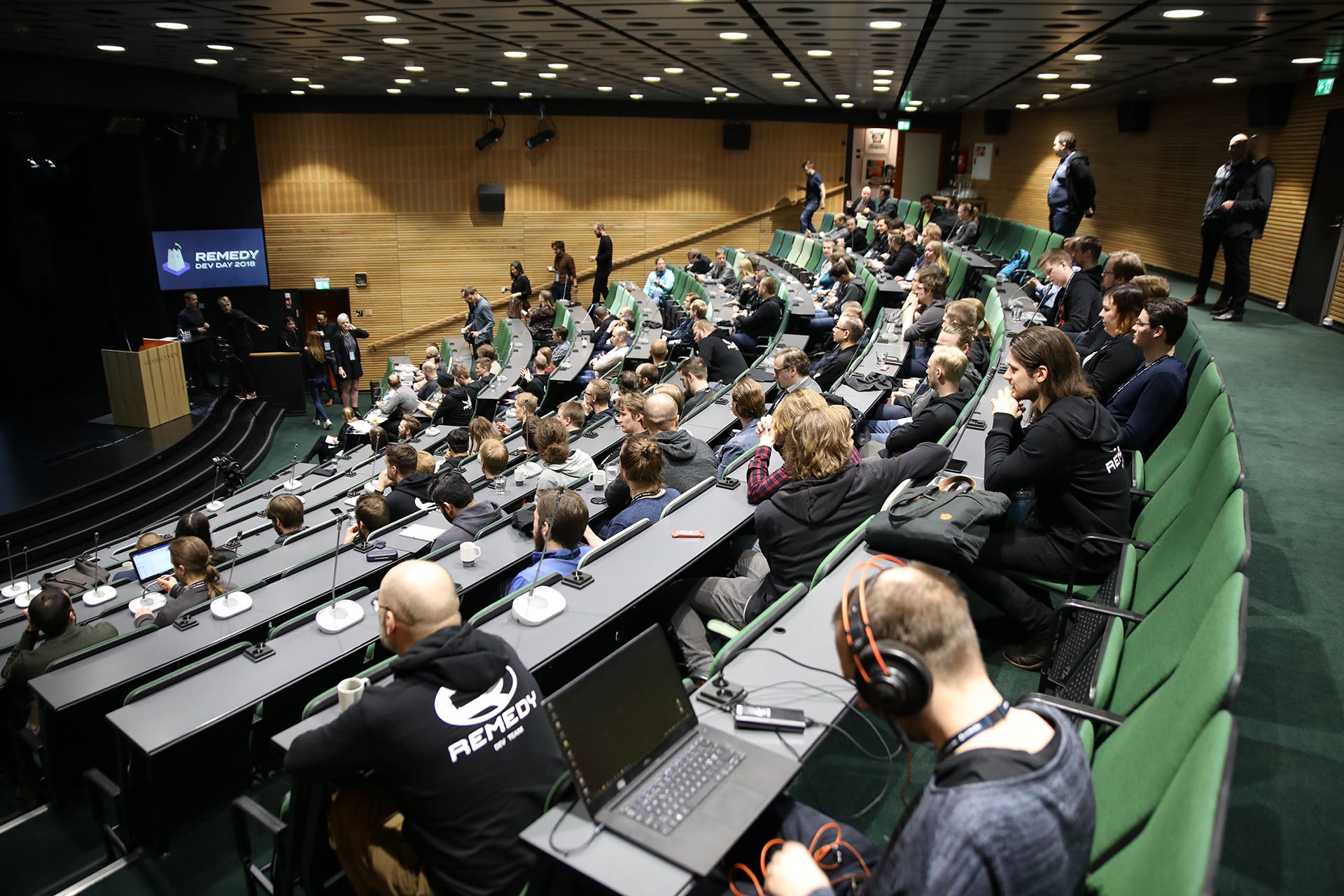 Watching presentations on YouTube is not the same thing as absorbing a presentation live, getting to ask questions and talking with the attendees in a more private and casual setting. One of the things that tends to happen at game development studios is that everybody is very heads down making the game, and as a result ends up having a bit of tunnel vision. Often it's helpful to take a breather and look at how other studios solve (or don't!) their problems and learn from them.
As we say at Remedy, making games is really hard, and it helps to talk with other professionals and share knowledge so we can all get better. The more you know about making games in general - whether it's brand building, rigging or quest design - the better you can understand the whole process. That makes you a better developer.
How we did it
The event is put together by our small HR and Remedy Media Unit teams. We do pretty much everything internally to save on cost. We handle everything from arranging speakers' flights and hotels and planning the day, ordering the catering, to creating the schedule, putting together the lanyards, picking up the drinks for the evening, and taking care of the logistics at the venue. And of course, there is the required goodie bag.
Game developers in Finland have historically been very open with each other, and we are always trying to help each other out. Remedy definitely tries to do its part in this, and along with that, we are friendly with many international game studios. It also helps that we have been around for a while: 2018 marks our 23rd year of being a game studio.
We have had amazing guests from studios like Guerrilla, Avalanche, Certain Affinity, Creative Assembly, DICE, IO and others. And this year, for example, we had former GRIN, Paradox and Starbreeze developer Mattias Wiking (now at Orch Star Studios) talking about "game vision" using examples from the games he has worked on over the years. Several employees told me that they didn't think the topic of the talk would matter to them, but in the end they found it really interesting and thought it was good for them to learn. This is what we want to hear and see: People getting a better understanding of various aspects of making video games.
Remedy of course returns the favor to the studios allowing their people to present at our event. There have been quite a few instances by now where someone from Remedy's dev team visits another studio to do a talk on something that studio is interested in.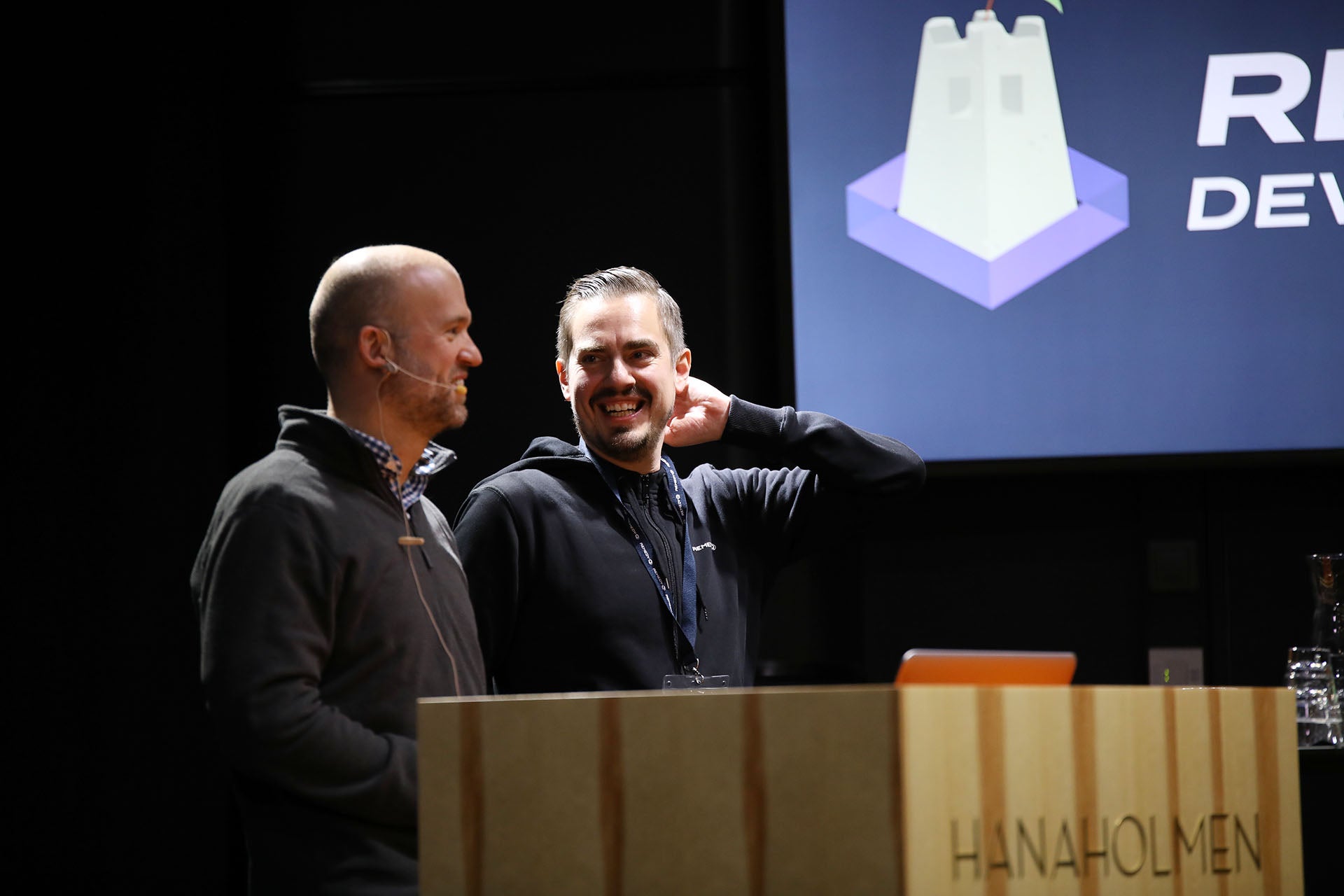 It's difficult to hit that sweet spot with presentations that are not too specialized, yet cater to the studio at large. Obviously, we cannot cater to every discipline. We try to see who is available to do talks and what would fit into what subjects we would want to hear about, and we take it from there.
Last year we had nine talks on a single track, some of them rather tech heavy, which made for a very long day. So, for this year for part of Remedy Dev Day we had two tracks after lunch. One track was more technical, the other less, so that people could choose which one to attend.
Communication is always a challenge, especially in game dev, so the great side effect of Remedy Dev Day is that it fosters a lot of discussion amongst our development teams. The honest feedback we have gotten based on the talks is definitely going to cause us to take action internally and see how we can take our employees' suggestions on board. We have done surveys after the events and the response is quite unanimously that our employees feel Remedy Dev Day is really useful and helps their development.
Finding the right time for Dev Day is difficult. I'm pretty sure all HR teams know how hard it is to fit events into the production calendar. It seems like there's never a suitable time to take a day off. Either there is a milestone close or some other critical production matter that makes it difficult for the entire studio to attend. We just accept that spending one day doing a great event is worth it. This year we had the event on a Friday so that everyone missed as little work as possible and guests could make it into a longer weekend in Helsinki, because flying in and out right away sucks. (We also covered the expenses of our guests' flights and accommodation.)
When it comes to speakers, we are respectful of everybody's time. Thus we are also completely fine with the fact that the presentations have already been done elsewhere. We know that making and rehearsing presentations takes a lot of time, and our event is not exactly GDC in stature. The value really is in getting to talk to the guests and having the presentations raise discussion among our teams. I definitely want to give a big shoutout to our guest speakers and all the people behind the scenes who made it happen.
We are definitely making Remedy Dev Day into an annual event. While it is time-consuming to organize, it's become a fun thing to do. Obviously, it costs money too. The biggest expense outside of time is the venue and the food. Compared to that, travel and accommodation takes up a fraction of the whole budget. So studios who have large dedicated spaces for companywide meetings can definitely save by doing the event in their own space, though we think going offsite is a big part of making the event feel like a "real" conference and helps people focus.
Considering how much we get out of this, it's very easy to make the case that organizing your own internal developer conference is worth it.
Remedy Dev Day 2018 feedback from internal company-wide survey
I learned something at Dev Day that I can use/take advantage of in my own work: 2.9 out of 4
I felt inspired by Dev Day: 3.1 out of 4
I enjoyed Dev Day: 3.6 out of 4
I would like Remedy to arrange something similar in the future: 3.9 out of 4