Ouya's Free The Games fund redesigned in face of controversy
"Too many loopholes" in previous incarnation, says Uhrman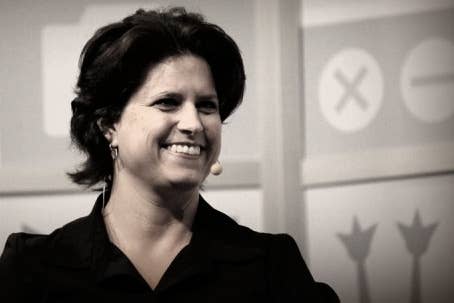 Ouya CEO Julie Uhrman has announced an overhaul to the company's troubled Free The Games funding initiative, admitting that the initial idea was plagued by "too many loopholes."
Those "loopholes" were suspected to have been exploited by several projects, using spurious donations to game Ouya's fund-matching promises. Some of those projects, like Dungeons: the Eye of Draconus, have now been withdrawn from the program at either Ouya or their creator's request.
Initially Uhrman defended the program, but has now admitted that the first draft left the door open to exploitation. However, she still stands by the ethos of the fund and says that the company will continue to refine the rules until they find a model which works.
"The program isn't working," Uhrman admitted in a video update. "Regardless of my best intentions, there are just too many loopholes."
To close those loopholes, Uhrman has instigated a number of changes. Projects now need only raise $10,000 to qualify instead of the previous total of $50,000, but each $10,000 raised must come from at least 100 backers, preventing the pattern of suspiciously large donations seen in the cancelled projects.
"The intent is for the community to want your game, not a small number of well-resourced supporters," Uhrman continued. "We felt we needed to look at the minimum number of backers to make sure it is in line with the spirit of our program.
"You need to play by the spirit of the fund as much as the rules. We can't account for every loophole. So, if we, or our community, feel you are gaming the system, we will review your project (and consult with our developer friends for their advice) and determine whether to fund it or not."
Part of the terms and conditions for the funding now include a requirement to "play by the spirit of the fund as well as the rules." What exactly that spirit consists of or how closely it will be enforced remains to be seen.