OnLive launches on LG's Google TVs
The game streaming service checks off another box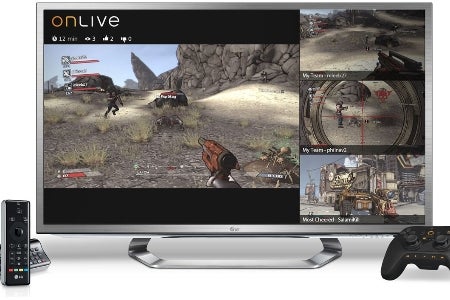 OnLive has announced the release of its game-streaming app on LG G2 Series TVs powered by Google TV. The OnLive/LG partnership was first revealed during this year's E3, where OnLive demoed the service on LG televisions. No extra console is necessary, just OnLive's wireless controller. Current LG G2 owners can download an update for their sets, while the app will come pre-installed on all LG G2's sold from now on.
"We are proud to be working with OnLive to deliver an incredible home entertainment experience with a full range of interactive viewing and gaming possibilities on LG G2 Series TVs," said Georg Rasinski, Director of Home Entertainment Brand Management, LG Electronics USA. "OnLive's premium-quality gaming service offers customers a great opportunity to test the dual-core performance of our G2 Series TVs. We think customers will be very impressed."
"Our partnership with LG has enabled us to take an important step forward in making high-end gaming accessible to everyone, across a variety of consumer electronic devices," said OnLive chairman Gary Lauder. "Gamers can now enjoy hundreds of amazing console-quality games with no new hardware necessary beyond an OnLive controller and LG's fast and intuitive Google TV."
This is not the first game-streaming service that LG has partnered with: back in January, Gaikai announced that its service would be integrated into LG Cinema 3D TVs.