Oculus Rift delayed to March
Dev kits for Kickstarter-funded virtual reality headset will feature better (but heavier) screen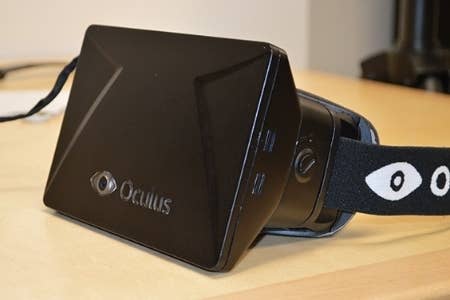 Developer kits for the Oculus Rift virtual reality headset won't make it out by year's end after all. Oculus announced the delay in an update to the headset's Kickstarter page today, saying it now plans to send out the kits beginning in March.
"Designing, sourcing, and manufacturing thousands of developer kits is no small feat," the update explained. "Since our Kickstarter, we've been up against the wall, working around the clock to produce and distribute over 7,500 units in just four short, crazy months. We've had to modify our original design for mass-manufacturing and, at the same time, balance additional features with our tight schedule."
The biggest change to the original design is in the display the headset uses. The 5.6-inch display that was originally used for the prototype headsets has been discontinued, forcing Oculus to find a replacement. The company decided to go with a 7-inch display that it says "beats the old display in almost every key area including response time, switching time, contrast, and color quality." The downside to the new screen is that it will make the headset about 30g heavier.
Oculus is also creating a new motion sensor for the Rift. Where the prototypes used off-the-shelf parts, Oculus is developing its own replacement designed with the headset in mind. The new sensor has a faster refresh rate than its predecessor, and packs in a magnetometer in addition to an accelerometer and gyroscope.
The Oculus Rift began as a Kickstarter project in August with a $250,000 goal. It blew past that mark in less than a day, and finished with more than $2.4 million in backing a month later. The project also garnered enthusiastic endorsements from a number of big names in the industry, including Gabe Newell, John Carmack, and Cliff Bleszinski.