Oculus Gears up for mobile
Meet Max Cohen, the VP driving virtual reality on handheld devices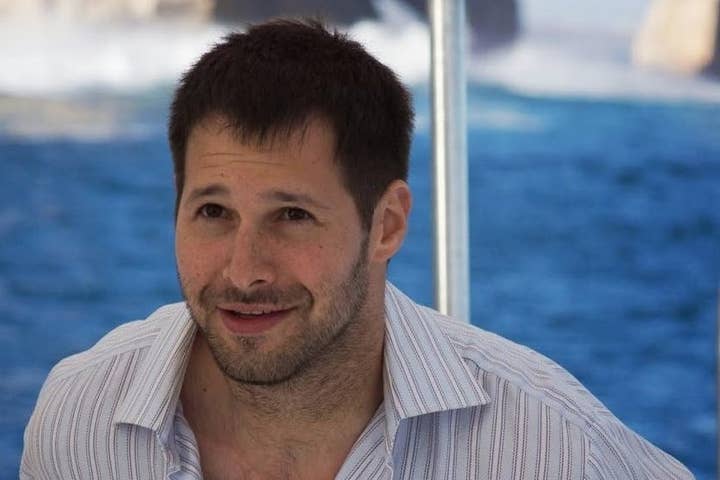 Sat at the first ever Oculus Connect conference, the beats and chatter of a cocktail reception just next door, Max Cohen is being brutally honest about the company's mobile-based virtual reality headset.
"I can spend ten minutes talking about the problems with this device. We're not afraid of them," the VP of mobile says with a smile.
"It overheats if you run it too long. It is 60 Hertz low persistence, which means some people will notice flicker. The graphical quality is obviously a lot less than the PC. Battery life is a concern. There's no positional tracking.
"We could try to say this is the be-all end-all of VR. We'd be lying. That's a bad thing. We would hurt where we can get to the be-all end-all of VR. Everyone, Samsung, Facebook, Oculus, we're all aligned with making a damn good product that we put out in the market and then working on improving it. Really soon, maybe even sooner than you think, we'll get to that amazing VR experience for everyone."
"Samsung, Facebook, Oculus, we're all aligned with making a damn good product"
Cohen's talking about the Gear VR, the Samsung backed headset that offers a more portable and accessible entry into the virtual reality world for developers and users alike. It's John Carmack's passion project at the company and clearly it's Cohen's too.
"The first thing they did was to put me in the HD prototype with the Tuscany demo. I was floored, of course," he remembers.
"Then I got to see the Valve room and then he showed me this mobile project. It was running on a Galaxy S4 at the time. It crashed a little bit. There were a lot of problems with it, but I just thought this was so amazing. I went back and was talking to a friend of mine who's an entrepreneur. He said it's rare that you have the opportunity to work on transformational hardware, and that's really what this was."
The story of the Gear VR is a simple one; Oculus went to the Korean company hoping to work with them on screens for the PC-based Rift and found Samsung had been working on a headset you could simply slide a Samsung Galaxy phone into to experience virtual reality. Now the companies are working together on both devices, with Samsung fielding calls from Carmack on a regular basis.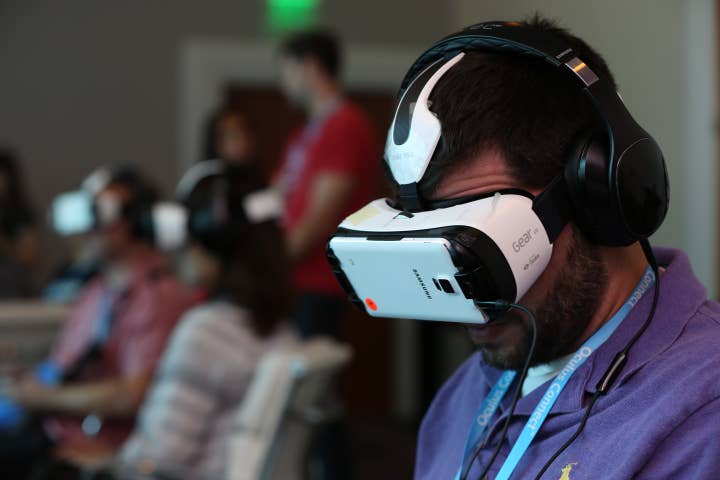 "It's a collaboration. It's not we tell them what to do or they tell us what to do," Cohen continues. "We're the software platform, so when you put that on, you're in Oculus, but that wouldn't be possible without maximizing the hardware. Carmack and our team works very closely with their engineering team. They make suggestions about UI as well. We're working together to make the best possible experience. If it wasn't collaborative, this thing just honestly wouldn't function because this is really hard to do."
The focus of Oculus Connect isn't the media or sales or even recruitment, but developers. Supporting them, showing them the technology, offering them advice on the new territory that is virtual reality. Cohen, like everyone else I speak to at the weekend, believes developers and their content is absolutely key to the success of the hardware.
"At the end of the day, we want to make the developers' lives as easy as possible so they can make cool content."
"Facebook invested in the platform. They didn't buy it. What they did is they're also committing money to make sure it's successful on an ongoing basis"
That content will be supported by an app store, and Cohen wants it to be a place where developers can make a living, rather than just a showcase of free demos. Jason Holtman, former director of business development at Valve, is overseeing its creation.
"We're going to launch initially with a free store, but maybe a month later, follow along with commerce," says Cohen.
"At the end of the day, as great as doing the art for free and sharing that is, we will have a hundred times more content when people can actually monetize it. This is a business. There's nothing wrong with that. People need to be able to feed themselves. Our job is to make the platform as friendly for developers as we can so that it's painless. You don't have to worry about a bunch of overhead."
There's a sense that the Facebook money, that headline-grabbing $2 billion, has given the team the luxury of time and the chance to recruit the people they need to make sure this time virtual reality lives up to its promises. Other than that, Facebook seems to be letting Oculus just get on with it.
"That's the thing... a lot of people, with the Facebook acquisition, asked how that would impact us and the answer is it hasn't, in terms of our culture, and Facebook's actually supportive of the way Oculus is because we know that content makes or breaks a platform," says Cohen.
"They invested in the platform. They didn't buy it. What they did is they're also committing money to make sure it's successful on an ongoing basis. We could have continued to raise a lot of venture capital. It would have been very expensive to do it right. Now we have replaced our board of directors with Facebook, but that's completely fine. They are helping us. They are accelerating our efforts."
No one at Oculus is talking about release dates for consumer units yet, and Cohen is no different. It's clear that he and the team are hungry for progress as he talks about skipping minor updates and making major advances. He talks about "awesome" ideas that he's desperate to get to, and pushing the envelope, but what matters most is getting it right.
"I think everyone understands that with a little bit more magic, VR can be ubiquitous. Everyone needs it. I think a lot of people understand what we need to do to get there, but it takes hard work to actually solve those things. Oculus and Facebook have lined up the right team to do it, but I want us to actually have time to do that," says Cohen.
"We're not trying to sell millions now. We're trying to get people and early adopters, tech enthusiasts and all that interested in it."