US consumer game spending up 10% to $4.6b for July | US Monthly Charts
The Legend of Zelda: Skyward Sword and Monster Hunter Stories 2: Wings of Ruin debut in first and third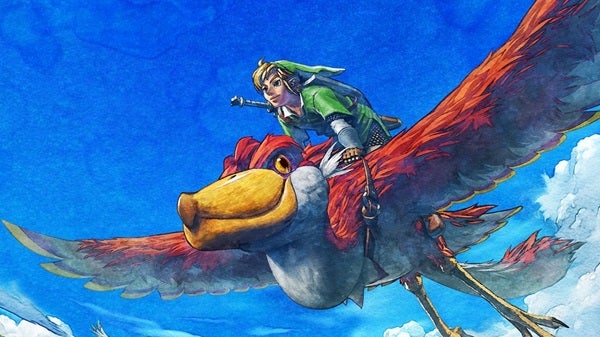 Today, NPD Group reported its results for July, showing that US game spending continues to increase.
The industry-tracking firm found that at consumer spending at $4.6 billion up 10% year-over-year.
Spending on content saw 6% growth year-over-year to $4.1 billion across console, mobile, PC, cloud, and subscription services, while spending on hardware saw a gain of 98% year-on-year to $323 million.
Nintendo's Switch led the way in terms of unit sales while the PlayStation 5 led in dollar sales for the month of July.
As for software, the month's chart topper was the Switch remaster of The Legend of Zelda Skyward Sword HD.
The month saw other new releases, as Capcom's Monster Hunter Stories 2: Wings of Ruin was third on the charts as Square Enix's latest RPG Neo: The World Ends With You arrived in 16.
Additionally, while Call of Duty: Black Ops: Cold War was ranked second, it was also the top selling title of the month for both the PlayStation and Xbox consoles.
Finally, accessories spending grew 11% to $189 million, with The Legend of Zelda: Skyward Sword HD edition Joy-Con as the best-selling accessory for July.
Here are the US Top 20 (based on dollar sales) for the period between July 4, 2021 and July 31, 2021, courtesy of The NPD Group:
| Last Month | This Month | Title |
| --- | --- | --- |
| NEW | 1 | The Legend of Zelda: Skyward Sword HD* |
| 2 | 2 | Call of Duty: Black Ops: Cold War |
| NEW | 3 | Monster Hunter Stories 2: Wings of Ruin |
| 7 | 4 | Mario Kart 8* |
| 8 | 5 | Minecraft |
| 3 | 6 | Mario Golf: Super Rush* |
| 4 | 7 | MLB: The Show 21^ |
| 9 | 8 | Marvel's Spider-Man: Miles Morales |
| 12 | 9 | Call of Duty: Modern Warfare (2019) |
| 13 | 10 | Super Smash Bros. Ultimate* |
| 1 | 11 | Ratchet & Clank: Rift Apart |
| 11 | 12 | Animal Crossing: New Horizons* |
| 17 | 13 | Tony Hawk's Pro Skater 1 + 2 |
| 15 | 14 | Super Mario 3D World* |
| 10 | 15 | Mortal Kombat 11 |
| NEW | 16 | Neo: The World Ends with You |
| 18 | 17 | The Legend of Zelda: Breath of the Wild* |
| 19 | 18 | Pokemon: Sword/Shield* |
| 6 | 19 | Resident Evil: Village |
| 14 | 20 | Assassin's Creed: Valhalla |
*Digital sales not included
^Xbox digital sales not included