"No one is actually good at Candy Crush" - Divnich
Tilting Point VP of product strategy says games offering illusion of skill dominate US mobile charts, indies need to develop for more than themselves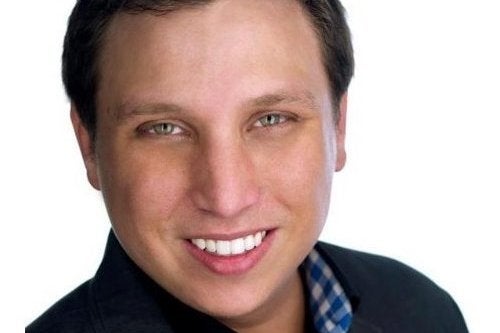 From the very first arcade games onward, the industry has embraced the concept of "being good at a game." Whether it was dexterity, strategy, or just lightning-fast reflexes, the most successful video games in the world have usually tested something of the players. However, that doesn't seem to apply in the world of mobile games, according to Jesse Divnich.
In advance of a talk Divnich will give on the "10 Biggest Mistakes Free-to-Play Developers Make" at the Montreal International Game Summit next week, the Tilting Point VP of product strategy spoke with GamesIndustry.biz about the difference between games based on skill, and those based on the illusion of skill. For Divnich, the difference is that the former require something of players (such as concentration, precision, input, timing), and their individual skill level and dedication to the game will dictate their progress or performance. As examples, he pointed to games like Asphalt 8, FIFA 16, 8-Ball Pool, World of Tanks, and Vain Glory. For games based on the illusion of skill, progress through the game occurs at a pace determined by the developers.
"For some, it is a scary thought to know that the most commercially successful games on mobile are really just well-designed rollercoasters."
"No one is actually good at Candy Crush, but some people actually believe they are," Divnich said. "In these non-skill-based games, you can tell me how many hours you've played, how much money you have spent, and I should be able to tell you within a good degree of certainty how far you are in Candy Crush, what level your town hall is in Clash of Clans, how many times you've ascended in Tap Titans. For some, it is a scary thought to know that the most commercially successful games on mobile are really just well-designed rollercoasters. It's not a negative concept, it is simply what works in free-to-play mobile."
While Divnich stressed that the illusion of skill shouldn't be viewed as a bad thing in and of itself, he understands long-time gamers may take issue with the concept.
"As gamers, we are hobbyists and have an entirely different perspective of gaming," Divnich said. "We grew up in an era where skill-based, high intensity action was the norm. That still exists and thrives today, and that is not going anywhere. However, with the penetration of smartphones, nearly everyone is a potential gamer and we have to understand that what excites them and what drives them to engage in games is much different than what drives a traditional gamer. This concept of controlling the pace of progress is not disappearing anytime soon nor do I believe it is a mechanic that hurts enjoyment. You have to put yourself in the shoes of those consuming the content and if they're having fun, that's more important to them than whether the games they love require real skill or not."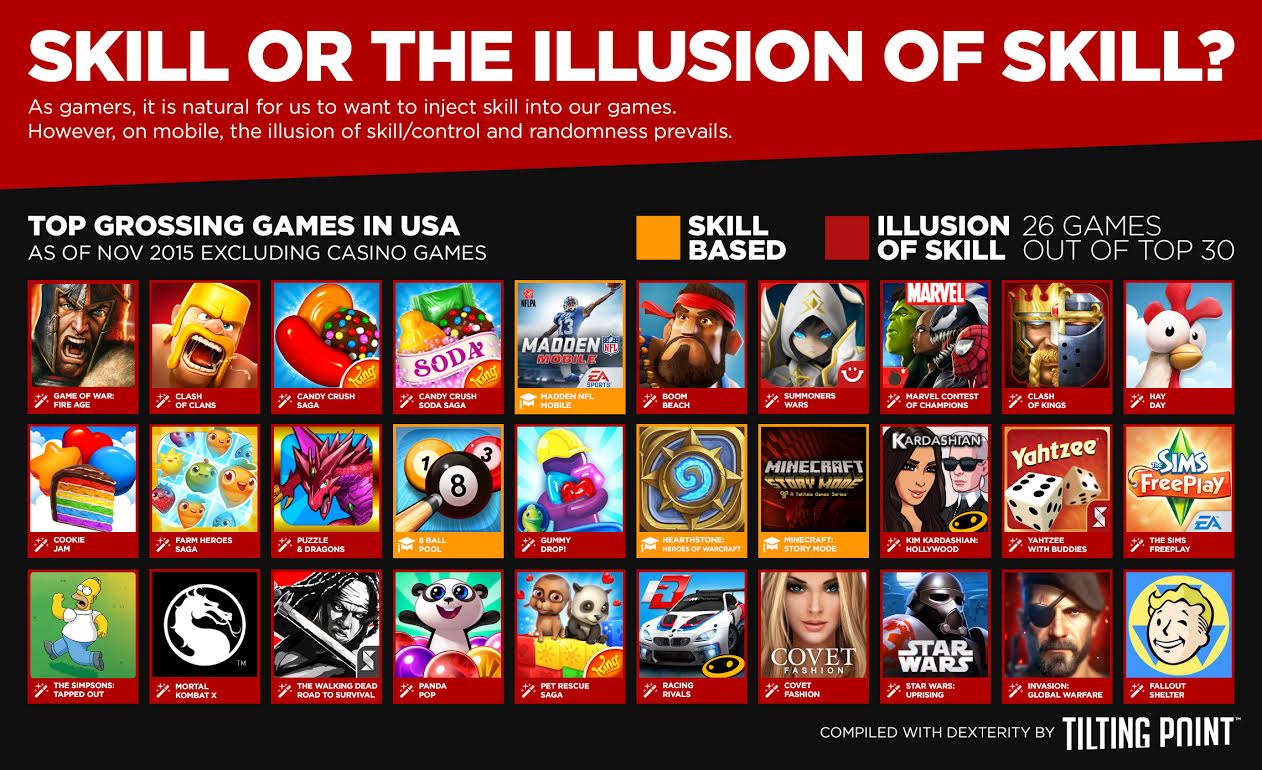 Looking at a chart of the recent top grossing games in the US (minus casino games), Divnich found that 26 of the top 30 games were built around the illusion of skill. The only four that were built on skill were the aforementioned 8-Ball Pool, Minecraft: Story Mode, Madden NFL, and Hearthstone: Heroes of Warcraft. It's a market dominance that makes him worry for developers expecting to launch skill-based free-to-play games on mobile.
"I see far too many independent developers creating games they'd like to play," Divnich said. "I support their passion, but in the free-to-play mobile space, we have to remember we are creating games for the other 99 percent. It's important that a mobile developer has personal passion for what they are creating, but it is more important they are also creating a game that has an addressable market... I evaluate hundreds of games a month and it is shocking that when a developer attempts to evolve a particular genre they feel the need to inject skill to differentiate when they should be thinking in the other direction. How to give the consumer more options, more variety, but within a framework where the game still holds some level of control over pacing and content consumption."
As skeptical as Divnich might be of the prospects for skill-based games in the present, he sees a bright future for them.
"If done right, there is a market for these games, we just need to set the proper expectations."
"Skill based mobile games are a huge trend in China, mostly because of the limited access to technology where you'd typically engage in skill-based games - consoles," Divnich said. "For a lot of gamers in China, mobile is the only outlet and often their first encounter with video games. Much like how it took a decade for us to adopt the free-to-play model born out of the East, I do think it's only a matter of time before we begin to see larger penetration of skill-based games in the West. I see the next generation of gamers being a catalyst for change. Those that are 7-to-13, who maybe only know their tablet as a primary gaming device. This is the market segment that continues to keep games like Minecraft near the top of the charts, both in revenue and engagement. They are the generation of players that could transform demand for more skill-based competitive experiences."
Until that generation comes of age, the growth of skill-based games in the West is going to rely on developers finding better ways to incorporate it into their designs.
"Everyone is still trying to figure out how to properly inject skill into our mobile games," Divnich said. "Skill-based gaming does work on mobile. Most of the top downloaded games are skill based: Pop the Lock, Crossy Road, Smash Road, Trivia Crack, or any Ketchapp game. However, they are wrapped around short session lengths, pick-up and play game mechanics, and simple core loops. Companies like Super Evil Mega Corp are leading the charge on these deep and competitive mobile/tablet experiences. I know many other skill based games that are in development that are incredibly fun to play. If done right, there is a market for these games, we just need to set the proper expectations."
Divnich will give his talk at MIGS 2015 Monday, November 16 at 11:30 a.m.
Full disclosure: MIGS has a media partnership with GamesIndustry.biz, and will be paying for our travel and accommodation during the event.