Nintendo Switch officially revealed
The upcoming Nintendo console will indeed be the portable hybrid we all have been expecting [UPDATE: Bethesda comments on Skyrim]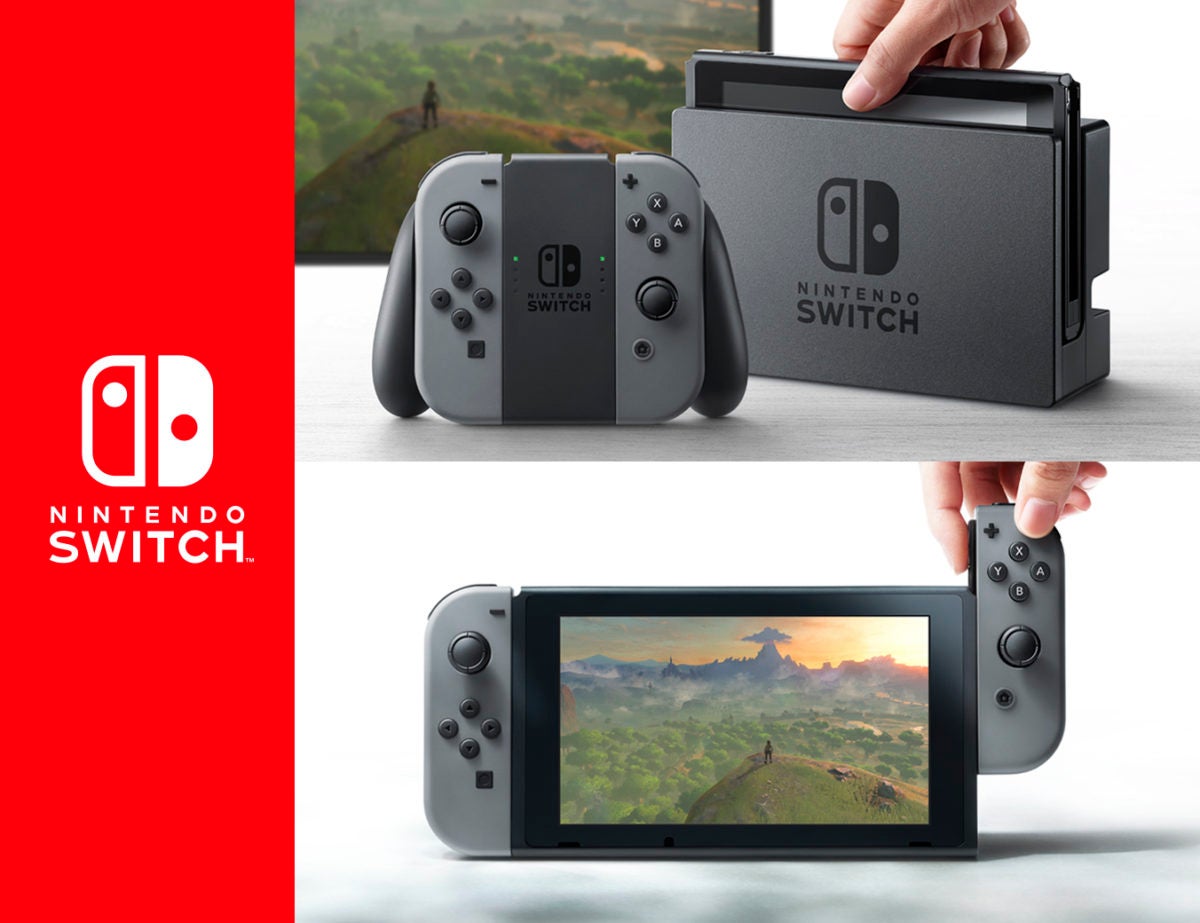 Nintendo has shed some light on its upcoming hardware for the first time today in the form of a three-minute teaser, which you can view below. Rather than take the Nintendo Direct approach of using executives to introduce the new console and explain its features, the company has decided to let the video and gameplay reenactment speak for itself. For the last year or more, many in the press (this editor included) have been speculating that Nintendo's next move would be to consolidate its hardware lines by offering a system that had dual functionality. As you can clearly see in the video, the new Nintendo Switch looks to be just that.
The Switch appears almost like the Wii U tablet but can be taken apart to be docked to a TV or to offer multiplayer gaming sessions on the go with multiple controllers. Nintendo made no mention of release date (although it's expected by March 2017), price or games lineup, but you can clearly see Bethesda's Skyrim being played in the trailer as well as Splatoon in a big stadium environment, which may be Nintendo's nod to some eSports aspirations. The one game that has been officially slated for both Wii U and Switch (formerly NX) is The Legend of Zelda: Breath of the Wild.
In a separate blog post sent to media immediately after the Switch announcement, Nvidia also revealed that the hardware will be powered by its Tegra processor.
"The Nintendo Switch's gaming experience is also supported by fully custom software, including a revamped physics engine, new libraries, advanced game tools and libraries. NVIDIA additionally created new gaming APIs to fully harness this performance. The newest API, NVN, was built specifically to bring lightweight, fast gaming to the masses," Nvidia said. "Gameplay is further enhanced by hardware-accelerated video playback and custom software for audio effects and rendering. We've optimized the full suite of hardware and software for gaming and mobile use cases. This includes custom operating system integration with the GPU to increase both performance and efficiency."
Update: In a separate press release just issued, Nintendo has confirmed a March launch and also noted that the Switch controllers are called "Joy-Con" controllers.
"Gaming springs into action by removing detachable Joy-Con controllers from either side of Nintendo Switch," Nintendo said. "One player can use a Joy-Con controller in each hand; two players can each take one; or multiple Joy-Con can be employed by numerous people for a variety of gameplay options. They can easily click back into place or be slipped into a Joy-Con Grip accessory, mirroring a more traditional controller. Or, if preferred, the gamer can select an optional Nintendo Switch Pro Controller to use instead of the Joy-Con controllers. Furthermore, it is possible for numerous people to bring their Nintendo Switch systems together to enjoy local multiplayer face-to-face competition."
Reggie Fils-Aime, President and COO, Nintendo of America, commented, "Nintendo Switch allows gamers the freedom to play however they like. It gives game developers new abilities to bring their creative visions to life by opening up the concept of gaming without boundaries."
Update 2: While Bethesda's much beloved Skyrim was clearly shown during Nintendo's Switch reveal video, the publisher told us today that it's not officially confirming the game just yet. "We're happy to have had the opportunity to collaborate with Nintendo on the video. While we are not confirming any specific titles at this time, we are pleased to announce our partnership with Nintendo and support of the Switch. We look forward to revealing specific games and details in the future," a spokesperson said. Skyrim Remastered is set to launch on October 28 for Xbox One, PS4 and PC; perhaps the Switch will receive a version of the Remastered game at launch?
Update 3: Reuters reports that Nintendo's shares fell by 6% early this morning following yesterday's reveal of its new Switch console. The stock fell as low as ¥25,300 at 0101 GMT, which is the lowest point since September 7th.
Technically this is only a 3% decline compared to earlier in the week as Pocket Gamer reports Nintendo's shares rose by 3.7% to ¥26,950 in the hours before the reveal, later tumbling by 6.55%. A minor drop, but perhaps one that shows scepticism about Nintendo Switch's chances of success.