Nintendo Switch back at No.1 after OLED launch | UK Monthly Charts
FIFA 22 holds No.1 with Far Cry 6 in second place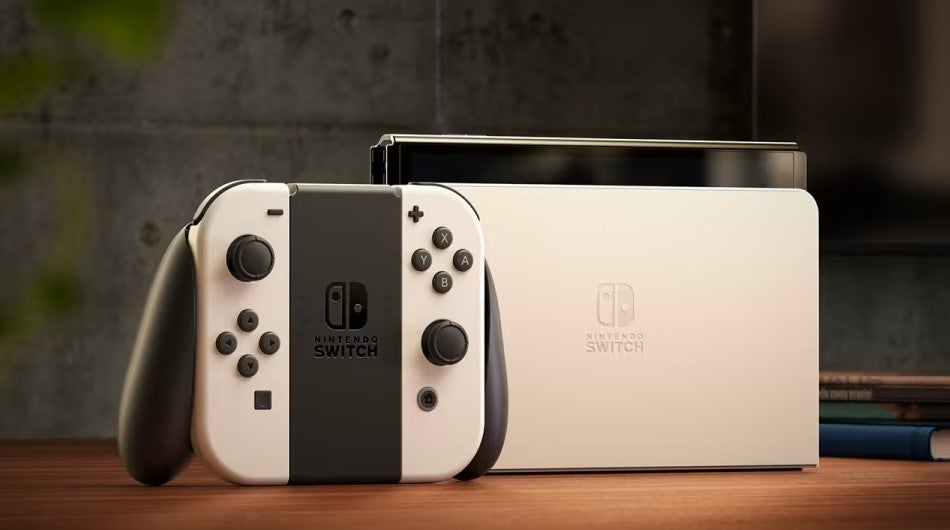 Nintendo Switch was back as the UK's No.1 console last month, following the launch of its OLED model.
The OLED version accounted for 43% of every Switch console sold over the four weeks ending October 30th, according to GfK data.
Overall, 288,632 games machines were sold in the UK during the period (GfK panel data). The second best-selling console was PS5, followed by Xbox Series S and X.
Over in the accessories space, 720,768 add-on products were sold in October, which is down 9.4% over September and down 6.7% over the same period in 2020.
Once again the best-selling accessory was the White DualSense controller for PS5, followed by the DualShock for PS4 (Black). The highest rising accessory is the Xbox Wireless Controller 'Shock Blue', which jumps from No.11 to No.5.
Sony's popular Pulse 3D Headset (White) dropped one place to No.4, but actually a new SKU arrived in the form of the Pulse 3D Headset (Midnight Black). If we add the sales of the two together, it would put it back at No.3 in terms of unit best-seller.
Moving to GSD data for the digital and physical software market, just under 2.5 million games were sold in October, which consists of 1.25 million physical games and 1.25 million digital games -- a 50/50 digital/physical split. The physical games data includes all games sold at retail, whereas the digital data includes games sold by most AAA publishers (with some exceptions, including Nintendo). You can see the full breakdown of what is and isn't covered at the bottom of the article.
Overall, unit sales are down 31% compared with October last year. This is because FIFA launched in October 2020, whereas this year it arrived in September. If we remove FIFA figures, overall October 2021 is still down by just under 10% compared with the same period the year before.
FIFA 22 was comfortably the No.1 game of the month once again, with Ubisoft's Far Cry 6 at No.2. 53% of Far Cry sales were sold via download stores, with the rest coming from physical outlets. In terms of platforms, 58% of sales were on PlayStation consoles, with the remainder on Xbox.
The next biggest new release is Back 4 Blood at No.3. The multiplayer game was primarily sold via download stores, accounting for 74% of its sales.
37% of Back 4 Blood sales were on PS5, 33% on PC, 18% on PS4, 9% on Xbox One and 4% on Xbox Series X and S. Note: The game was available to Xbox players via the Game Pass subscription platform, which is not counted here.
Marvel's Guardians of the Galaxy was the fifth biggest game of the month. The game is the second Square Enix-developed Marvel title, and has had a strong start, although sales are well below that of last year's bigger launch for Marvel's Avengers.
The best-selling Switch game of October was the new Metroid Dread title, whereas horror games got a good showing in Halloween month, with improved sales for Resident Evil Village and the launch of the new Dark Pictures game, House of Ashes.
GSD September 2021 Top 20 Games (Digital + Physical)
Position
Title
1
FIFA 22 (EA)
2
Far Cry 6 (Ubisoft)
3
Back 4 Blood (Warner Bros)
4
Grand Theft Auto 5 (Rockstar)
5
Marvel's Guardians of the Galaxy (Square Enix)
6
Metroid Dread* (Nintendo)
7
Mario Kart 8: Deluxe* (Nintendo)
8
Minecraft: Nintendo Switch Edition* (Nintendo)
9
Mario Party Superstars* (Nintendo)
10
Animal Crossing: New Horizons* (Nintendo)
11
The Dark Pictures Anthology: House of Ashes (Bandai Namco)
12
Demon Slayer: Kimetsu No Yaiba: The Hinokami Chronicles (Sega)
13
Resident Evil Village (Capcom)
14
Insurgency: Sandstorm (Focus Entertainment)
15
Super Mario 3D World + Bowser's Fury* (Nintendo)
16
Spider-Man: Miles Morales (Sony)
17
Red Dead Redemption 2 (Rockstar)
18
Riders Republic (Ubisoft)
19
Hot Wheels Unleashed (Milestone)
20
Call of Duty Black Ops Cold War (Activision Blizzard)
* Digital data unavailable
GSD digital data includes games from participating companies sold via Steam, Xbox Live, PlayStation Network, Nintendo Eshop. Participating companies are Activision Blizzard, Bandai Namco, Big Ben Interactive, Capcom, Codemasters, Electronic Arts, Focus Home Interactive, Koch Media, Konami, Microids, Microsoft, Milestone, Paradox Interactive, Quantic Dream, Sega, Sony, Square Enix, Strelka, Take-Two, Ubisoft and Warner Bros. Nintendo and Bethesda are the notable absentees, alongside smaller studios.