Nintendo Switch and The Legend of Zelda dominated May | UK Monthly Charts
Switch ends PS5's run as the UK's best-selling console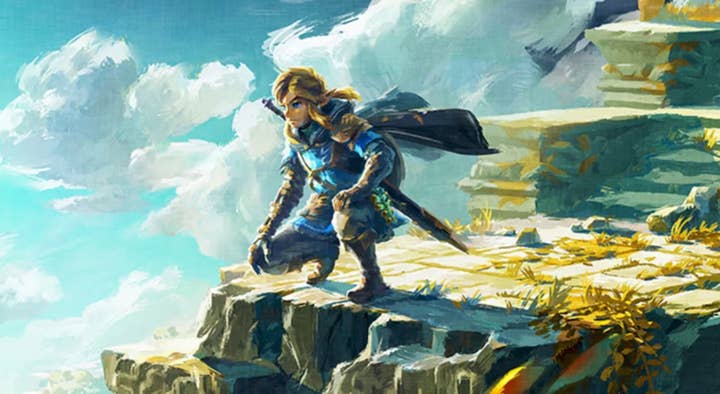 The UK games market in May was driven by the launch of one particularly big Nintendo Switch game.
The Legend of Zelda: Tears of the Kingdom was comfortably the No.1 game in May (GSD data), and that's without Nintendo sharing digital data with the GSD charts (Nintendo is the only major company that currently withholds these figures).
It's the biggest Zelda game launch in UK history, and its lifetime sales have already surpassed most previous games in the series. It only sits behind 2006's Twilight Princess and 2017's Breath of the Wild.
The success of Zelda fired the software market in May, with game sales up nearly 30% compared with the same period last year, leading to over 2.17 million titles sold. There was no major game released in May 2022.
The other significant release of May this year was Hogwarts Legacy, which arrived on older generation platforms following its huge launch on PC, PS5 and Xbox Series S and X in February. 53% of the game's sales were on PS4 during May, with 24% on Xbox One, with the remainder coming on the current generation machines.
The other new release in the charts is LEGO 2K Drive, which crossed the finishing line at No.19.
The Legend of Zelda also had a big impact in the console hardware space, too. According to GfK panel data, just under 96,000 consoles were sold last month. That's actually a 10% drop over May last year, and 14% down on April.
Nintendo Switch ended PS5's four-month run as the UK's No.1 console, taking the top spot despite a 5% dip in sales month-on-month. However, Switch sales are up 28% over May last year.
Why are Switch sales down over April considering Zelda launched in May? Well, the Tears of the Kingdom Special Edition OLED Switch actually arrived in April. Also, April saw continued sales of the special Mario edition of the Switch, which was launched to coincide with the Super Mario Bros movie in March.
Almost 35% of all Switch consoles sold in May were for the Zelda OLED version.
PS5 sales dropped 23% month-on-month, and it's the first time all year that PS5 sales were lower than they were during the same period in 2022. Xbox Series S and X sales also fell 10% in May compared with April, and are also down over the same period in 2022.
Overall, console sales are up 16.6% so far in 2023 compared with the year before, with PS5 sales up 81%, Switch sales down 8% and Xbox Series S and X sales down 19%.
Finally, in the accessories and peripherals space, 441,268 add-on products were sold in the UK last month (GfK panel data), which is down 9% over April and down 5% over May last year.
The best-selling accessory continues to be the PS5 DualSense controller, although we have a new No.2 in the form of the Nintendo Switch Pro Controller, boosted by the launch of the latest Zelda game.
The highest charting new accessory is actually the Zelda edition of the Nintendo Switch Pro Controller (it reached No.20), which was launched to coincide with the game. However, this controller was in very short supply.
A Switch Carry Case tie-in with Zelda also makes the charts at No.32. This product has also sold out.
UK GSD May 2023 Top 10 (Digital + Physical)
| | |
| --- | --- |
| Position | Title |
| 1 | The Legend of Zelda: Tears of the Kingdom (Nintendo)* |
| 2 | Hogwarts Legacy (Warner Bros) |
| 3 | Star Wars Jedi: Survivor (EA) |
| 4 | FIFA 23 (EA) |
| 5 | Grand Theft Auto 5 (Rockstar) |
| 6 | Dead Island 2 (Deep Silver) |
| 7 | NBA 2K23 (2K Games) |
| 8 | Far Cry 6 (Ubisoft) |
| 9 | Red Dead Redemption 2 (Rockstar) |
| 10 | Tom Clacy's The Division 2 (Ubisoft) |
* Digital data unavailable
GSD digital data includes games from participating companies sold via Steam, Xbox Live, PlayStation Network, Nintendo Eshop. Major participating companies are Activision Blizzard, Bandai Namco, Capcom, Codemasters, Electronic Arts, Embracer Group (including Gearbox, Koch Media, Sabre Interactive), Focus Entertainment, Kepler, Konami, Marvellous Games, Microids, Microsoft (including Bethesda), Milestone, Nacon, Paradox Interactive, Quantic Dream, Sega, Sony, Square Enix, Take-Two, Ubisoft and Warner Bros. Nintendo and 505 Games are the notable absentees, alongside smaller studios.