Nintendo announces New Super Mario Bros 2 and Kirby's 20th Anniversary
The 3DS gets a traditional platformer and the Wii gets Kirby's classic hits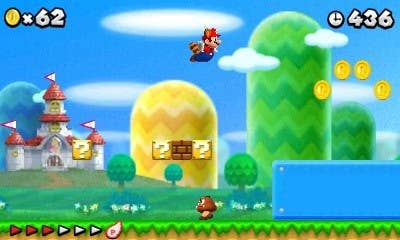 At its recent Nintendo Direct event, Nintendo president Satoru Iwata announced New Super Mario Bros 2 for the Nintendo 3DS. New Super Mario Bros 2 will feature "loads of other favorite characters from the popular Mario series" and a return to the simple Mario-style platforming found in the first New Super Mario Bros. The game is scheduled for an August release in North America and Japan.
Iwata also revealed an unnamed Wii collection for the 20th anniversary of Kirby. The collection will include "fan-favorite" Kirby titles, with more anniversary plans to be revealed later in the year.
"A new Mario game and a big Kirby celebration will help make 2012 an especially great year for Nintendo fans," said Scott Moffitt, Nintendo of America's executive vice president of Sales & Marketing. "Whether they're playing at home on Wii or using Nintendo 3DS to have fun on the go, players can look forward to experiencing some of our biggest franchises in exciting ways."
Finally, Nintendo also announced a 3DS firmware update for release on April 25. The update adds folders to the system's Home screen, allowing players to organize their content better. The eShop will see additional recommendations for consumers, improving the visibility of titles available. The update will also let users download software patches, like a planned Mario Kart 7 update coming in mid-May.