Mixer viewership down in Q3 despite Ninja's exclusivity deal
Report from Streamlabs and Newzoo paints mixed picture for Microsft's streaming platform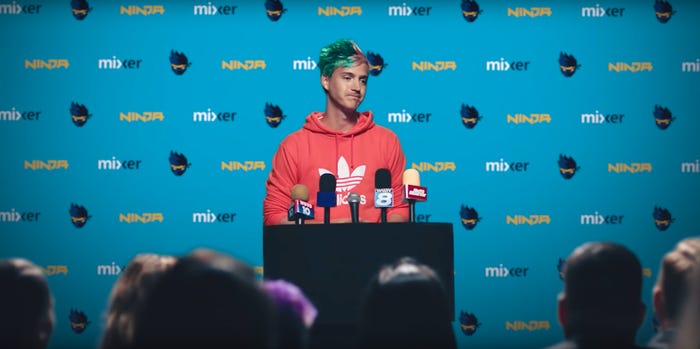 Microsoft's video streaming service Mixer has seen an influx of content creators following the exclusivity deal it signed with top streamer Tyler "Ninja" Blevins in August.
According to the Streamlabs and Newzoo Q3 2019 Live Streaming Industry Report, the total hours streamed on Mixer increasing by 188% quarter-over-quarter, as the number of unique channels nearly doubles.
However, it would appear that Blevins alone is not enough to draw more viewers to the platform, with total hours watched for the quarter declining 10.6%.
Streamlabs suggests the new influx of creators is likely responsible for a 11.7% decline in concurrent viewers for the period, along with the average viewers per channel falling from 8.9 to 2.7 quarter-over-quarter.
How has Twitch fared since it's most popular streamer departed for potentially greener pastures? Well, according to the report, there was a 4.5% uptick in the total hours watched on the platform, but there has been a continued decline in the number of unique channels and hours streamed.
Unique channels have been dropping off since Q1, with a 32% decline since then. Meanwhile, the total hours streamed has stabilised after a 10% fall from Q1 to Q2, but still remains down for Q3. The average concurrent viewers for Twitch is up 3.5%, while the average viewers per channel has increased 3.6% to 28.2.
YouTube Gaming Live has remained largely unaffected by the shifting sands of Blevins' departure to Mixer. Hours watched is down slightly, as is total hours streamed. The number of unique channels has been most severely affected this quarter, down 25%, while average concurrent viewers has remained static, and average viewers per channel is up slightly.
With Blevins -- who made his name streaming Fortnite -- off Twitch, the hours of Fortnite streamed has declined quite dramatically. While Epic Games' battle royale was already seeing continued quarter-over-quarter decline for more than a year now, the absence of Blevins appears to have accelerated this, with a roughly 24% drop off in Q3.
"Overall, this quarter for the live streaming industry is one for the books," reads the report. "As more live streamers branch out and stream to other platforms, it will be interesting to see how Twitch reacts, and if Mixer can encourage users to stay on the platform long-term. Only time will tell."