American esports audiences most receptive to corporate sponsorship, Nielsen report reveals
The Nielsen Esports Playbook finds esports fans are divided on VR and esports as an Olympic event
Global data company Nielsen has revealed that US audiences are more accepting of corporate sponsorship in esports competitions.
The findings stem from the newly-released Nielsen Esports Playbook, which focuses on trends and insights in the US, UK, France, and Germany.
While many of the findings in the Playbook are less than surprising, such as 71% of esports fans being male with an average of age 26, there are a number of interesting points found within the report.
Attitudes towards corporate sponsorship of esports were far more positive than expected, with Americans being the most receptive at 58% in favour, compared to 51% of the British audience.
These numbers shifted when considering non-endemic sponsorship with 31% of French fans finding it inappropriate compared to 15% of Americans.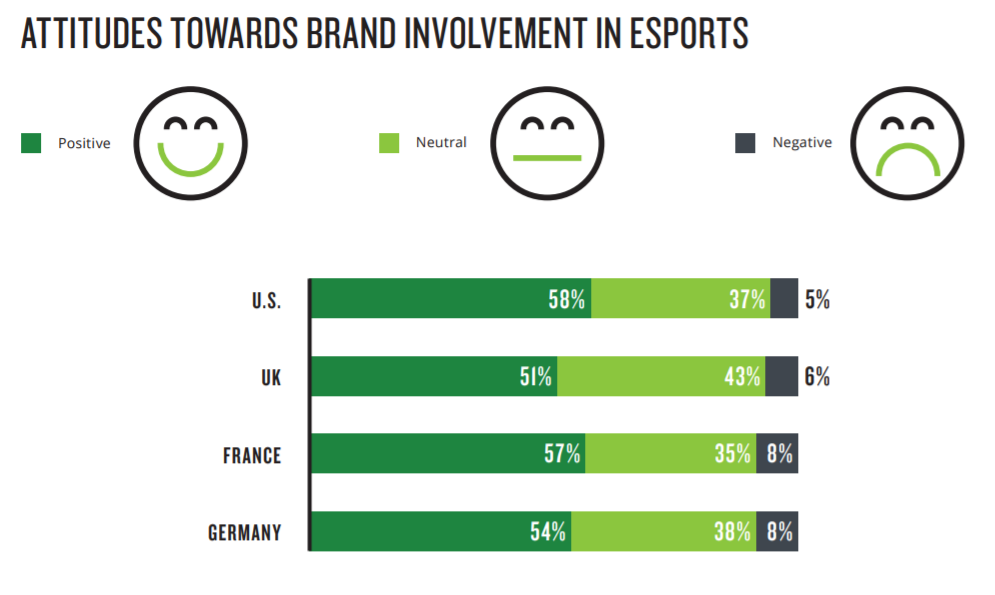 There was also a certain degree of flexibility in what esports fans consider appropriate, with technology companies, energy drinks, and snack foods being categorised as "semi-endemic", while financial services and alcohol were not.
"The key to attracting more non-endemic brands into esports is a combination of time and education," said Craig Levine, CEO of ESL. "We have an incredibly unique and attractive global fan base and esports is quickly becoming a topic of interest and exploration for many non-endemic brands. The market is maturing but most importantly those who have worked with us have seen strong success and are expanding their esports programs year over year."
Attitudes towards esports as an actual sport, or even an Olympic event, were also noteworthy. Across all four markets, only 53% of fans considered esports to be an actual sport and even fewer, 28%, of fans felt that esports should be included in the Olympics.
The role of virtual reality in the future of esports was called into question with the study finding that uptake of the technology was still non-committal. The report found that 69% of esports fans were still undecided on whether they would purchase a VR headset in the next 12 months.
The full report can be found here.