Newzoo: Global games market expected to increase 2.6% in 2023
Consoles forecast to drive this year's revenue to $187bn due to release of delayed titles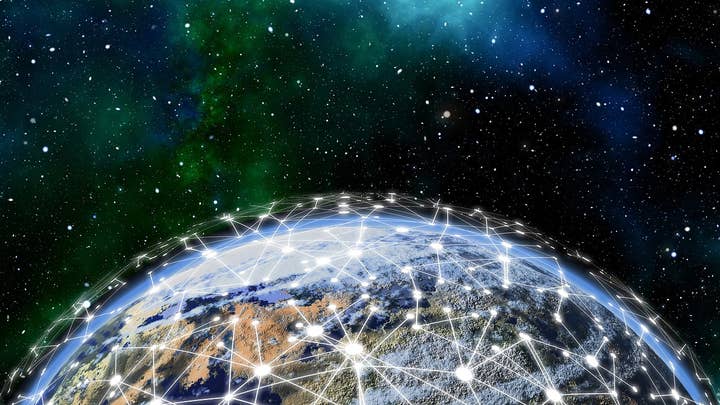 At a glance:
Market estimated to generate $187.7 billion in 2023, up 2.6%
Mobile revenue due to increase 0.8% to $92.6 billion
Consoles expected to produce $56.1 billion in revenue and drive growth this year
The global games market is estimated to generate $187.7 billion in 2023, a 2.6% increase year-on-year, according to Newzoo's latest report.
The mobile market is due to reach $92.6 billion this year, a 0.8% increase compared to 2022. Despite remaining the largest segment by consumer spending, the data firm said mobile revenue will likely see lower growth than previous years due to publishers facing difficulties with privacy-related monetisation and user-acquisition related policies from Apple and Google.
Console games are forecast to be the second highest segment, due to increase by 7.4% to $56.1 billion.
Newzoo forecast that the console segment will be this year's "biggest revenue growth vehicle" due to the release of delayed titles including Hogwarts Legacy, Zelda: Tears of the Kingdom, and Final Fantasy 16 in H1, followed by Spider-Man 2, Starfield, and Super Mario Bros Wonder in H2.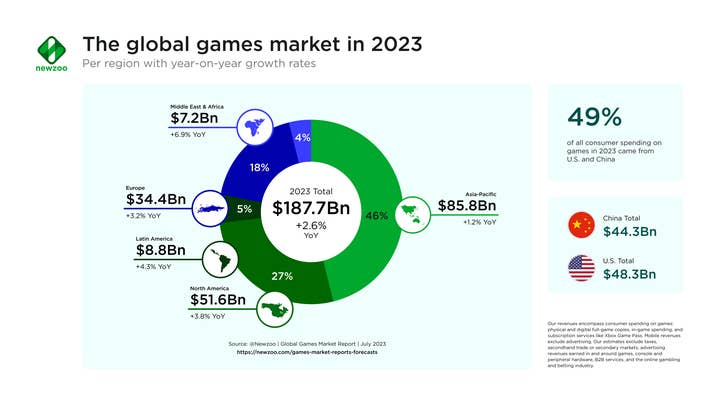 Meanwhile, Newzoo estimated that the Asia Pacific region will lead the global market with $85.5 billion, up 1.2% year-on-year.
The market analysis firm further estimated that console gaming will increase consumer spending in the Western market, forecasting revenues of $51.6 billion in North America, up 3.8% year-on-year, while Europe is expected to grow 3.2% to reach $34.4 billion.
Looking at the top public companies by game revenues, Newzoo estimated Tencent to be No.1, followed by Sony and Apple. It's worth noting that Microsoft comes at No.4 and Activision Blizzard at No.7 — combined, they would rank at No.2, just above Sony.
Looking ahead, Newzoo said the global games market is likely to reach $212.4 billion by 2026, highlighting the continued sale of the current-gen consoles and the successor to the Nintendo Switch as major factors.
Sign up for the GI Daily here to get the biggest news straight to your inbox