Newzoo: Global games market expected to decline 4.3% in 2022
First decrease in company's history of tracking games, but forecast still higher than pre-pandemic estimations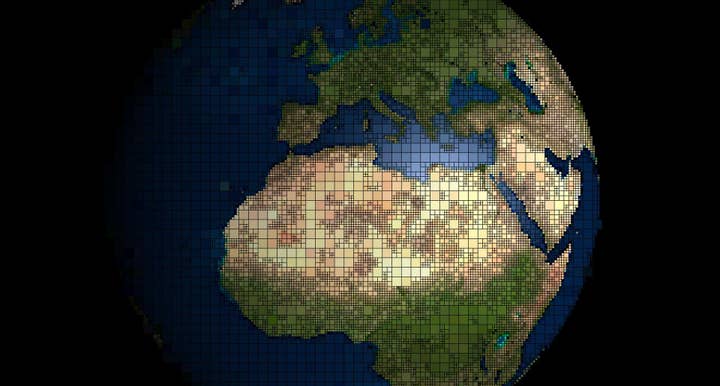 At a glance:
Market due to hit $184.4 billion in 2022, down 4.3%
Revenues generated from 2020 to 2022 still $43 billion higher than pre-pandemic forecast
Mobile revenue due to decline 6.4% to $92.2 billion
Newzoo is expecting the global games market to generate $184.4 billion in 2022, a 4.3% decline year-on-year, and the first time it forecasts a decrease in its history of covering the market.
Earlier this year, the data firm had estimated that the market would reach $196.8 billion in 2022, so this new forecast has been drastically reduced.
Newzoo said the decline would be due to a number of factors, including "a slower than expected year for console" and 2022 being a "corrective year" after two years of growth due to the COVID-19 pandemic.
The company added that its forecast is still higher than what was anticipated pre-pandemic and put emphasis on the fact that only 2022 will be a corrective year.
"Our long-term outlook for the games market remains positive," the report said. "While this may seem like a setback for the games market, we note that the sum of revenues generated from 2020 to 2022 is almost $43 billion higher than we originally forecast pre-pandemic."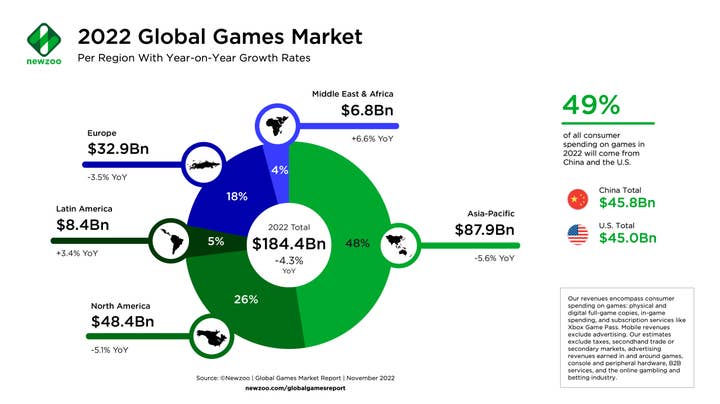 The PC games market is due to reach $40.5 billion this year, a 0.5% increase compared to 2021, while mobile is expected to be down 6.4% to $92.2 billion. In its previous forecast, Newzoo had estimated that mobile would grow over 5% year-on-year, so this is another significant change.
"While we anticipated that the removal of IDFA and pressure on people's disposable income would dampen spending on mobile games, the first quarter of 2022 was still relatively strong," the report read. "However, spending in the second quarter was significantly lower than last year's, and signs show that it did not recover in the third quarter. The second half of 2021 was a particularly strong period for the mobile games market; we do not foresee the market being able to repeat these results, let alone show growth."
Newzoo also noted that mobile's low barrier to entry also "implies a low barrier to exit," and that "most players haven't stopped gaming completely, but they play less and, therefore, pay less."
Meanwhile, the console games market is expected to generate $51.8 billion, a 4.2% drop year-on-year. Newzoo had previously predicted a 2.2% decrease only.
As we covered yesterday, the one area expecting growth is virtual reality, with revenues due to hit $1.8 billion, a 26.4% increase year-on-year.
Looking ahead, Newzoo estimated the games market to generate $211.2 billion by 2025, growing at a 3.4% compound annual growth rate, with "the coming years [looking] promising, particularly for console gaming."
Sign up for the GI Daily here to get the biggest news straight to your inbox