NCSoft profits up by 585% to $110m in Q1 2018
Mobile revenue spikes by 1,028 per cent amid mixed overall games performance
NCSoft enjoyed a strong Q1 2018 with revenue up by 98 per cent, and income spiking by 585 per cent.
According to the publisher's latest financial report, although revenue was down by 11 per cent quarter-on-quarter, sales were up year-on-year from $221 million to $439 million.
It was a similar story regarding income which was down by one per cent sequentially, but up year-on-year from $16 million to $110 million driven by a reduction in labour and marketing costs of 22 and 51 per cent respectively.
Game sales presented a somewhat mixed picture for the publisher; while mobile sales were up year-on-year -- coupled with a solid performance from Guild Wars 2 and Aion -- other games like Blade and Soul, Lineage, and Lineage II were all down.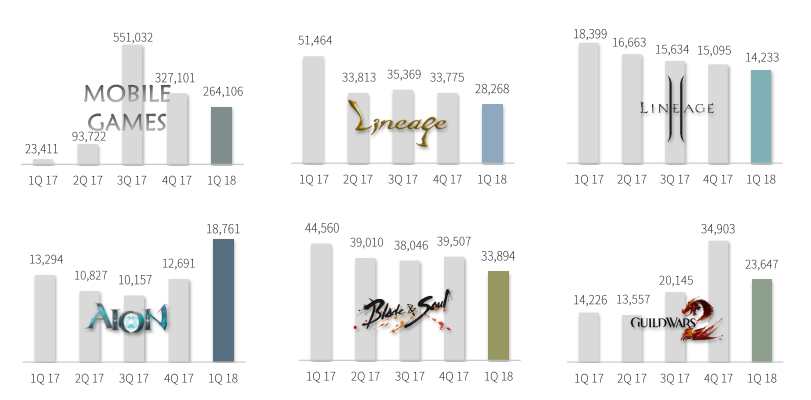 Mobile sales saw the largest growth overall, up by 1,028 per cent year-on-year from $22 million to $244 million
Aion sales jumped by 48 per cent quarter-on-quarter and 41 per cent year-on-year, up from $ 12 million to $17 million.
Guild Wars 2 however dropped off by 32 per cent quarter-on-quarter but grew by 66 per cent year-on-year from $13 million to $22 million.
Meanwhile, Lineage has seen a steady decline throughout the year, down by 45 per cent year-on-year from $47 million to $26 million
Lineage II didn't fare any better, declining every quarter since Q1 2017 with a year-on-year decline of 23 per cent from $17 million to $13 million.
Blade and Soul was also down both quarter-on-quarter and year-on-year, seeing a 24 per cent drop from $41 million in Q1 2017 to $31 million in Q1 2018.
Royalty sales were up for NCSoft however, increasing by 33 per cent year-on-year to $78 million compared to $59 million, reflecting the strong performance of Lineage M in Taiwan.
Korea accounted for the vast majority of revenue with 71 per cent of NCSoft sales coming from the region. By comparison, Europe and the US combined only represented around eight per cent of the publisher's total sales.