Mojang ends development on Minecraft's Super Duper Graphics Pack
UPDATE: Microsoft working with Nvidia to bring ray-tracing to Minecraft on PC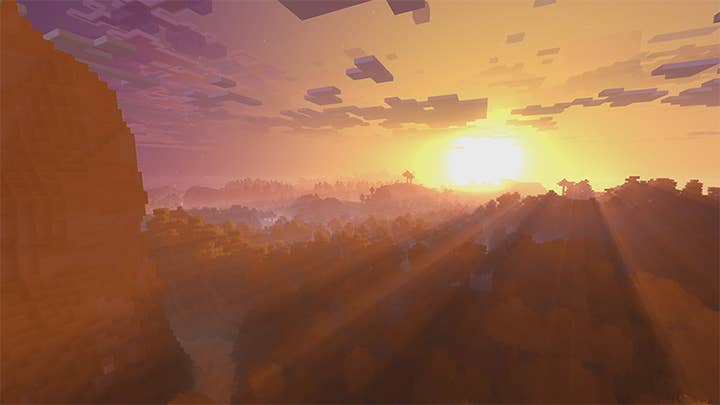 Original Story 12/08/2019: Minecraft developer Mojang has announced it will cease development on the game's Super Duper Graphics Pack, a planned graphical upgrade for the game initially announced at E3 2017.
The intended update was in two parts, the first of which was free and would bring the game up to 4K HDR across Xbox One, Windows 10, iOS, mobile, and VR.
The second part, a paid DLC, would bring a number of other graphical improvements that would transform the game. This included dynamic shadows, special lighting in fog, leaf and grass movement, new textures, directional and edge lighting, and others. This DLC would be available to players on Xbox One and Windows 10 only, and was intended for Xbox One X and high-end PCs specifically.
The updates were orignally planned for 2017, then delayed to 2018, but the year came and went without their appearance. In a blog post today, Mojang officially canceled them.
"Super Duper was an ambitious initiative that brought a new look to Minecraft but, unfortunately, the pack proved too technically demanding to implement as planned," the 'final update' reads.
"We realise this is disappointing to some of you - there was a lot of enthusiasm for Super Duper from inside and outside the studio - but unfortunately, we aren't happy with how the pack performed across devices. For this reason, we're stopping development on the pack, and looking into other ways for you to experience Minecraft with a new look."
Update: Microsoft has entered a partnership with Nvidia to bring ray-tracing to the PC version of Minecraft. This was likely a factor in the end of the Super Duper Graphics Pack project.
GamesIndustry.biz has reached out to Microsoft for clarification.
At present, only the Windows 10 version appears to be getting the ray-tracing treatment, with the update due to go live in the new year.
Additional reporting by James Batchelor