Mobile evangelist: We're not owed by Apple or Google
Video: Former PS Home architect Oscar Clark talks about why app stores are extensions, not core, to Apple and Google's business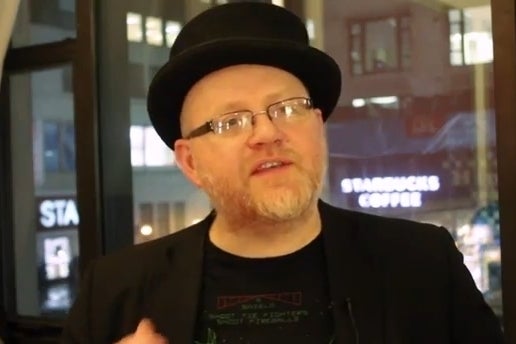 Apple and Google are not interested in turning their app stores into storefronts that help developers with product promotion because their only concern is customer experience. The reason is they generate the most revenue from people who adopt and stay with their devices, not from app sales. That's according to Oscar Clark, a former PlayStation Home architect who now serves as "evangelist" for mobile game companies such as Papaya, Applifier and Everyplay.
Clark was speaking at [a]list summit New York in January, where he moderated a panel on how mobile developers are coping with crowded marketplaces. Clark set the tone for the discussion by focusing on what he sees as a big issue, where game makers expect the equivalent of retail support from the major app stores once they ship their games. In an interview after the panel, he explained how that's flawed thinking.
"We're assuming that we are owed by Apple or Google the right to get our content in front of an audience. Well that's not the case," he said. "Apple and Google's mission is to make the customer experience the best it can be, and to make sure that they can find games that they love. It doesn't mean they have to make your game the one that the player finds."
Outside of stocking products and keeping something akin to a storefront, it seems digital app stores have little in common with traditional retail. Clark stressed that app stores are extensions, not core, to Apple and Google's business. Both companies are much more interested in keeping people on board with their hardware and operating systems than upselling them on third-party software in their stores.
"All of these [app stores] are being run in different ways, but very few of them are actually motivated by the revenue and the audience that they serve," said Clark. "[At Apple] they're not particularly driven by revenue from the app store. The majority of the revenue still comes from the hardware. So is it any surprise that we have frustration we can't see the best content that we would want to see from the developer's point of view?"
However, Clark thinks not having infrastructure where app makers can compete, and pay for, promotions and premium placement is a missed opportunity. His belief is that it's only a matter of time before someone - likely a third-party store - recognizes it.
"The opportunity for a new entrant to come in and radically change the way we buy mobile content is there, and I suspect that will happen. But probably where someone is looking at gaming experiences across the multiple devices, so we have a single experience that allows us to buy maybe something like Steam content on PC but then reuse the license that we bought on other devices too. I think that type of disruption is what we're going to see next."