Mobile developers: How to hit the "sweet spot to penetrate mass market"
EEDAR tells us that developers need to consider the age of the smartphone, not just sell through of devices
Mobile gaming, if you ask most executives in the business, is one of the fastest growing sectors of the industry and is ripe with opportunity. Creating a mobile title among thousands of apps hardly guarantees success, however, and knowing how to get to the mass market is key. Market research firm EEDAR has some advice.
The firm, which is in the process of publishing a four-part series on the mobile and tablet gaming markets, explained to GamesIndustry International that understanding how to reach a large audience is key. "For the traditional HD markets, the installed bases are well understood, but within the mobile markets you can't simply rely on smartphone sell through reports to properly size markets," noted analyst Jesse Divnich.
"When taking into account upgrades, replacements, device hand me downs, etc. it can be extremely difficult to determine exactly how many potential users you are leaving behind by including that new software feature that isn't compatible with all smartphones," he added.
To better understand the overall potential market size, EEDAR has created a model to look at smartphone age, rather than specific models. Currently, "88 percent of the mobile gaming market owns an iPhone 3GS or newer (or Android equivalent), which we currently consider the market sweet spot for games looking to penetrate the mass market - nearly all of the top 100 selling games this year fit this criteria," Divnich continued.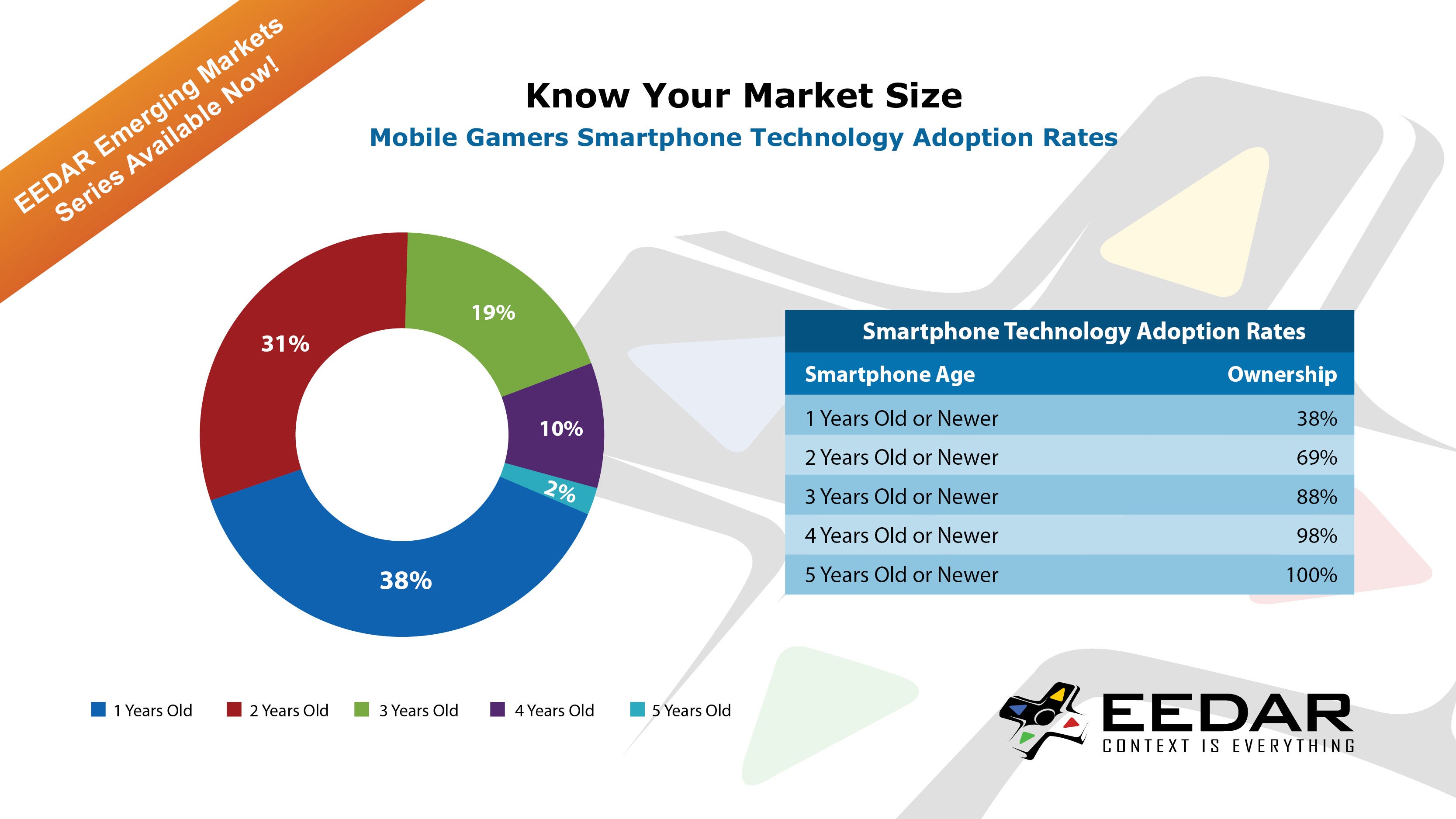 As you might expect, though, more avid gamers tend to own newer technology, so if you're planning a more advanced mobile game with core sensibilities then it may be fine to go after newer technology.
"If a developer is targeting core gamers such as those in the RPG or Shooter genre, we found the sweet spot to be targeting smartphones 2 years or newer, as our most recent consumer survey has found that fans of the core genres are first to adopt or upgrade their smartphones, in addition to preferring high graphical performance as a key influence to purchase," Divnich explained.
He added, "Of course, it isn't all bad if you decide to push the performance boundary at the expense of potential consumers since eventually everyone will own a compatible smartphone. If done properly, your title can be the standard in performance excellence when new hardware launches. However, one would have to be prepared for a revenue campaign that is more long-tailed than front-loaded."
"It really comes down to the type and style of game you are making, but I would encourage developers that are pushing the boundaries of core gaming on smartphones to be less worried about ensuring your game is compatible with all smartphones in the market."
As for the tablet market specifically, EEDAR's advice is a bit less concrete since tablet adoption rates are still being evaluated and the majority of tablet owners are first time buyers.