MLG and Relativity Media form content and marketing partnership
Both companies will work together to expand MLG's reach into other media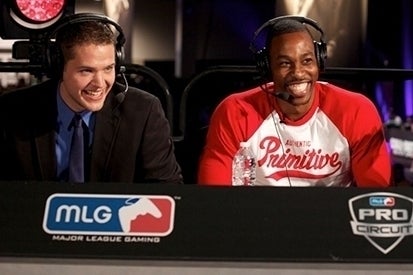 Major League Gaming (MLG) and Relativity Media have announced a content and marketing partnership. The partnership is aimed at expanding MLG's reach with more robust content and tie-ins with other media. Relativity Media CEO Ryan Kavanaugh will join MLG's Board of Directors.
Relativity Media will utilize its Relativity Sports clients - totaling more than 300 NBA, NFL and MLB athletes - to boost MLG programming. Earlier this year the NBA's Dwight Howard and the NFL's Dex Bryant, both Relativity sports clients, participated in an MLG Anaheim Call of Duty: Black Ops II tournament as players and broadcasters. Relativity Television will work to bring MLG's unscripted content to more audiences and promote major feature films on MLG's network. Relativity Digital will also work with MLG to create more original content and spread to other digital video networks, like YouTube.
"Relativity is committed to creating a wide-variety of high-quality, engaging content across all platforms," said Kavanaugh. "We share a vision with MLG, which has a truly unique opportunity to establish a model for digital and sports media businesses with its touch points across all platforms - mobile, social, digital and broadcast. MLG's exclusive partnerships with game publishers, relationships with the biggest influencers in the gaming space, and its own global, digital broadcast platform, make it a stand out for brands who want to reach millions of fans in an authentic way. We look forward to working closely with MLG as they continue to grow."
"Since our inception, our goal has been to turn competitive video gaming into the ultimate digital spectator sport. Through this collaboration with Relativity, we will now introduce MLG's premium content and competition to an even broader global, mainstream audience across feature films, television, sports and digital," said Sundance DiGiovanni, co-founder and CEO of Major League Gaming. "Working with Relativity not only validates our success as an influential media property, but adds greater value to partners looking to be at the forefront of today's advertising effectiveness model. We are excited to work with the Relativity team and welcome Ryan to our Board of Directors."