Miyamoto laments gaming's "creative immaturity"
Designer says majority of E3 was "bloody shooter software," points to comics, movies as media where creators challenge themselves more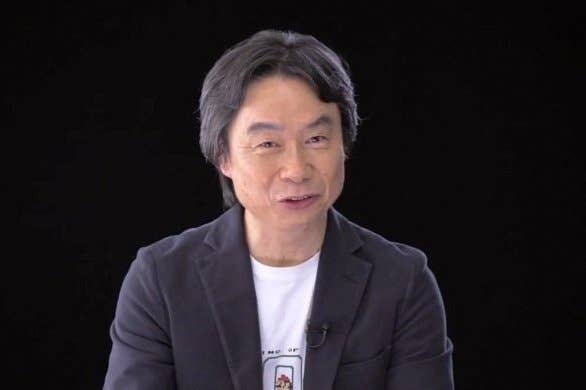 Shigeru Miyamoto was not impressed with what he saw from the competition at E3. In a recently published Q&A from Nintendo's annual general meeting of shareholders, Miyamoto recapped the company's performance at last month's trade show, then weighed in on the rest of the field.
"Every year a number of companies exhibit at E3 and Nintendo is compared with other companies, most likely with Sony and Microsoft," Miyamoto said. "This year, the majority of what the other developers exhibited was bloody shooter software that was mainly set in violent surroundings or, in a different sense, realistic and cool worlds. Because so many software developers are competing in that category, it seemed like most of the titles at the show were of that kind."
The Mario and Zelda creator underscored how much Nintendo's lineup of games stood out from the crowd, saying its own efforts were games families could feel safe with. The issue came up again later in the shareholder meeting, when an investor asked about how current turmoil in the gaming industry relates to previous upheavals in other creative media. Miyamoto responded that it was important to learn from other industries, and again reflected on what he saw at E3.
"[T]o some, it might have seemed as though there wasn't a wide variety of software at E3, and as though many people followed the same direction to make their video games. I believe this is a revelation of creative immaturity on our part as creators in the video game industry," Miyamoto said.
To shed light on why, the designer brought up an observation by former Nintendo president Hiroshi Yamauchi, who said that in entertainment, "only one can become strong and all of the others will become weak." Miyamoto said the quote was meant to describe a phenomenon in entertainment, where one company creates an unprecedented offering, competitors attempt to copy that and customers then go with the original because there's no need to adopt the follow-on efforts.
"My comment may be at risk of being misinterpreted, but in the digital content field, I think that our creativity is still immature," Miyamoto said. "In the world of comic books and movies, there are people who are challenging themselves to be even more creative than before in creating their content. I believe that we (those who are creating digital content called video games) are still in a transitional period and will eventually step up into the phases where we expand and enrich the substance of our creativity. If we can manage Nintendo without losing sight of this challenge, I believe we might be able to create new entertainment that dominates the industry."