Minecraft servers served up fresh by Minefold
The new Y Combinator-powered startup seeks to make it easier for players to host their own servers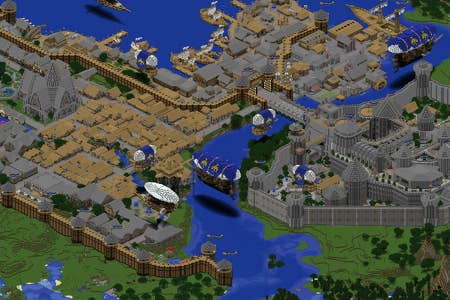 Minefold, a new startup launching today, has announced that it will be offering customers an easy way to create servers for their favorite multiplayer titles. Instead of having a server controlled by a single admin or host, Minefold will let players pay $5 a month to simply start up a server. Each player pays for their usage of the service separately. If the initial server host stops playing, the server continues on as long as there are others playing on the server.
Minefold is also offering other features to users, including full server maps, analytic data, and the ability for other users to clone popular Minecraft maps with a few clicks. The server maps are also fully-interactive, allowing people to zoom in-and-out of a map to check out the server's crazy creations.
The company opened with a soft launch in December, and since then over 6,000 hours of Minecraft have been played on their servers. Currently, the service is focused on Minecraft, but the founders hope to expand to other multiplayer games in the future.
Minefold is funded by the Y Combinator startup program, which seeks to give smaller sums of funding (around $18K) to a number of new startups each year. The startups then move to Silicon Valley for 3 months to work with veteran entrepreneurs and investors. Previous recipients of Y Combinator's bounty include the founders of Dropbox, Reddit, Scribd, and Airbnb.
[Via TechCrunch]