Minecraft for Switch takes No.1 | UK Boxed Charts
The only new game in the charts this week was WRC 10 at No.40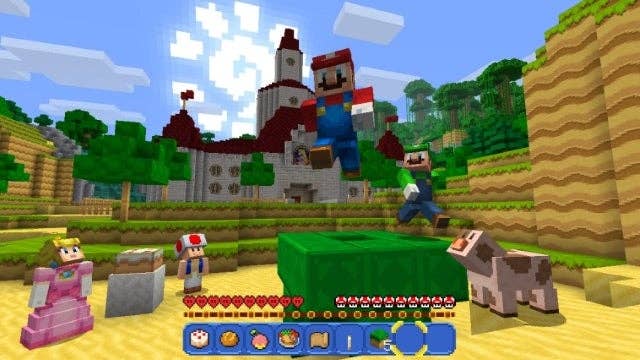 It's been a quiet week at UK retail, which mainly benefited the Nintendo Switch.
Minecraft for Switch took the top spot of the UK physical charts, with a 29% increase in sales week-on-week, and Mario Kart 8 Deluxe remained at No.2 with a 16% rise.
Further down the top ten, Animal Crossing: New Horizons also saw its sales rise 15% compared to last week, grabbing No.5.
Overall, Switch sales were up 5% week-on-week, while the market as a whole was down 6% in units.
Over on PlayStation 5, Ratchet & Clank: Rift Apart climbed eight spots to No.4 with sales increasing 38% week-on-week.
EA's F1 2021 saw its price drop, meaning the title jumped from No.17 to No.8 thanks to a 51% rise in sales.
Last week's No.1, Focus' Aliens: Fireteam Elite, dropped to No.12 following a 77% decrease in sales.
You had to look further down to find new entries in the UK charts this week, with The Medium re-entering the list at No.36 following the title's release on PS5, and WRC 10 debuting at No.40.
Here is the GfK top ten for the week ending September 4, 2021:
| Last Week | This Week | Title |
| --- | --- | --- |
| 3 | 1 | Minecraft for Switch |
| 2 | 2 | Mario Kart 8: Deluxe |
| 4 | 3 | Grand Theft Auto 5 |
| 12 | 4 | Ratchet & Clank: Rift Apart |
| 7 | 5 | Animal Crossing: New Horizons |
| 8 | 6 | Marvel's Avengers |
| 5 | 7 | Marvel's Spider-Man: Miles Morales |
| 17 | 8 | F1 2021 |
| 6 | 9 | FIFA 21 |
| 13 | 10 | Super Mario 3D World + Bowser's Fury |