Minecraft boss Helen Chiang joins GI Live: Online
Twitch, Makers Fund, Galaxy Interactive and more investors join April event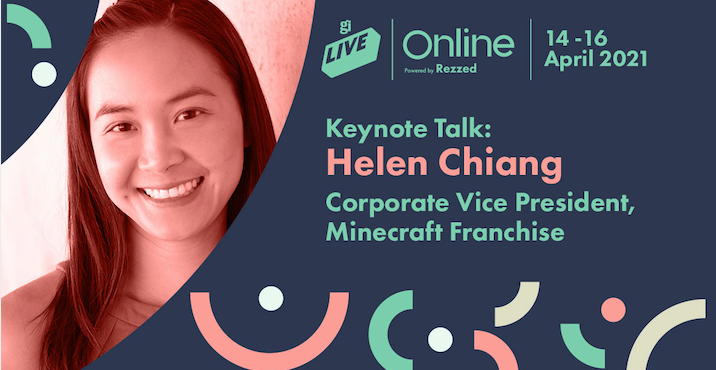 Head of Minecraft Helen Chiang is the latest keynote speaker to join GI Live: Online this April.
She joins Velan Studios (Mario Kart Live: Home Circuit) boss Guha Bala and IO Interactive (Hitman 3) CEO Hakan Abrak at the indie development event, which takes place April 14th - 16th.
Meanwhile, even more investors and companies have signed up to hold meetings with indie developers, including Twitch, Triple Dragon, Makers Fund, London Venture Partners, Kwalee, Galaxy Interactive and Fundamentally Games.
They join Bandai Namco, Behaviour Interactive, Devolver Digital, Digital Extremes, EA Originals, Gearbox Publishing, Humble Bundle, Kickstarter, LEGO Ventures, Makers Fund, Microsoft ID@Xbox, SEGA, Sony PlayStation, Team17 and Ubisoft.
The talks can be watched for free. However, ticket holders will receive the chance to talk with the speakers, can take place in 1-2-1 meetings, meet with our industry special guests, and take part in essential roundtables featuring the likes of Xbox, Kickstarter, London Venture Partners, Kowloon Nights and Creative England.
The event will use Discord, MeetToMatch and YouTube.
Tickets are available right now. The event runs from 10am - 8pm GMT.
Using Discord, MeetToMatch and YouTube, GI Live: Online is the place for indie developers to meet investors, publishers, services companies and more, and to learn about how to develop their business in today's games industry. Roundtables will take place on a variety of subjects, from succeeding on Xbox to getting covered by the games media. Roundtables already confirmed include sessions with Xbox, Kickstarter, London Venture Partners, Kowloon Nights and Creative England.
Creative England has signed up as our first sponsor for the event with its Advance programme. Interested in sponsoring? Contact Charlotte.Nangle@Gamesindustry.biz.
Tickets are on sale now at $50 for developers, publishers and investors. A special add-on is available for developers looking to promote their game to investors and publishers, which includes coverage on GamesIndustry.biz.