Microsoft wants to see Minecraft in the classroom
A new online space invited educators to come together and discuss the best uses for Mojang's game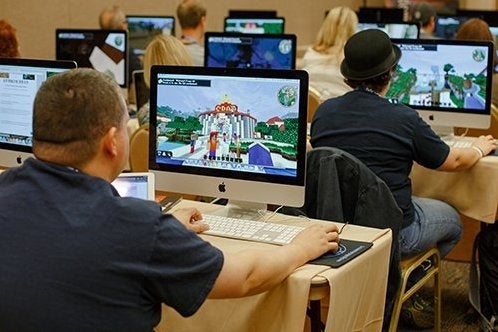 Microsoft has taken another step towards making Minecraft a feature of contemporary education, setting up an online community where educators can congregate and share ideas.
In a Tumblr post explaining its intentions, Microsoft said that the inspiration came from the Minecraft community itself, the game's millions of users demonstrating just how broad its applications can be on a daily basis.
"Many of the most fun parts of Minecraft, including the collaborative nature of play, the need to experiment, the open world, the earning of achievements, and the growth of players' in-game characters as well as their personal skill sets, are also key to excellent learning environments."
Minecraft is already employed as a tool for education in schools in a number of countries, though mainly due to teachers acting independently. Microsoft noted that Mojang's hugely popular game has been used in a broad range of subjects, including history, art and the sciences, as well as fostering important skills like leadership, teamwork and problem solving.
But the formal introduction of Minecraft to the classroom is a relatively new phenomenon. In March this year, for example, CultureTECH gave a special version of the game to 200 secondary schools in Northern Ireland.
Microsoft is working on this new push with an organisation called TeacherGaming, which distributed both Minecraft and Kerbal Space Program to schools.
"Our goal here is to invite you to share possibilities. We've created this space to connect the community of educators and players with people looking to learn more."