Microsoft confirms more Xbox Series X details
Console will feature quick resume for multiple games, 12 teraflops GPU, first-party games can be bought once and played on Xbox One or Series X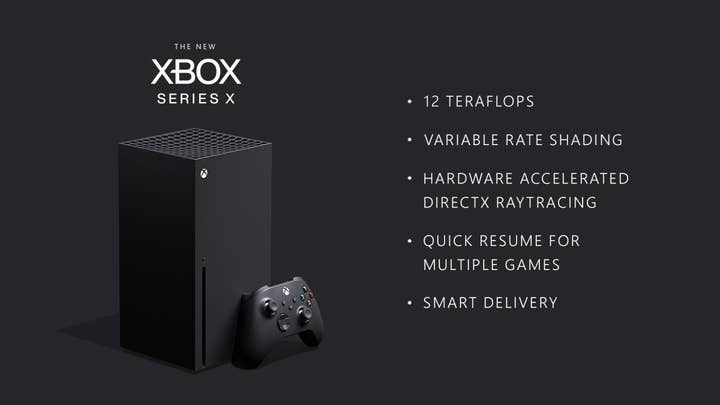 Microsoft has revealed a few new details surrounding the Xbox Series X.
In an Xbox Wire post, Xbox head Phil Spencer today said "the next console generation will be defined by more playing and less waiting," and some of the Series X features were designed with that in mind.
For example, the system will have a Quick Resume feature that lets players have multiple games in a suspended state for a near-instant return to action. Like the Xbox One X, the Series X will also support HDMI 2.1, which will let the console automatically set the connected TV or monitor to the mode with the lowest latency and synchronize refresh rates between the display and the game. Spencer also listed previously announced features like the system's SSD storage, 120 frames per second support, and optimized wireless communications with the controller as contributing to a focus on instant immersion.
Under the hood, Spencer said the Series X will have 12 teraflops of GPU performance. That's twice the Xbox One X's total and more than eight times the original Xbox One's capabilities.
Beyond those bits, Spencer provided a little more detail on some of the system's other features. He had previously said Microsoft's first-party games would support "cross-generation entitlements" as well as achievements and game saves." Today's post specified that part of that would be called Smart Delivery, which lets players purchase a game once and be able to play the Xbox One or Series X version of it.
Beyond the benefit for people upgrading from one system to the other, Spencer gave a hypothetical situation where if a game launches on Xbox One first and a customer buys it, they will be able to play the Series X version when it is released on the new console later. While Smart Delivery is only guaranteed for first-party Microsoft exclusives, Spencer said Microsoft is making the feature available for external developers and publishers to use with their own titles.
CD Projekt is the first such third-party company to take advantage of the Smart Delivery feature. The Cyberpunk 2077 Twitter account today confirmed that customers who purchase the Xbox One version of Cyberpunk 2077 will be able to upgrade to the Series X version for free whenever it is available. Cyberpunk 2077 is set for release September 17; the Xbox Series X has a holiday 2020 release window.