Metacritic ranks Bethesda as top-rated big publisher of 2017
Nicalis takes top-spot for best mid-sized publisher while EA comes in at fifth place after it "fell precipitously" last year
Bethesda has been rated the best large publisher of 2017 in Metacritic's eighth annual publisher ranking.
The top publishers are recognised based on a formula which takes into account the varying metascores for all games in 2017, weighted in favour of the average; iOS games are not included in the figures.
Publishers were divided into two separate ranked groups: the first group consists of the largest companies which each published 12 or more distinct titles; the remaining mid-sized publishers each released between six and 11 distinct titles; publishers with five or fewer are excluded.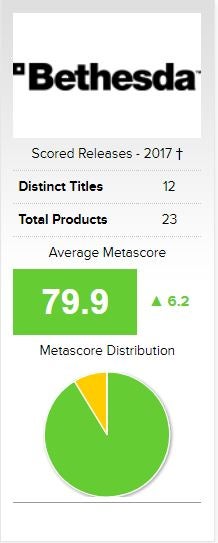 Bethesda topped the rankings this year after not appearing on the list in 2016. It secured an average metascore of 79.9, having released 12 distinct titles and 23 total products.
It's highest rated game was Wolfenstein II: The New Colossus (Xbox One) which scored 88. The publisher's worst rated release in 2017 was Doom VFR (PC) which scored 69. The Evil Within 2 received the best user score with 8.9.
"The publisher increased its Metascore average by more than six points compared to its 2016 slate thanks to a well-received new entry in the Wolfenstein franchise, a reboot of Prey, a strong Evil Within sequel, and various releases in the Elder Scrolls series," said Metacritic.
"In all, 91% of the company's 2017 products were positively reviewed-the best rate for any publisher. Like many of the other majors, however, Bethesda failed to launch any new IP last year."
Despite enjoying a bumper year both critically and commercially Nintendo entered in at second place, no doubt hampered by the sheer volume of its releases.
In 2017 Nintendo released 31 distinct titles and a total of 32 products; it received an average Metascore of 78, with The Legend of Zelda: Breath of the Wild being the highest rated at 97. Along with Super Mario Odyssey and Mario Kart 8, Nintendo was the only publisher to achieve a 90+ rating on three different titles in 2017.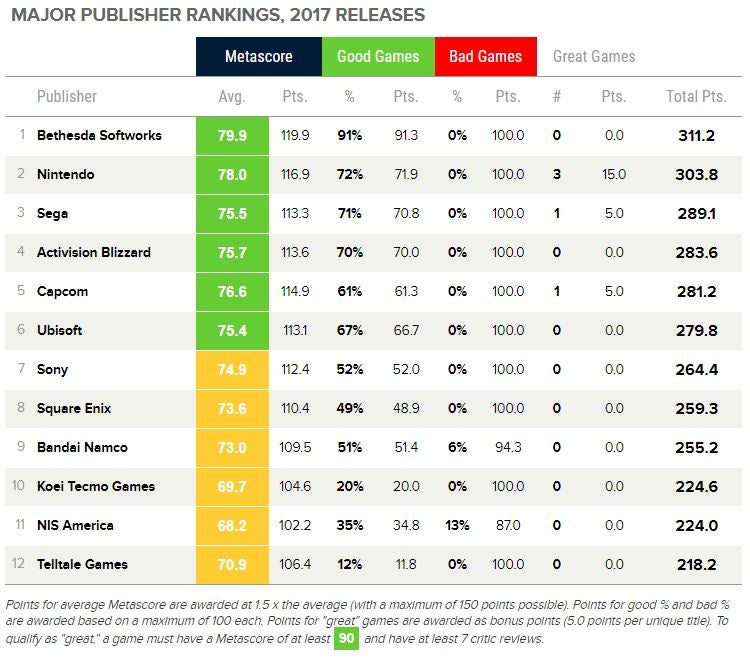 The highest rated mid-sized publisher this year was more of an unknown. Nicalis took the top spot in 2017 with an average metascore of 79.8 having released eight distinct titles and ten total products.
"The California-based publisher/developer was unranked a year ago, but released enough games in 2017-mainly Nintendo Switch ports of previously released games-to qualify for this year's chart, where it takes first place by one-tenth of one point," said Metacritic. "Its top release was the Switch port of Cave Story+."
Previous mid-sized publisher top-spot Paradox fell down to second place despite securing a marginally higher metascore with 80.6. The publisher released nine products and seven distinct titles, the highest rated being the Pillars of Eternity console port with 86.
Meanwhile Electronic Arts, previously the top-ranked big publisher, found itself languishing in the mid-sized publisher rankings with an average metascore of 73.2, having released 11 distinct titles and 25 total products.
"EA's Metascore average fell precipitously last year, and the publisher's rate of critically approved games plunged from 79% to just 48%. (Metacritic users, meanwhile, trashed almost all of EA's releases,)" said Metacritic.
"The company's many 2017 disappointments included Need for Speed Payback and Star Wars Battlefront II."