MENA: "People think Arabic games mean deserts and camels"
The region's developers are combining history, politics and creativity to establish a distinctive new voice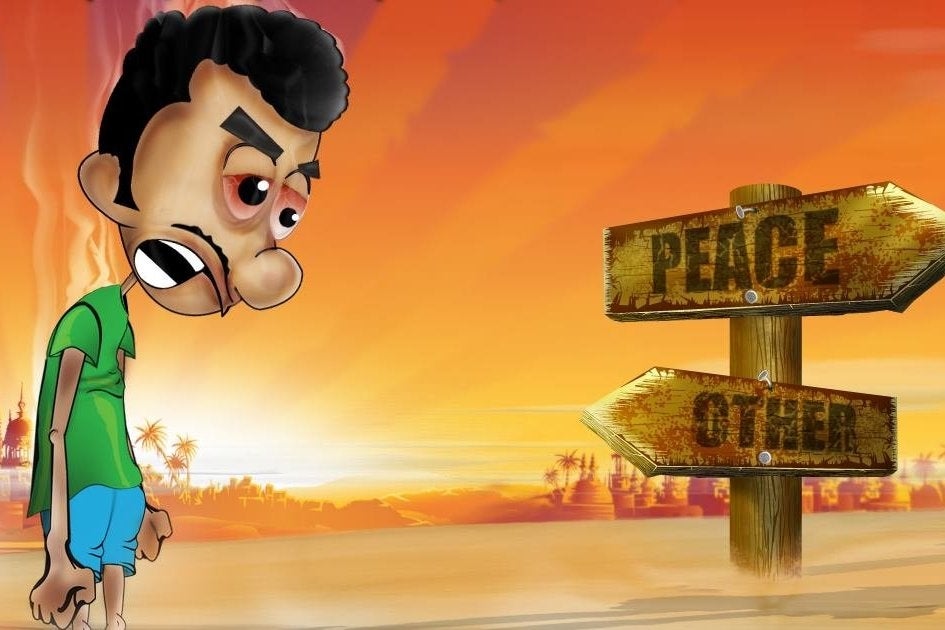 With an industry as young as the one being built in the Middle East and North Africa, accurate data can be difficult to find. Sometimes, it can even be difficult to believe.
The MEGA Games Conference is a fount of provocative information, brief glimpses into a huge regional market that the global industry has made little effort to address. The most striking fact among a great many was relayed by Joseph Shomali, co-founder of the Jordanian publisher Play 3arabi, and a self-confessed "old timer" in the context of the MENA region's nascent developer community. Here it is: there are more than 400,000 games on the mobile app stores, but only 250 have Arabic as a first language
"There's 12,000 games on the App Store in Greek," Shomali says, shaking his head. "There's how many million people in Greece? 12 million? We have 350 million people. It really doesn't make sense. We need a lot of content. Some say we need a lot of quality content. I say of course, but it's okay to make mistakes and learn. And people are learning. We need to find out what else makes money in this region."
"If we stay at the same pace, our market's going to be eaten up and there won't be anything left"

Lara Noujaim, Game Cooks
Shomali and his fellow co-founders, Samer Abbas and Ahmed Alsafar, are dedicated to building a sustainable industry for the MENA region. Abbas, in particular, is a vital figure, with a hand in several initiatives that encourage aspiring Arab developers and bring them together. Among them is the Arabic Game Jam, which was started in Malmo, Sweden in 2013, and moved to Lebanon this year - the first time it has been hosted in a MENA country.
"One of the things the Game Jam has been trying to do is find out what an Arabic game is," Abbas says. "People think that to make a game for Arab culture means deserts, camels and traditional dress. This is stereotyping. An Arabic game is not necessarily something that is visual. In the Arabic Game Jam, we were exploring Arabic Games not just from a visual point-of-view, but also from a deeper, psychological, cultural point-of-view."
That process is still in its early stages, but developers that have found success in MENA countries have done so without resorting to those lazy cliches. Abbas mentions the strategy MMO Travian, a huge hit in the region, as a useful example, its combination of strategic gameplay and historical context giving an early indicator of what chimes with the Arab market.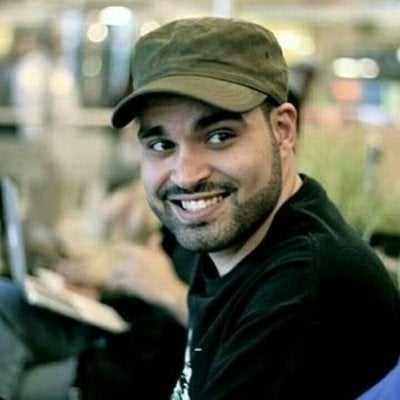 There is a growing sense among the MENA region's developers that focusing on culturally specific products is the best way forward, and that the journey will be faster and easier if they combine their efforts. I hosted a panel of developers from one end of the region to the other, and that willingness to collaborate and share was evident in every single participant. Abdullah Konash, a fiercely dedicated young designer from Saudi Arabia, uses his limited free time to write an Arabic game development blog, articulating complex ideas and techniques for those who lack the English to understand the source texts. Ameen Altajer is similarly dedicated to helping aspiring developers in Bahrain. "There was no industry when I started," he says. "None. I started from scratch."
The fact that the panel was even possible is largely down to GameTako, a network established by Play 3arabi's Samer Abbas and Abdullah Hamed, who balances several game development projects with his role as content development manager at Sony KSA. GameTako has helped the MENA region's developers to find each other, to communicate, and to foster a mutually supportive environment. According to Altajer, that final aspect was particularly important, because networking and receiving criticism are essential to success in development, and yet they clash with the cultural context in which many Arab developers were raised. "Especially in this region that's a super sensitive matter," he says.
"Meetups, Game Jams, Competitions. GameTako is a place where [young developers] can have the opportunities, and feel pushed to make games," Abbas adds. "There wasn't really a roadmap or a plan, but things fell into place. Developers flocked to the idea, from Morocco, Tunisia, Bahrain, from the Emirates, Saudi Arabia. After making the first Game Jam, that started the community, and it started driving forward without us."
Altajer is now working with Abbas and Osama Hussain, the co-founder of Moroccan Game Developers, to take the GameTako concept a step further. Game Developers United (GDU), as it is tentatively called, will have a more commercial focus, taking the community that GameTako established and ensuring that the global games industry knows that it exists. GDU will allow the MENA region's developers to present a unified front, without losing the unique identities of their individual countries.
"We went to work every day, under the bombs. We live in a dangerous place"

Reine Abbas, Wixel Studios
"If someone from outside MENA wants to meet developers they need somewhere to start," Altajer says. "We're all game developers and we're all community leaders. We all know what happens in our own communities, what triggers them, what makes them happy."
Amidst all the market research and the community building, though, there are already developers attempting to articulate regional identity through their games. Lebanon is the most obvious candidate to be an industry hub for the MENA region in the next few years, and it's also where some of the most interesting and creative work is happening right now.
Game Cooks is a perfect example. The studio was founded by Arz and Lebnan Nader, who found entirely unexpected success with a part-time game project called Birdy Nam Nam. According to Lara Noujaim, the company's director of publishing, the very idea of a mobile game in Arabic was "hilarious" back in 2011. The Nader brothers released it with almost no expectation of success, but within a few weeks it had been downloaded 250,000 times. It was enough to convince them to take some seed investment and start a company. Game Cooks was incorporated in February 2012, just a few months after the launch of Birdy Nam Nam.
The studio's next game drilled even further into the notion of an 'Arabic' mobile game. The wave of protests and demonstrations collectively known as the Arab Spring were still ongoing, and the import and possible impact of these events was a frequent topic of conversation among Game Cooks' employees. Those discussions spawned Run For Peace, which was intended to provide an optimistic counterpoint to the often negative depictions of violence and civil disruption on the major news networks. The game launched on iOS in the summer of 2012, reaching the top of the download charts in the US, France and several other territories.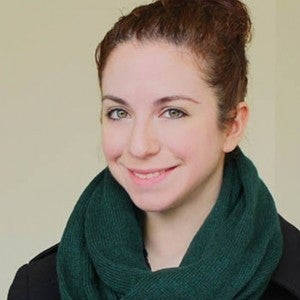 "It was the Arab Spring [that made it popular]," Noujaim says. "War, peace, the Middle East; these things were on everybody's mind. People were curious, and particularly the media. We had a lot of game websites reaching out to us. It was a great angle for a story."
Any mobile developer will tell you that finding a "great angle" for the press is no small achievement, so it's no surprise that Game Cooks continued to use political and cultural issues as a source of inspiration. Power Smash, for example, was born from conversations about the problems in Syria. Escape From Paradise is a veiled reference to the chronic brain drain that deprives Lebanon of so many of its brightest talents. Neither of these games is as overt as Run For Peace, and that, Noujaim says, was deliberate. Game Cooks didn't want to be known purely for political commentary, to reinforce the way Lebanon has been portrayed by the global media.
"In each and every game we try to add a twist from our culture. But anybody looking from the outside wouldn't understand the connotation. They would see it as like an international game. So whenever there's a topic that is close to our hearts we try to express it and send out the message in the best way we can. The most peaceful ways. We're a Middle Eastern company, and we're proud of those roots.
"But we're targeting international, and trying to spread our wings. But we will never ever remove our sights from the MIddle East. It's our home. It's where we want to stay.
"We started three years ago, like blind people trying to find their way out of a room. We did it, we're breaking even, and our games are gaining traction."
"If there's a fight 30km away we still make time to go to the beach. It's a way to express our depression at the situation we live in"

Ziad Feghali, Wixel Studios
Game Cooks' work is not without precedent, however. Reine Abbas and Ziad Feghali were both teachers at the Beirut campus of DigiPen, the non-profit educational institute founded in Canada by Claude Comair, who was born in Lebanon's Batroun district. Both started at DigiPen in 2003, and enjoyed several happy years experimenting with game development, travelling back and forth between Beirut and the US. Feghali recounts his first trip to E3 in 2006, where he was afforded queue-jumping privileges to try Nintendo's still unreleased Wii console, with lingering excitement.
Within weeks of returning, matters had already started to change. The outbreak of violence between Israeli and Hezbollah forces in July turned Beirut into a war zone, and marked the start of a period of instability in Lebanon that would force DigiPen's exit from the country.
"1200 dead," Feghali says. "We were at risk. Real security risk. But we didn't stop working,"
"We went to work every day, under the bombs," Abbas adds, gesturing towards the roof the Mar Mikhael Train Station, once the city's bustling transport hub, now an atmospheric venue for events like the MEGA Games conference. "We had a chance to go the US when we left DigiPen, before we started Wixel. We live in a dangerous place.
"Back then, all the young people were fighting on the streets. We were stuck between our home and where we worked. We saw all of the people fighting, hitting each other for the politicians and the leaders. We saw them as puppets. We couldn't accept it. It was a shock for us. 'What are you doing? Why are you letting politicians tell us what to do, and to make us fight each other?'"
Wixel's first game, Douma, a fighting game featuring politicians as its combatants, was born out of that realisation. The title itself means "puppet," and the opportunity to reverse the balance of power proved alluring to Lebanon's angry, frustrated youth. Within 24 hours of launching Douma online, the website had drawn 12,000 visitors, and attracted unwelcome interest from an indignant government.
"Back then we didn't have social media, or games on Facebook," Abbas says. "Douma was a huge success. We didn't expect it. It was a wake up call. We thought that there was a chance to work on and create the industry in the region - Lebanon especially."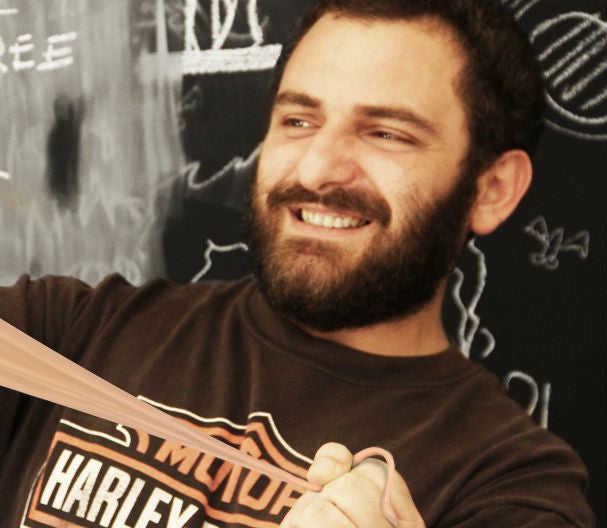 Wixel has turned to politics as an inspiration for several other games, and Feghali believes that this is an expression of a widespread and longstanding sense of frustration. Lebanon doesn't feel like many other countries in the MENA region, he says, an observation that coheres to my own experience of Beirut, a city where European culture is as evident as Arabic, and the influence of religious belief isn't nearly as pervasive as, say, Marrakech, Cairo, or even a city like Istanbul. According to Feghali, many Lebanese people have a complicated relationship with their heritage, but tremendous national pride. Most creative people are forced to leave to pursue a career, almost always against their will.
"Big time. Big time," he says. "We don't resemble the Egyptian people, the Syrian people. We're the really easy-going people [in MENA]. It's like, okay, if there's a fight 30km away we still make time to go to the beach. It's a way to express our depression at the situation that we live in, but we do it in style. Good food, friendly people. Even though we're depressed and frustrated, if we meet someone who's not from the country we try to show them the best image of it. This part of the loyalty we have to Lebanon."
The business environment is improving in Lebanon, but not as quickly as either Wixel Studios or Game Cooks had hoped. Game Cooks' Noujaim regards the growing interest in the Arab market from international companies, particularly those from China, with a wary eye.
"We're exploring Arabic Games not just from a visual point-of-view, but also from a deeper, psychological, cultural point-of-view"

Samer Abbas, GameTako
"The local developers have not had the time to pick themselves up yet," she says. "I don't want to say that we [in Lebanon] should have reached further, because we really don't have the infrastructure. But right now I'm hoping we'll see a faster and bigger growth in the coming years than in the three years that just passed.
"If we stay at the same pace, our market's going to be eaten up and there won't be anything left."
Despite its reputation as a trailblazer for the Lebanese development scene, Wixel has experienced "difficulties" relating to finance in the last 18 months. Feghali and Abbas have found new business for the company through working on advergames, they are exploring the potential of crowdfunding for several new projects, and they have a detailed plan to open three academies for game development education in Lebanon, with a long-term goal of franchising the concept across the MENA region.
All it needs is investment, and there's the rub. Genuine national pride and enviable resilience, forever bumping up against the harsher realities of life in Lebanon.
"We're still trying to make something happen here," Feghali says. "We're still trying because things in the Middle East are not as easy, especially in Lebanon. We have Syria in the north and Israel in the south."
"Investors see it as a risk, so if they invest it is a very small money for a lot of equity," Abbas adds. "But we're fighting. We don't care. We're not waiting for anything."