Mario Golf: Super Rush ends Ratchet & Clank's stay at the top | UK Boxed Charts
Plus, Alex Kidd returns to the charts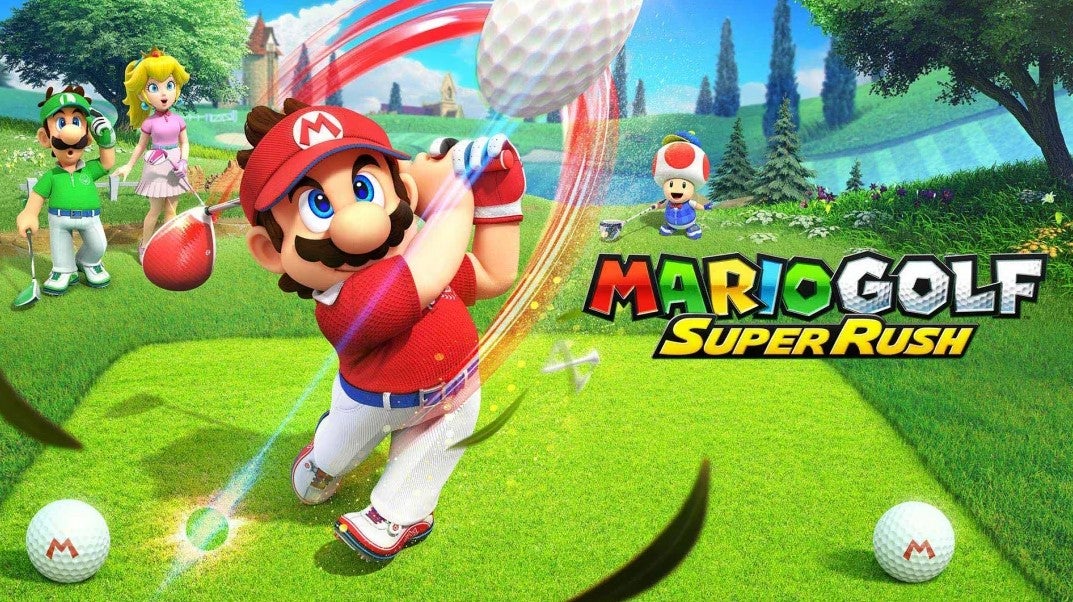 The new Mario sports game is this week's best-selling physical title in the UK.
Mario Golf: Super Rush had a relatively modest launch for a Switch release, although Mario sports titles rarely have big launches. Week one sales are 17.5% higher than 2018's Mario Tennis Aces, although obviously the Switch install base was a lot smaller back then.
Nintendo's big summer game is The Legend of Zelda: Skyward Sword HD, which arrives on July 16th.
It means after two strong weeks at No.1, Ratchet & Clank: Rift Apart loses its No.1 position and actually slips to No.3 after a 78% drop in sales week-on-week. This would seem like a steep fall for a third week, but remarkably the PS5 exclusive rose in sales during its second week (a very rare achievement), which is why this drop looks so severe. Of course, PS5 game performance is heavily impacted by the availability of consoles.
FIFA 21 is the No.2 game. The EA title rises 10% in sales week-on-week, and is no doubt benefitting from the European Championships, which are currently taking place in multiple countries including the UK.
There are a number of new games in the charts this week. Scarlet Nexus from Bandai Namco debuts at No.8, with 58% of sales on PS5, 21% on PS4 and 20% on Xbox consoles.
Olympic Games Tokyo 2020: The Official Video Game from Sega starts off at No.11. The game arrives a month ahead of the tournament, so will likely hang around for a while yet. 51% of sales are on PS4, 29% on Xbox One and 21% on Nintendo Switch.
Elsewhere, 1980s games icon Alex Kidd is back in a remake of the original. Alex Kidd In Miracle World DX from Merge Games makes No.17. 41% of sales are on Nintendo Switch, 33% on PS5, 16% on PS4 and 10% on Xbox. Alex Kidd was Sega's mascot before Sonic came along. Sonic celebrates its 30th anniversary this month, although there's currently no Sonic games in the charts.
Finally, the excellent Tony Hawk's Pro Skater 1 + 2 came to Switch, which helped the Activision Blizzard game jump 394% in sales week-on-week and return to the charts at No.29.
In terms of the rest of the Top Ten, a lot of games increased in sales week-on-week. Mario Kart 8: Deluxe is still at No.4 with a 2% sales increase, while Animal Crossing: New Horizons rises a place to No.5 after a 58% sales improvement. Assassin's Creed Valhalla re-enters the charts the Top Ten at No.6 with a 93% sales jump, followed by Minecraft on Switch at No.7 which is up 18%. Ring Fit Adventure jumps five places to No.9 (up 72%), while Super Mario 3D World + Bowser's Fury falls to No.10, but still enjoyed a sales rise of 10% week-on-week.
Ubisoft had a good week. Alongside the aforementioned Assassin's Creed: Valhalla, Just Dance 2020 rises eight places to No.12 after a 109% sales rise, and Watch Dogs Legion climbs to No.19 from No.31 after a 120% sales spike. A little lower down and Immortals: Fenyx Rising re-enters the charts at No.26 after a 153% sales jump. All four Ubisoft games featured in summer sales this past week.
Also re-entering the charts this week is Cyberpunk 2077, which is at No.22 after a 374% sales jump. The game was back in the news this week after returning to the PlayStation Store, although it's important to note that this data only tracks physical sales, so PSN sales are not counted. All three versions of the game (PS4, Xbox One and PC) saw a sales increase week-on-week.
Here is the GfK Top Ten for the week ending June 26, 2021:
| Last Week | This Week | Title |
| --- | --- | --- |
| New Entry | 1 | Mario Golf: Super Rush |
| 3 | 2 | FIFA 21 |
| 1 | 3 | Ratchet & Clank: Rift Apart |
| 4 | 4 | Mario Kart 8: Deluxe |
| 6 | 5 | Animal Crossing: New Horizons |
| 12 | 6 | Assassin's Creed: Valhalla |
| 8 | 7 | Minecraft (Switch) |
| New Entry | 8 | Scarlet Nexus |
| 14 | 9 | Ring Fit Adventure |
| 9 | 10 | Super Mario 3D World + Bowser's Fury |