Majesco searching for UK developer talent
Zumba Fitness publisher looking to spend cash on new ideas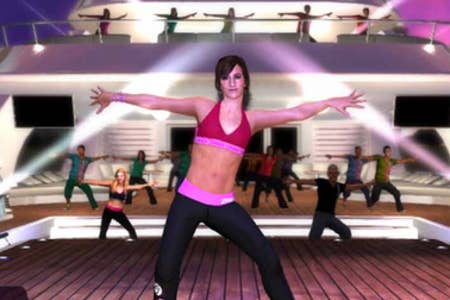 Majesco has revealed that it is looking to spend some of the money accrued from the success of Zumba Fitness on acquiring new talent from the UK and Europe and has invited studios to pitch it new ideas.
European PR and Marketing manager Emily Bryce-Williams, appointed in December 2011, told GamesIndustry International that the publisher is keen to prove its credentials as an business capable of creating international successes, and will be reinvesting Zumba's proceeds in the search for the next hit.
"It's important to me that people know what Majesco is capable of as a global video games publisher," said Bryce-Williams.
"In terms of new strategies, we're really interested in working with smaller studios that have a focus on digital titles and we're exploring all of our options at the moment across the social gaming and iOS arena, in fact we've recently acquired our own social games development studio in the US. With regard to new products and focus, we've signed some fantastic licenses already this year that will be announced shortly and one thing we're doing currently is assessing what platforms suit them the best.
"Video games are no longer a simple 'cross platform' development strategy. There are so many platforms to work on now we need to make sure we're always choosing the right platform for the game and the audience we're targeting. We're always very keen to speak to studios who are skilled, passionate and driven and have their own titles they're working on.
"Zumba has certainly opened up a considerable amount of opportunities for growth for us and we are in a somewhat enviable position in that we have money to invest but we also have the luxury of being able to take our time with choosing what partners we work with.
"Our focus is finding strong matches for us as a company in terms of working relationships and that hopefully means we'll be able to find developers that are happy and excited to work with us. Launching a title like Zumba proves what we're capable of achieving on a global level and we'd like to use that as an example of what we can do moving forward with our next releases."
Zumba Fitness was a huge success in the UK, capitalising on a quiet summer release period last year to remain at the top of the retail chart for months. That success lead to both Move and Kinect ports of the Wii original.
Zumba was distributed in the UK and Europe by 505 Games, an experience which Bryce-Williams says was vital and educational, but has lead to the company extending its ambitions to becoming a global publisher in its own right.
"505 Games have been a fantastic partner to work with, they have local level offices within the key European territories that we require and they are of a similar size and stance to us as a company," continues Bryce-Williams.
"Partnering with them has given us the very best chance for success across PAL territories and by teaming up their great local level knowledge with our experience and skill set at Majesco has meant Zumba has had the best possible support across it's European launches.
"The fact that Zumba has been such a huge success has meant that internally we've had to restructure and restrategise to accommodate the growth that releasing a very successful product brings to a company of our size. We're really proud of what we've achieved over the past 18 months and our new mission is to use our solid financial positioning and experienced infrastructure to get out and find new product on both a global and pan-European basis."