Machine Zone launches new studio, game
Game of War publisher uses Arnold Schwarzenegger as pitchman for Epic War division's Mobile Strike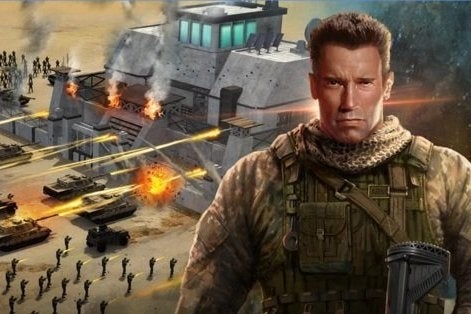 Machine Zone's long-awaited follow-up to the mobile hit Game of War is another game of war. As reported by Venture Beat, Machine Zone's new studio Epic War today launched its military base-building game Mobile Strike on Google Play, Amazon, and iOS.
And just as Game of War had Kate Upton and now Mariah Carey, so too does Mobile Strike have its own celebrity spokesperson in the form of Arnold Schwarzenegger.
"We are very excited about the launch of Mobile Strike and are thrilled to have an icon like Arnold Schwarzenegger as our partner and personification of the game," Machine Zone CEO Gabe Leydon told the site. "We decided to adopt the tried-and true-studio model that many developers employ and are also excited to announce Epic War, our new studio whose staff is devoted to developing and managing this new game. The new studio will allow us to maintain the existing, dedicated resources to Game of War and in fact, we intend to grow the GOW-focused engineering and customer service teams. We are constantly striving to improve the game experience for our passionate and loyal players."
Mobile Strike had been soft launched in multiple territories for months of testing before today's global release. As with Game of War, it is a free-to-play game driven by microtransactions that run from a couple dollars up to $100. Unlike Game of War, the $100 option is not yet the top in-app purchase in Mobile Strike on the App Store. As of this writing, players are more frequently picking up $5 and $20 bundles of in-game gold.