LEGO Star Wars: The Skywalker Saga launch was nearly as big as Elden Ring | UK Digital Charts
Over 60% of LEGO's sales were digital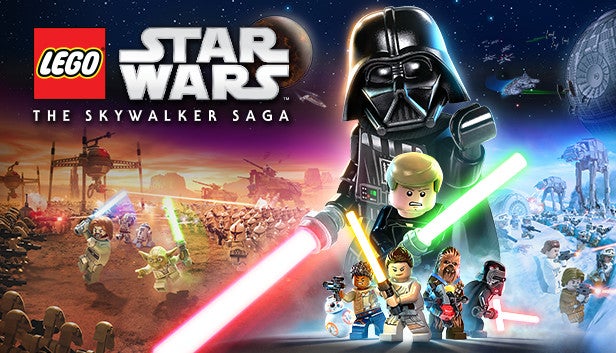 LEGO Star Wars: The Skywalker Saga was not just a big hit at UK retail, but a major digital sales success, too.
The Warner Bros and TT Games title saw 61% of its sales come via download stores, according to GSD. That means the game only narrowly misses out on matching Elden Ring's huge launch back in February (digital and physical combined).
It is comfortably the second biggest game launch of the year overall in the UK. And the fastest-selling LEGO game in history.
In terms of digital, Xbox was the dominant platform accounting for 41% of sales, PlayStation accounted for 34%, PC 18% and Switch 7%.
Overall (so including physical retail), PlayStation was the biggest platform with 39% of sales, followed by Xbox (34%), then Switch (16%) and finally PC (11%).
Also new this week in the GSD digital charts is Chrono Cross: The Radical Dreamers Edition at No.9. The remaster of the classic RPG sold best on Nintendo Switch (44% of sales), followed by PS4 (31%), then PC (15%) and finally Xbox (11%).
Here is the GSD UK Digital Top Ten (week ending April 10th):
| Position | Title |
| --- | --- |
| 1 | LEGO Star Wars: The Skywalker Saga (Warner Bros) |
| 2 | Elden Ring (Bandai Namco)FIFA 22 (EA) |
| 3 | Grand Theft Auto 5 (Rockstar) |
| 4 | WWE 2K22 (2K Games) |
| 5 | NBA 2K22 (2K Games) |
| 6 | Red Dead Redemption 2 (Rockstar) |
| 7 | F1 2021 (EA) |
| 8 | Tiny Tina: Wonderlands (2K Games) |
| 9 | Chrono Cross: The Radical Dreamers Edition (Square Enix) |
| 10 | Grand Theft Auto Online (Rockstar) |
GSD digital data includes games from participating companies sold via Steam, Xbox Live, PlayStation Network, Nintendo Eshop. Participating companies are Activision Blizzard, Bandai Namco, Big Ben Interactive, Capcom, Codemasters, Electronic Arts, Focus Home Interactive, Koch Media, Konami, Microids, Microsoft, Milestone, Paradox Interactive, Quantic Dream, Sega, Sony, Square Enix, Strelka, Take-Two, Ubisoft and Warner Bros. Nintendo and Bethesda are the notable absentees, alongside smaller studios.