Kirby racks up second month at No.1 | Japan Monthly Charts
Switch boxed games sales dip below one million units for the first time since September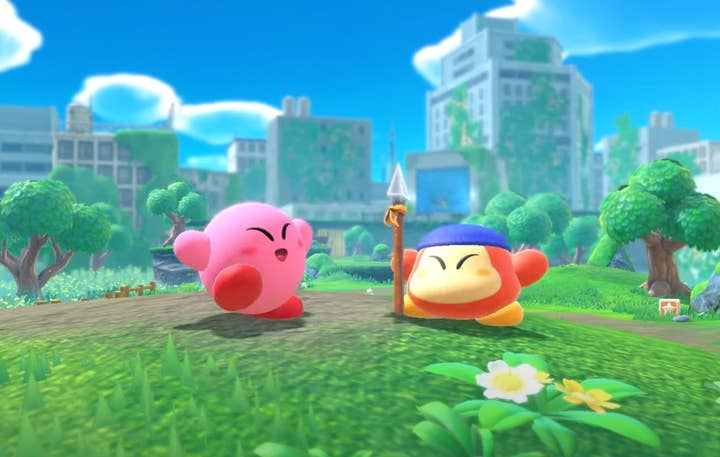 At a glance:
Biggest new release was Konami's eBaseball Powerful Pro Yakyu 2022, but sold less than half the number of units that Kirby shifted
995,000 Switch games sold in the first sub-million month of the year
Zelda: Breath of the Wild sold its two millionth boxed copy in Japan this month
Kirby and the Forgotten Land was the biggest selling boxed game in Japan for the second month in a row.
The latest physical sales charts from Famitsu show the platformer sold just shy of 240,000 copies last month, bringing its total to almost 620,000.
It easily outperformed the next biggest title, the newly-released eBaseball Powerful Pro Yakyu 2022, the Switch version of which sold 92,000 copies. Even combined with the 54,000 PS4 boxes sold, Kirby is comfortably ahead of Konami's latest sports game.
The only other new entry in the Top 10 was Atlus' 13 Sentinels: Aegis Rim on Switch, with 33,000 units sold.
It's worth noting Famitsu's April charts encompass sales from March 28 to April 24, and therefore do not include Nintendo Switch Sports, which released on April 29.
Elden Ring dropped from No.3 last month to No.9, with another 24,000 copies sold. Its lifetime sales at Japanese retail reached 331,000,
The usual Nintendo best-sellers dominate the rest of the chart, with Mario Kart 8 Deluxe in third place thanks to another 61,000 copies sold.
Interestingly, while Mario Kart 8 stands as the biggest selling game on Switch worldwide, at Japanese retail it's been just pipped by Smash Bros. The five-year-old racer has sold 4.5 million boxed copies vs the 2018 brawler's 4.8 million.
Meanwhile, The Legend of Zelda: Breath of the Wild finally sold its two millionth physical copy in Japan this month.
Nintendo maintained its position as the biggest selling publisher with 40.6% of all boxes sold, while Konami rose from No.7 to No.2 thanks to eBaseball. The Metal Gear publisher accounted for 14.6% of all games sold.
995,500 Switch games were sold throughout the month. This is the first month where the console has shifted less than one million game boxes since September, but it still accounts for 79.6% of all games sold. PS4 accounted for 15.8% at 198,000, while PS5 took 4.5% at 56,000.
Another 246,000 Switch consoles were sold at retail, more than half of which were the OLED model. Nintendo's console accounted for 72.8% of all hardware units, with the OLED alone making up 38.2%.
A little over 70,000 PS5 units sold, with the vast majority being the disc-based version. Xbox Series X|S sold just shy of 20,000 units, with more than two thirds being the digital-only Series S.
Here's Japan's Top 10 best-selling physical games of April 2022, courtesy of Famitsu:
Kirby and the Forgotten Land (Switch | Nintendo)
eBaseball Powerful Pro Yakyu 2022 (Switch | Konami)
Mario Kart 8 Deluxe (Switch | Nintendo)
eBaseball Powerful Pro Yakyu 2022 (PS4 | Konami)
Minecraft: Switch Edition (Switch | Microsoft)
13 Sentinels: Aegis Rim (Switch | Atlus)
Pokémon Legends: Arceus (Switch | The Pokémon Company)
Super Smash Bros Ultimate (Switch | Nintendo)
Elden Ring (PS4 | From Software)
Mario Party Superstars (Switch | Nintendo)