Kirby and The Forgotten Land is the biggest Kirby launch in UK history | UK Boxed Charts
It's already the fifth biggest Kirby game in the UK of all time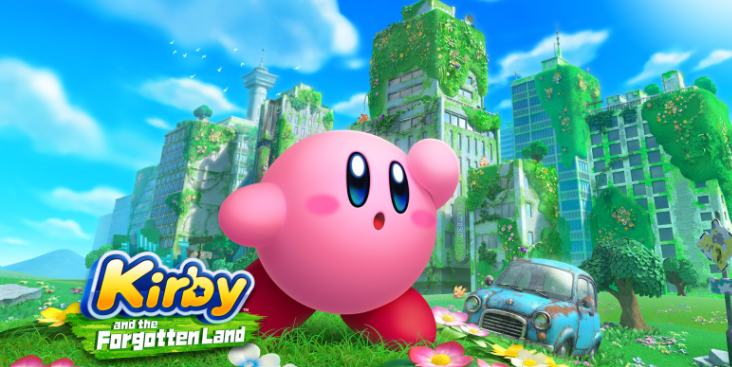 Kirby and the Forgotten Land floated to the top of the UK Boxed charts in its first week, comfortably beating Tiny Tina's Wonderland.
The Nintendo Switch exclusive, which is also the first 3D Kirby game, is the biggest launch for the franchise in the UK ever. It sold 2.5 times the number of copies in its first week as the previous best, which was 2018's Kirby Star Allies (also on Nintendo Switch). It is Kirby's first UK No.1.
Its first week sales alone makes it the fifth biggest Kirby game in the UK, just behind Kirby's Adventure Wii and ahead of Kirby and the Rainbow Paintbrush on Wii U (data courtesy of GfK).
It's worth noting that Kirby is typically one of Nintendo's smallest franchises in the UK.
At No.2 is 2K Games' new Borderlands title: Tiny Tina's Wonderlands. Physical sales are low for the franchise, not even managing 10% of what Borderlands 3 achieved during launch in 2019. This is a Borderlands spin-off, and so was never expected to match the performance of the main series. This is also purely the physical charts data, and it's likely digital accounted for the majority of sales. Digital charts come in later in the week.
52% of Tiny Tina's sales were on PS5, 25% on Xbox Series S and X, 15% on PS4 and 8% on Xbox One.
Just missing out on the Top Ten is Ghostwire Tokyo from Bethesda at No.11. It's another weak launch at boxed retail, but again digital data may change all that. The game's UK physical launch is 80% lower than The Evil Within 2, which was the developer's previous release.
The final new game in the charts is Rune Factory 5 on Nintendo Switch. It's been a long time since we've had an entirely original Rune Factory game (eight years). The previous game to hit Switch was a special version of Rune Factory 4 in February 2020. Compared to that game, Rune Factory 5 has sold 80% more copies during its first week.
Elsewhere, Elden Ring slips one place to No.3 after a 29% fall in sales week-on-week. Gran Turismo 4 drops from No.1 to No.4 after a 48% sales slide, while Pokémon Legends: Arceus drops to No.5 after a 9% sales dip.
Big risers in the charts this week are FIFA 22, which jumps six places to No.6 after a 79% sales rise. The game had some discount activity this week, particularly on Xbox One. While New Super Mario Bros U Deluxe sales rose 113%, taking the game from No.17 to No.7.
Last week's new release, Stranger of Paradise: Final Fantasy Origin, drops to No.19 after a 71% fall in sales week-on-week.
Here is the GfK UK Boxed Top Ten for the week ending March 26:
| Last Week | This Week | Title |
| --- | --- | --- |
| New Entry | 1 | Kirby and The Forgotten Land |
| New Entry | 2 | Tiny Tina's Wonderlands |
| 2 | 3 | Elden Ring |
| 1 | 4 | Gran Turismo 7 |
| 4 | 5 | Pokémon Legends: Arceus |
| 12 | 6 | FIFA 22 |
| 17 | 7 | New Super Mario Bros U Deluxe |
| 3 | 8 | WWE 2K22 |
| 7 | 9 | Horizon Forbidden West |
| 11 | 10 | Mario Kart 8: Deluxe |