Kickstarter founder: "Think before you stretch"
Yancey Strickler says stretch goals muddy the waters when it comes to crowdfunding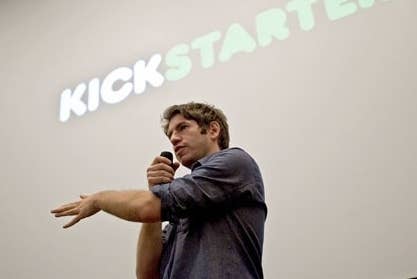 The co-founder of crowd-funding site Kickstarter has warned against the use of stretch goals, now commonly used by campaigns to elicit contributions even after the funding goal has been reached.
"We've seen stretch goals leave some projects overwhelmed, over-budget, and behind schedule," wrote Yancey Strickler in a post on the site.
"Stretch goals muddy the waters. What if someone got in early and helped a project reach its funding goal, but now the creator is focused on stretch goals? What if someone backs a project for a stretch goal-related reward, and that goal isn't met? Both are bad experiences for backers."
More backers mean more rewards to hand out, and less margin for error. He pointed out any funding beyond the original goal would benefit a project in basic ways, offering a better product or a quicker route to profit for the creators.
"Stretch goals, on the other hand, trade long-term risk for a short-term gain. Tread carefully."
Some of the recent industry projects that have used stretch goals include Star Citizen, which added an additional ship class and an arena mode as a stretch goal, and Torment: Tides of Numenera, which saw developers like Chris Avellone join the design team as specific stretch goals were met.