Investment halves in 2012 as social bubble bursts
Digi-Capital report shows investment returning to 2010 levels, Asian companies leading a record $4 billion year for M&A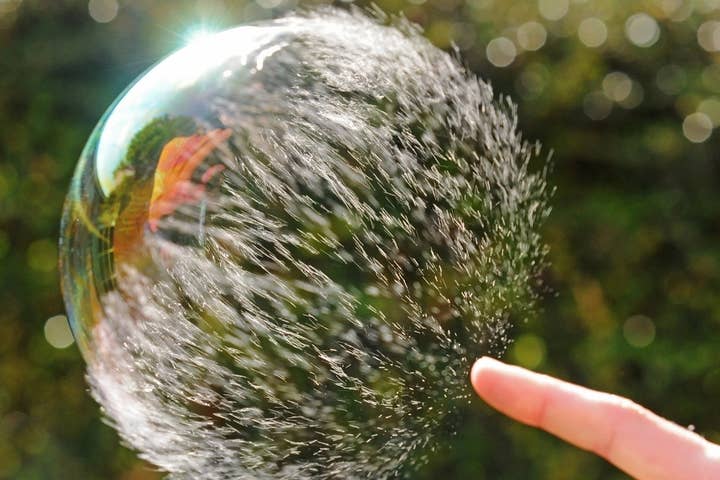 Investment in social games companies collapsed in 2012, falling by 94 per cent from its 2011 peak.
According to new data from Digi-Capital, only mid-core and gambling companies attracted interest last year, as a decline in social investment of more than $1 billion left the total for the games market at $853 million. Digi-Capital's report indicates that this figure is similar to 2010's total - proof that the social bubble has burst.
In terms of transaction value, the most popular sector of the market for investors was Middleware/Gamification, which accounted for 35 per cent of that $853 million. The sector was also prominent in terms of volume, representing 29 per cent of all investment transactions in 2012. Inevitably, mobile was the other major focus for investment last year, with 31 per cent of the value and 39 per cent of the volume.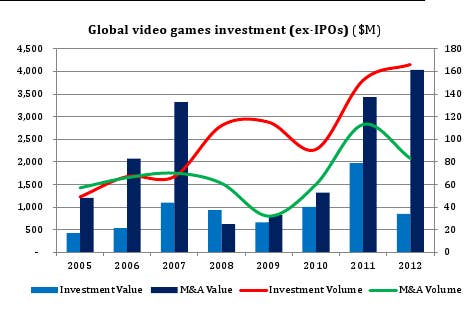 However, while investment experienced sharp year-on-year decline, M&A activity rose 18 per cent to hit a record $4 billion. There were 83 M&A transactions in 2012, 27 per cent fewer than 2011, but the average value per transaction rose by 60 per cent to $49 million.
Mobile was a prominent sector once again, with 27 per cent of the value and 28 per cent of the volume. More surprising was the prominence of M&A activity in the MMO space, which led the industry in terms of value with 38 per cent of that $4 billion total.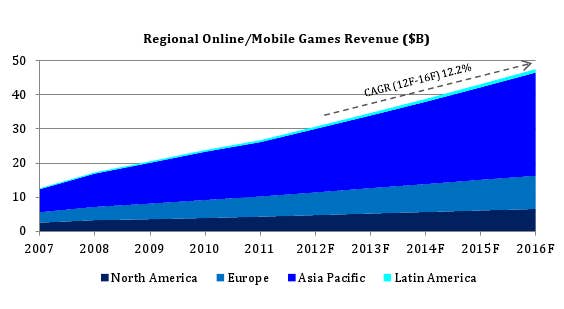 This trend reflects the increasingly challenging conditions for MMOs and, more importantly, the emergence of Asian companies as major players in Western markets: 7 of the 10 most valuable M&A deals were made by companies from China, South Korea or Japan. Asian markets are expected to play an increasingly important role in the online and mobile markets, with China, South Korea and Japan predicted to generate more than half of all revenue by the end of fiscal years 2015.
Looking forward, Digi-Capital expects mobile and online to continue to motivate growth in the industry overall. By the end of fiscal year 2016, online and mobile will account for more than 55 per cent of the market's total value of $83 billion. And free-to-play business models will be the driving force, with 55 per cent of all mobile/tablet app revenue and 93 per cent of app downloads.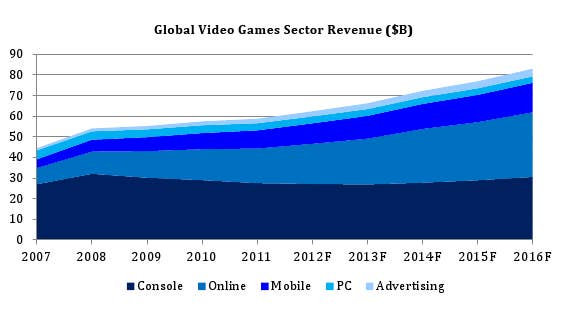 To purchase Digi-Capital's Global Games Investment Review 2013, follow the link.