Indivisible launches on Nintendo Switch without developer's knowledge
Update: Even publisher 505 Games was surprised by sudden launch, explains and apologies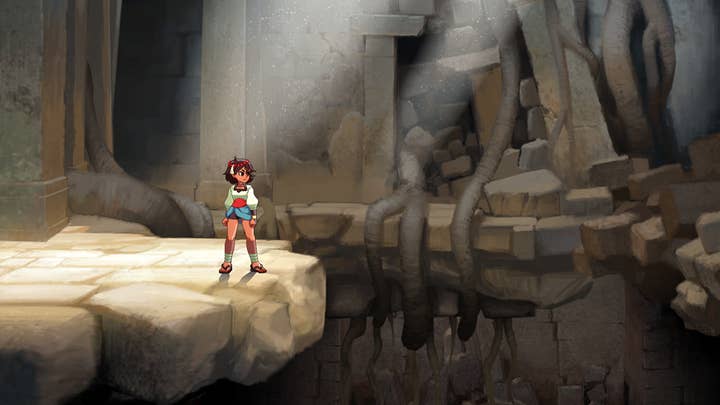 Original Story, April 28, 2020: Lab Zero's Metroidvania action-RPG Indivisible launched on the Nintendo Switch North American eshop today, surprising everyone -- including its developers.
"Feel like you missed the announcement?" said project lead Mike Zaimont on Twitter today. "You're not alone, our team found out because people on Twitter sent us congratulations! I had no idea! But there it is!"
Zaimont continued in a tweet thread, noting that while the Switch version is "great," it is an older build of the game that is missing features that were added more recently to the other platform releases of the game, including co-op and New Game+.
He concluded by apologizing, saying that the launch "does not represent the quality standards of Lab Zero" and was released without any prior release date announcement or lead-up PR.
Zaimont also commented in a reply to another Twitter user that he did not know when Switch codes for IndieGogo backers or a physical Switch version would be released.
505 has not issued an official statement, though it announced an hour ago that the game was now also available on the European eshop and that Japanese, Korean, and Southeast Asian versions would be launched in the future.
Additionally, USGamer reports that in a message on the official 505 Discord channel, the publisher has said it is "looking into what occurred."
GamesIndustry.biz has reached out to 505 Games for comment.
Update, May 1, 2020: 505 Games has released a statement, explaining why the game was released earlier.
The publisher said the Switch version of Indivisible was originally planned for release on April 28, but it was later decided to delay until early May to allow for a day one update.
This delay was not applied to the release tools, which had been automatically set for April 28, resulting in the early launch "to the surprise of everyone involved, including 505 Games."
505 apologised for the suddenness of the launch and the impact on Kickstarter backers, who have yet to receive their digital copies. These will be distributed earlier than the planned May launch date, and the day one update is still on course for release.
The publisher warned that physical copies for backers may be delayed by as much as two months due to ongoing global manufacturing and shipping delays.