Unlicensed eSports gambling sites are "parasites feeding off popular video games"
UK Gambling Commission's official paper gets tough on rise of skin gambling in eSports
The UK Gambling Commission has condemned the "parasitic" websites that facilitate unlicensed and unregulated gambling around eSports. Sarah Harrison, CEO of the Commission, said these sites, "present a clear and present danger to players, including kids."
Harrison's condemnation accompanied an official paper describing the Commission's findings on "virtual currencies, eSports and social gaming." It is the first result of a discussion process started in August last year, and while the paper acknowledged the effort made by companies involved in the flourishing eSports scene, it was quite clear that more work had to be done.
"These unlicensed websites are a hidden form of gambling"
A survey organised by the Commission found that 8.5% of respondents had gambled on an eSport event, and 90% of that group had done so with "in-game items" like weapon skins - a commodity widely used by unregulated gambling sites, with CS:GO Lotto perhaps the most prominent example. The Commission did acknowledge, however, that the 8.5% figure applied to respondents who had ever placed a bet on eSports - "recent participation is around 3%."
"Video game industry respondents agreed that betting on the outcome of eSports is just like betting on any other 'event'," the paper stated. "Even though such betting opportunities might currently be considered novel, the application of established online sports betting controls should mean it is not uniquely contentious in consumer protection terms."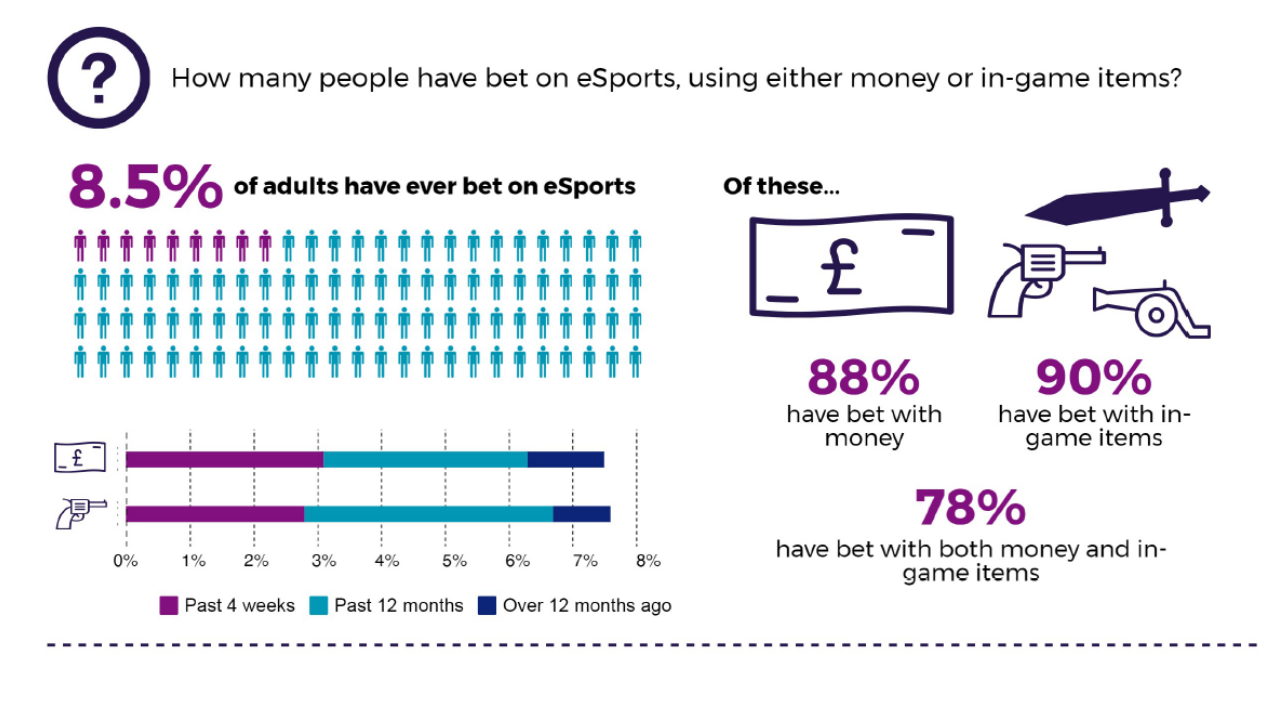 The Commission is particularly concerned with the potential for minors to be targeted, noting that eSports is "unquestionably an activity that has a large following of children, who both watch and actively take part, either through playing the underlying games casually or in events and competitions." For licensed companies, there are a range of "existing controls" that protect children - age verification, marketing restrictions, and so on - but the issue is the many illegal sites that operate with licenses, and free from regulation.
"The video games industry should not be, or perceived to be, passive to the exploitation of their player community by predatory third parties"
The creators and publishers of games used in eSports do not create in-game items with the goal of those items "attaining a real world value," the paper said, but the companies that contributed said that users are "occasionally" exploiting their products and networks for commercial gain. However, the Commission questioned that description, stating that "based on open source research, the volume, variety and sophistication of websites advertising opportunities to exchange in-game items for cash, indicates that to term such circumvention of regulation as 'occasional' risks understating the extent of this issue."
The Commission's own investigation into unlicensed eSports gambling websites revealed an "indiscriminate" approach toward users, including the age of those users. This was stated as a priority when the discussion started last August, and the Commission referred to the successful criminal prosecution it brought against the FutGalaxy website in February as an example of its will to stamp out the practice.
"These unlicensed websites are a hidden form of gambling," Harrison said in a statement accompanying the paper's release. "They're parasites feeding off popular video games, presenting a clear and present danger to players including kids. Our prosecution last month demonstrates that we won't hesitate to take action.
"Mums and dads could be giving money to a child thinking that they are playing a computer game when in fact they are gambling and this is a real worry. Gambling on eSports with in-game-items is growing and we need to make sure all gambling is fair, safe, crime-free and protects the young and vulnerable."
One of the key problems with tackling this issue as it relates to eSports, the paper said, is that the activity, the gambling, and the ability to "cash out" are often handled by three separate entities - a casino, on the other hand, operates the games, sells the chips, and changes the money. The Commission found no evidence that game companies were "intentionally providing or advertising unlicensed facilities for gambling, or entering commercial agreements with those who are unlawfully doing so," but that isn't where the industry's responsibility ends.
"Aside from the moral reasons for finding solutions, there should also be legal, commercial and reputational drivers"
"We are strongly of the view that the video games industry should not be, or perceived to be, passive to the exploitation of their player community by predatory third parties," the paper said. "The significant risk of harm posed by these unregulated gambling websites, whilst unintended, is nonetheless a by-product of the manner in which games have been developed and in-game economies incorporated for commercial benefit.
"Despite there being no evidence of any direct commercial benefit to games publishers from the illegal gambling facilities, it is reasonable to infer that there is an indirect benefit from these activities given that it is the games publishers who are the ultimate source of in-game items acting as a de-facto central bank. Where a player loses their entire 'skin' inventory having staked them unsuccessfully on gambling activities, one option for them is to purchase new 'skins' from the games publishers, either for use within the game or for further gambling stakes."
Primary responsibility for illegal gambling will ultimately lie with the owners and operators of the unlicensed websites, the Commission said, but any publishers or developers involved will be part of the process of identifying and stopping them. To that end, the games industry was commended for its apparent willingness to cooperate.
"We agree that, aside from the moral reasons for finding solutions, there should also be legal, commercial and reputational drivers. Reports of the estimated impact of the action taken by one prominent game developer to crack down on misuse of their network during 2016 is, to us, a powerful indicator of the positive role network providers can play in protecting their community of players."
The paper, which also includes sections on the integrity of live eSports events and the proliferation of "Gacha" mechanics, can be read in full here. Speaking in support of the Commission's efforts so far, Parliamentary Under-Secretary for the DCMS Tracey Crouch said, "It is vital that any form of gambling online is properly regulated and paramount that we protect children and vulnerable people. eSports is a phenomenon that gets bigger every day and is enjoyed by millions, but it is a concern that there are unlicensed websites jumping on the back of popular video games and encouraging children to gamble.