"If we make room for them, then there is no room for anyone else"
IGF Award host Meg Jayanth calls for devs to reject fascists, demand better treatment for themselves and their colleagues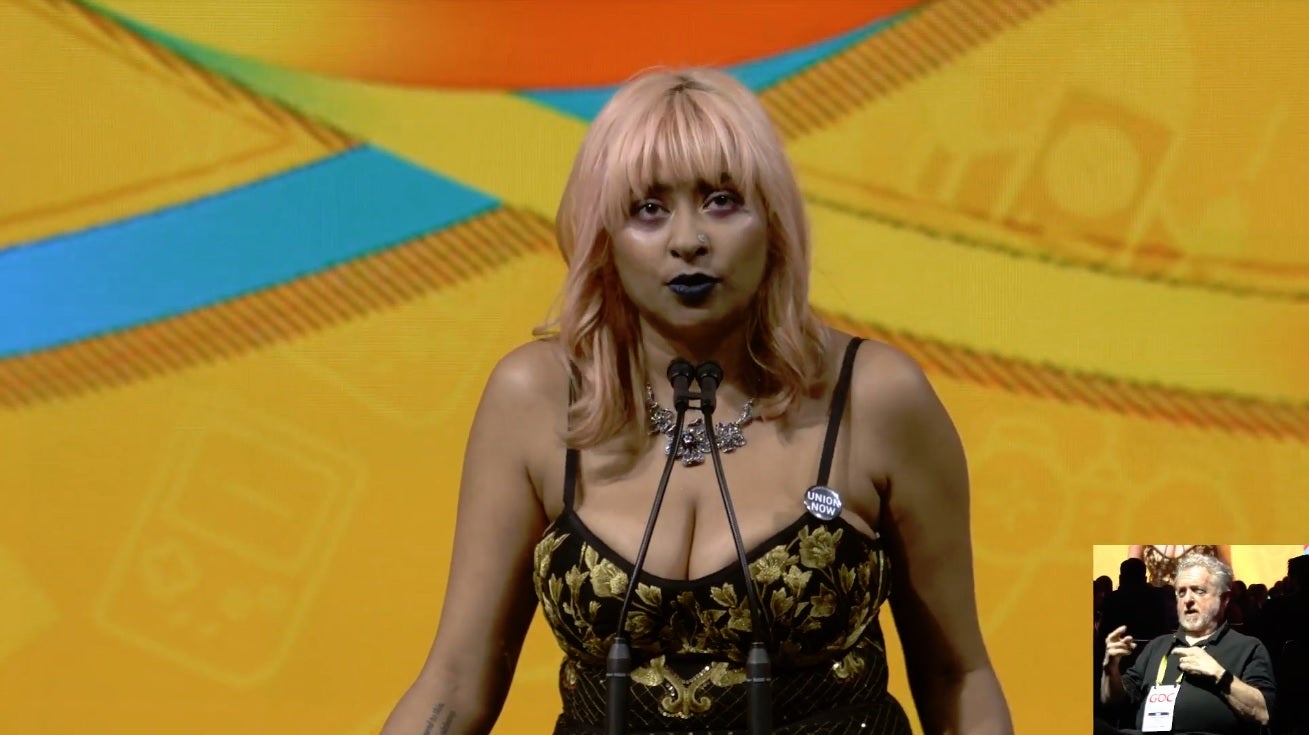 As expected, last night's Independent Games Festival Awards and Game Developers Choice Awards featured celebrations of the games industry and some of the creative work it has turned out in the past year. Perhaps less expected, the back-to-back events also featured calls for the industry to do better.
IGF host Meg Jayanth set the tone for the night, as the narrative designer used her opening monologue to recall her first trip to the Game Developers Conference in 2015, when the game she worked on, 80 Days, won the IGF Award for Excellence in Narrative.
"I have always found it a little strange that the year my community -- this community -- chose to give an IGF Award to a game that was anti-colonialist, anti-racist, unabashedly feminist, pointedly diverse, and, well, written by an Indian woman, was also the year our audiences were engulfed by GamerGate. It felt at that time as though we rejected that campaign of hatred. But it's actually never felt closer to me right now.
"A mutated strain of that poison that made video games its testing ground has bubbled up in Christchurch, New Zealand. It fueled a monster who went to a mosque with murder in his heart, and if we don't utterly, and vocally, and wholly reject these people -- these Nazis, and fascists, and white supremacists -- then we are inviting them in. If we make room for them, then there is no room for anyone else. And what we represent here tonight must stand in opposition to them. And we have to do it together.
"But rejecting hate is only half the battle. The other half of the battle is, in its way, much harder. It is to ask, 'How do we make people feel welcome? How do we keep them safe and happy, as well as whole?'"
Wearing a "Union Now" button, Jayanth talked about how she became chronically ill and was unable to work last year, adding it was only through the generosity of colleagues that she was able to be at the show that night. But she understood not everyone is as fortunate as her, particularly if they lack free health care.
"It is time, more than time, that we as an industry left behind the idea that our work is made better by our pain," Jayanth said. "That the price of passion is exploitation. That job security, pension plans, and work places free of harassment are impossible dreams. We have to demand them, collectively, and not just for ourselves but for each other as well."
When the GDC Awards kicked off later in the evening, Double Fine Productions founder and host Tim Schafer took a moment to say he stood in solidarity with Jayanth and others who had mentioned the Christchurch attacks, offering love and support to Muslims worldwide.
"I hope this isn't controversial, but fuck white supremacists," Schafer said, adding, "I think it's sad that racists and other hate peddlers feel safe in any space that's remotely connected to video games, and I think we all have an opportunity in our work, in our daily lives, and in our platforms big and small, to make it absolutely clear that we do not tolerate any of that crap."