HTC unveils Vive Pro
Redesigned headset features higher resolution displays; wireless adaptor compatible with all Vive headsets ships Q3 worldwide
With the Consumer Electronics Show underway, HTC made two major Vive hardware announcements today with the reveal of the Vive Pro headset and a global rollout for the Vive Wireless Adaptor.
The Vive Pro doesn't have a release window or price yet, but HTC is clear that the hardware is intended for high-end VR enthusiasts. The big upgrade over the original Vive is a 78% jump in resolution thanks to dual-OLED displays with a combined 2880x1600 resolution. HTC also redesigned the headstrap with a sizing dial and what it believes are more comfortable ergonomics, as well as including dual microphones with active noise cancellation and dual front-facing cameras.
"There's a clear need in the VR market for a premium VR experience with high resolution display, integrated audio and the best components available today in a headset," said VIVE US general manager Daniel O'Brien. "Vive Pro offers an immediate upgrade for both VR enthusiasts and enterprises that want to utilize the best VR experience."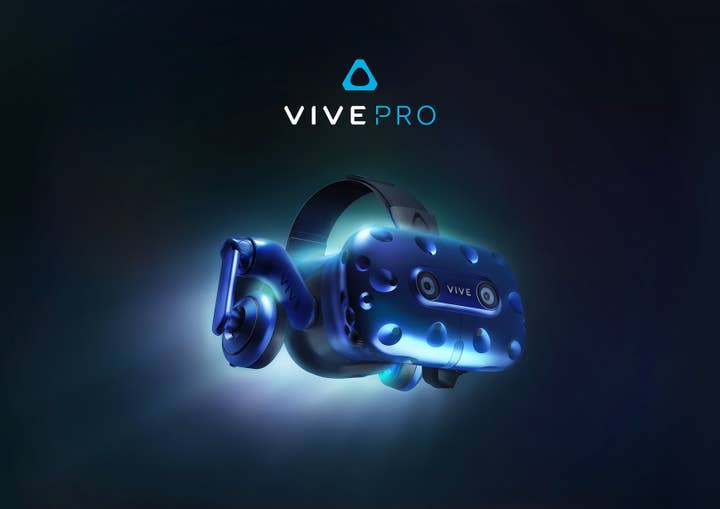 As for the wireless adaptor, that was originally announced in 2016, but was only confirmed for the Chinese market initially. HTC today said the adaptor will ship in the third quarter to customers worldwide, and will work with both Vive and Vive Pro headsets.
In related news, Valve separately announced today that SteamVR Tracking 2.0 will be shown to the public for the first time at CES in the HTC booth this week. The sensor technology lets users connect up to four base stations to their VR setup, allowing for room-scale tracking over a 10x10 meter space. Previously, SteamVR Tracking allowed for two base stations to be used together, with a range of about five meters.