How the COVID-19 pandemic is changing the mobile games market
Revenue and downloads continue to climb during the pandemic, according to Sensor Tower data, and the impact could be lasting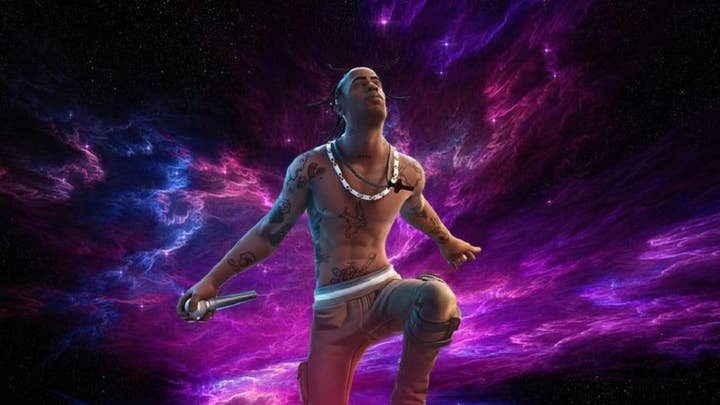 The COVID-19 pandemic took just weeks to spread across the world, affecting the daily lives of consumers all over the globe. There have been millions of confirmed cases, hundreds of thousands of deaths, and the lockdowns -- put in place to help slow the rate of infection and fatalities -- have severely disrupted the global economy.
Of course, there are more important things to be doing at a time like this than discussing mobile gaming, but as with all other businesses, COVID-19 has left its mark on the industry. As we noted in the Sensor Tower Q1 2020 Data Digest, the first three months of this year marked the largest quarter for mobile game downloads ever, with more than 13 billion installs across the App Store and Google Play. For some context on how big a jump this is, that's two billion downloads greater than Q3 2019.
App Store downloads grew by 35% year-over-year to nearly 3 billion, while Google Play installs increased by 38% to 10.3 billion -- record growth for both stores.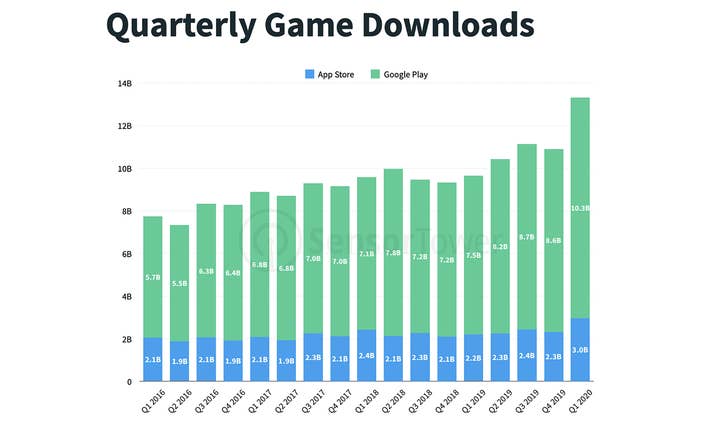 Following Q1 2020, game downloads have continued to rise. In March, downloads across both stores increased 24% month-over-month to 5.1 billion, while in April, downloads grew by a further 8% month-over-month to 5.5 billion.
India is a key driver for new mobile game installs globally, with the country generating 966 million downloads in April alone, up 29% from March, and an increase of 92% over January. In the United States, downloads reached 527 million in April, up 15% from January, but staying largely level with March's installs. In China, where lockdowns began in January and have recently been eased, downloads peaked in February at 284.3 million, dropping 33% to 190.7 million in April.
User spending in mobile games is also on the up. In March, games generated an estimated $5.8 billion globally, up 8% from February. In April, meanwhile, revenue growth accelerated by a further 10% month-over-month to $6.4 billion. What's interesting here is that revenue growth in April was higher than download growth, and this was the first time since 2014 that the month of April generated more revenue than March.
There has been a particular uptick for games that are helping connect people during the global lockdown
User spending in the US saw a significant increase in the first four months of 2020, hitting $1.9 billion in April, up 18% from March and 28% from January. In China, meanwhile, players spent $1.1 billion on the local App Store in April, up 5% from March, but down 5% from January.
There are effects of the COVID-19 pandemic and lockdowns on mobile game downloads and revenue, which will lead to stronger growth than previously forecast for the market. But more on that later.
The top games
Globally, many of the very top grossers are what you'd expect. In April, Tencent's PUBG Mobile and Honor of Kings generated an estimated $225.2 million and $156 million, respectively. Monster Strike, AFK Arena, Gardenscapes, Fate/Grand Order and Coin Master were once again top performers.
The popular MMO Roblox became the world's third top grosser with close to $96 million, up 37.4% month-over-month. Epic's Fortnite is back on the rise -- in part thanks to its in-game Astronomical concert with Travis Scott, which attracted some 12.3 million concurrent players -- generating $44.3 million on mobile in April, up 90% from March. A stellar month saw it rise to the No. 21 top grossing mobile game globally, with 99% of in-app spending coming from just the App Store.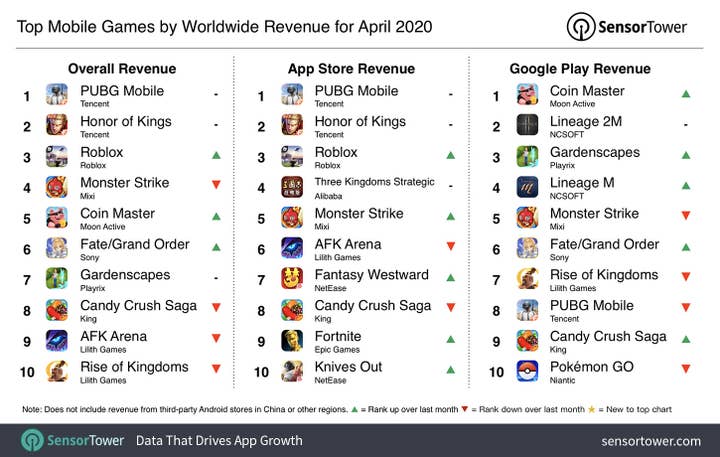 When it comes to the most downloaded games, hyper-casual and casual titles continue to dominate, with Lion Studios' Save The Girl generating approximately 50.2 million downloads. Playrix proved to be particularly popular in April, with Gardenscapes installs up 84% month-over-month to 37.7 million downloads, Fishdom installs up 58% to 22 million, Homescapes downloads up 77% to 17.6 million, and Township up 116% to 15.9 million. The publisher recently surpassed 1 billion mobile app downloads across its portfolio.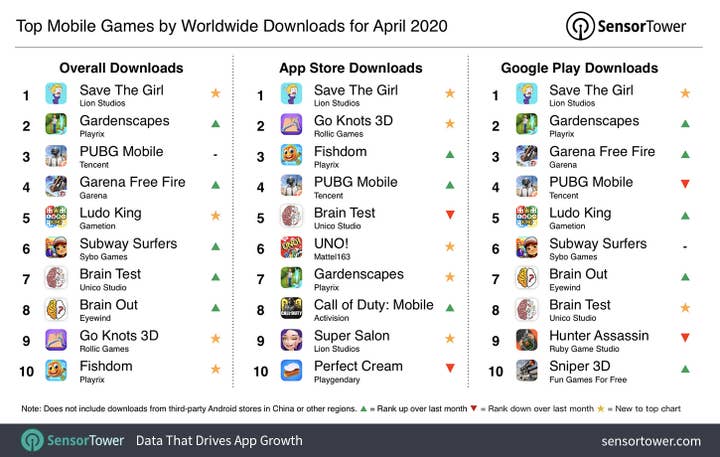 While many of the big titles and expected genres are maintaining their positions as the top revenue makers and download generators, there has been a particular uptick for games that are helping connect people during the global lockdown.
The post-lockdown world
Despite the oncoming headwinds of a global recession -- and potentially a depression -- we still currently forecast $98 billion in mobile gaming revenue by 2024, a 55.6% rise from 2019 levels. That's $4 billion higher than our pre-COVID-19 prediction for the market.
As for downloads, Sensor Tower forecasts now estimate 75.1 billion downloads in 2024. We had previously predicted 70.3 billion installs worldwide. From our estimates, it's clear that the greatest increase in our revenue forecasts will be seen on the App Store, while Google Play will see a greater rise in installs.
This of course may all be revised at a later date once the impact of the pandemic, a potential second-wave, and the long-term effects of the lockdowns are better known. What's clear so far is that consumers are turning to their phones more than ever for entertainment and necessities such as shopping and health, and these new habits may become permanent.
Craig Chapple is Mobile Insights Strategist, EMEA, at mobile intelligence firm Sensor Tower, provider of data and insights needed to master the mobile app ecosystem. He has previously served as senior editor at PocketGamer.biz and has worked in the games industry for over eight years.