How Netflix's external dev partnerships are pivotal for its gaming gambit
Games boss Leanne Loombe on why the streaming giant is taking its time to find the right developers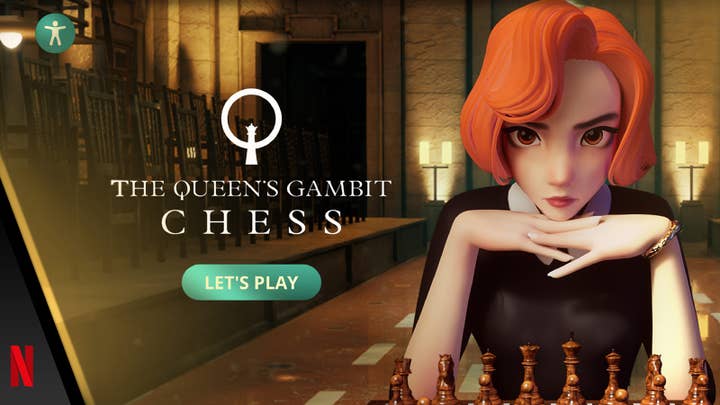 Sign up for the GI Daily here to get the biggest news straight to your inbox
The Queen's Gambit Chess launches on the Netflix mobile app today, following in the footsteps of the streaming giant's own IP like Stranger Things and Too Hot to Handle, which already have their own games published on the platform. A key difference, however, is this title is the result of a partnership that had come together before Netflix had even officially announced its gaming ambitions back in 2021.
The game is developed by Liverpool-based Rockwater Studios, the internal development team of publisher Ripstone, which has already carved a niche for itself with the release of premium quality chess titles like Pure Chess and Chess Ultra. It was perhaps no surprise then that its staff were among the 62 million viewers hooked by The Queen's Gambit when the miniseries released on Netflix back in October 2020.
With the show causing a surge in sales for both physical chess sets and digital games, Ripstone spied an opportunity to pitch a game to Netflix that would be, as Ripstone's head of marketing Jamie Brayshaw puts it, "our love letter to the show, as the show is a love letter to chess."
Unbeknownst to him, a pitching call set up with the Netflix licensing team a month after the show's launch would result in Ripstone becoming the first external development partner privy to the platform's strategy to move into games in a similar model to Apple Arcade (no ads, no in-app purchases), except that it's included as part of a Netflix subscriptions. In turn, Ripstone also established the kind of developer partnerships Netflix is looking for.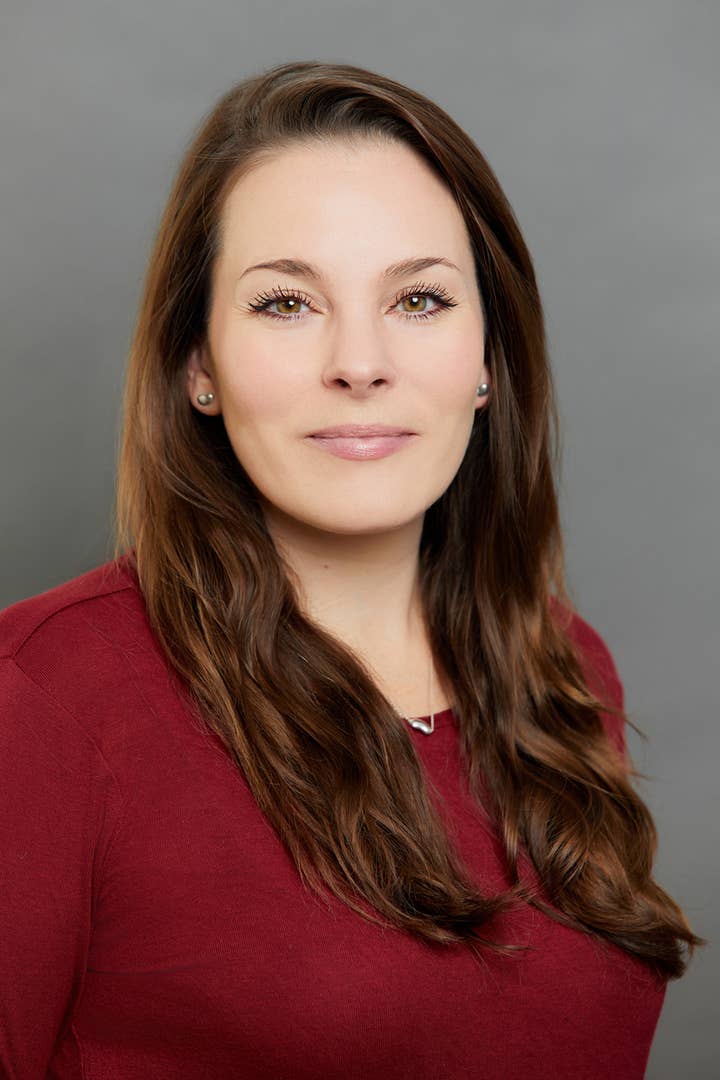 "From my perspective, I much prefer it when developers come to us and they have an idea they're passionate about, and they have caught insights into the genre or IP already," Netflix's VP and head of external games Leanne Loombe tells GamesIndustry.biz.
"From a strategic and business perspective, there are some IPs where the initial spark of the idea comes from the external games team, but we still don't come up with the game design. I think it's important we still ask our developers to come back with a game pitch so that it doesn't become a very work-for-hire relationship."
Ripstone's background in premium games means that not only does Netflix's model allow it the creative freedom to make a great experience without worrying about monetisation but it can also bring the highest quality of its previous chess titles that can run on a mobile chipset.
"We're certainly starting to see a lot more really fantastic AAA games on mobile, and I think The Queen's Gambit Chess is definitely one of those," says Loombe. "I would love us as Netflix to help change the narrative and perspective, and have members see the highest quality that you can create on mobile."
It's not just beautifully detailed 3D chess pieces that separates The Queen's Gambit Chess from the countless other chess games that exist on mobile, but locations from the show and its 1960s period setting are also faithfully reproduced. Netflix also provided Rockwater's art team with press photography, behind the scenes and continuity photographs.
The game's campaign sees you following chess prodigy Beth Harmon's footsteps from her time first learning chess at the orphanage to international tournaments including Paris and Moscow. The biggest challenge was designing a chess game that not only appealed to fans of The Queen's Gambit but that could also teach players how to play chess in an approachable way. So while a chess veteran can still just play a hardcore game of chess, for many players it will be about going through the campaign, having the rules of each piece and move broken down into digestible puzzles, while also translating Beth's grandmaster abilities into visual assists.
"I would love Netflix to help change the narrative and perspective, and have members see the highest quality that you can create on mobile"

Leanne Loombe, Netflix
"For us as console developers, we've always assumed a certain level of ability," says Ripstone co-founder and creative director Phil Gaskell. "We've not had to push as hard as we have with The Queen's Gambit Chess to cater for those that maybe don't even play games. So the toughest bit, certainly from my point of view, has been working with the design team onboarding and teaching people who are not game-savvy at all about chess."
In this respect, Netflix has also been key in having its consumer insights team work with the studio.
"They were fantastic," explains Brayshaw. "When we had the perfect vision of what the game would be, we put that into testing, focus groups, surveys, questionnaires and engaging with people that loved the world of The Queen's Gambit, talking to people who are interested in chess but maybe haven't seen the show, harvesting all that insight and being able to understand which of those pillars were really resonating, which means we could finesse and evolve as we learned together.
"As we've gone on the journey of developing the game, we've tested it regularly with people for user testing, focus testing, and making sure that user experience carries really well."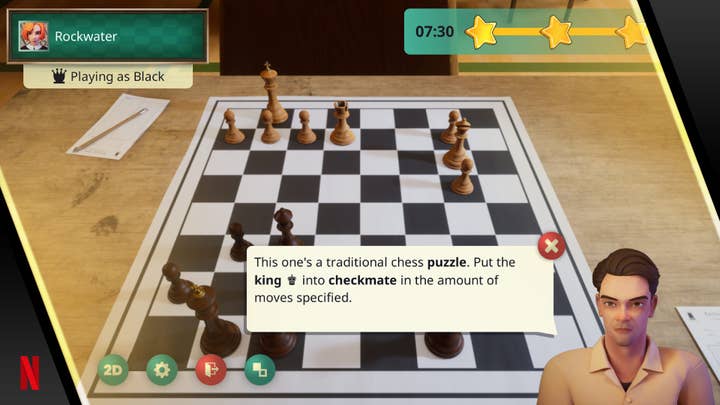 The Queen's Gambit Chess will be a significant release for Netflix's growing games library, with another 30 or so titles due to release regularly between now and the end of 2023, which will take the total on the service to around 100. But Loombe points out that the corporation is still very much in the early learning and experimenting stages – in the same way that Xbox's cloud gaming, officially launched in 2021, is still technically in beta.
"We're a very learning-focused organisation," she says. "We do look at building our portfolio from a very strategic place, we look at genre, we look at what we call engagement type, we look at different motivations that our members have and we try and bring that altogether into the certain kinds of games that we think are going to resonate the most. And then once the game's out, we analyse them to see whether that hypothesis was correct or not."
"I prefer it when devs come to us with an idea they're passionate about, and insights into the genre/IP"

Leanne Loombe, Netflix
One area Netflix is striving to improve is the discoverability of its games; while there is a visible games tab on the mobile app, there's still a question of how many of the service's 235 million members are actually aware of their existence compared to the smaller but active paying members of Xbox Game Pass or Apple Arcade. While Loombe doesn't disclose the figure of how many Netflix members are downloading its games, she does say the corporation is happy with the current numbers.
"Of course, we're not expecting 100% of members to play games in our first year and a half of running the business, but as we scale and bring more games to the service and improve all of the experience around those games on the Netflix mobile app, then more and more members will continue to play and that's really our goal over time."
She reiterates there are no plans to have games as an extra paid tier service, even as Netflix has been making changes to its subscription tiers. "It's a key value proposition for us right now to ensure that games are a part of the subscription, and they are an additional content choice for our members."
The ultimate goal is for games to be playable from any device a subscriber can access Netflix, with cloud gaming technologies likely to play an important role in realising this. But it's also something the company is also carefully taking its time with rather than announcing everything too soon that then doesn't come to fruition; in other words, it doesn't want to be like Google Stadia.
"We're definitely transparent and open with all of our partners about where we are on this journey, that we are growing over time, slow and steady," Loombe explains. "We definitely want to make sure we're doing this in a really thoughtful way and not rushing things. Games and technology and new platforms, they take time, and that's okay. We want to get it right."
Sign up for the GI Daily here to get the biggest news straight to your inbox