How MOGA Unlocks The Core for Mobile
The Bluetooth Android controller brings a console-like experience to mobile. We speak with MOGA's divisional vice president JJ Richards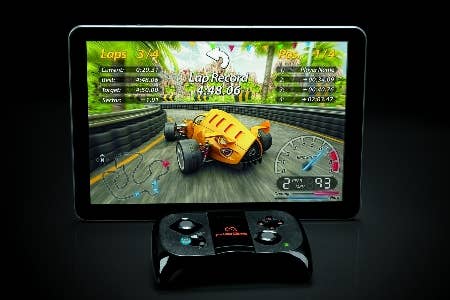 Today, gaming accessories maker PowerA launched the MOGA Mobile Gaming System for Android 2.3+ at more than 7,000 stores including Best Buy, Walmart, Toys"R"Us, Fred Meyer, GameStop, as well as online at Amazon and PowerA.com. The device is essentially a dual analog controller with an adjustable clamp to house any Android smartphone on the market. Through Bluetooth and the special MOGA Pivot app (available for free via Google Play), gamers can play a variety of titles with traditional controls.
Top mobile developers and publishers who have already signed on to support MOGA with enhanced controls include Gameloft, Ratrod Studios, Atari, Namco Bandai, Sega, Vector Unit, Remedy Entertainment and others. The controller is available for $49.99 and has launched with more than 45 games, including The Dark Knight Rises HD, N.O.V.A. 3, Sonic CD, Death Rally, and Dungeon Hunter 3, among others.
Prior to the launch, GamesIndustry International caught up with JJ Richards, divisional vice president at MOGA and former GM of Xbox Live, to find out why gamers and developers should give MOGA a chance.
"So these guys [PowerA] know controllers, and in terms of market opportunities, the smartphones and the tablets that are out there just have those glass controls, which are kind of cool, but they're not anything like real precision controls. So the company said, 'Hey why don't we do a controller for those screens?' The displays and the processors are good enough to generate the graphics and gameplay, but the control scheme just isn't as good as what you'd have on a console. So they decided to do a high end controller...and apply it to the space it hasn't been applied to yet."
In this editor's time testing out the MOGA controller, games like Dungeon Hunter, Riptide and Virtua Tennis all played very smoothly and with more precision than even remotely possible with a touchscreen. It's also nice not to be covering up a third of the screen with thumbs on the touchscreen. But in order for the device to see any success, developers will have to support it in droves, either by adapting existing games with enhanced controls or by building in MOGA controls into all upcoming games. Richards is confident that game companies will be on board.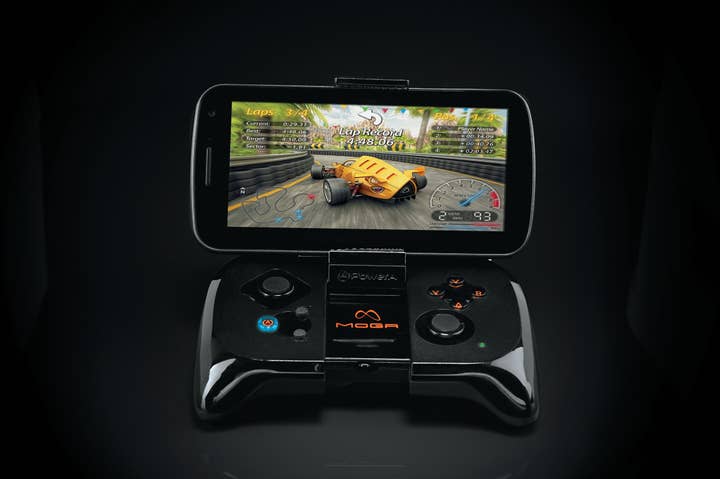 "That's key to making it successful: developer and content support. That's true with any kind of gaming platform or accessory. What got me excited since I've come on board is that reaction has been awfully impressive. We're almost to 50 titles here in a couple of weeks; by contrast when we launched Xbox Live Arcade we had 12 titles," he noted. "50 titles is across multiple publishers and they're coming out all the time. To put it in baseball batting terms, we're batting a 1.000 in terms of awareness...and in terms of them turning around and putting the SDK in their games and getting up on the service, we've done that in less than a week. So going from awareness to on the service in less than a week, it is very simple for developers to integrate this."
"If I look at the mega trends in the gaming industry...The next thing I think is this core mobile market and this MOGA controller is going to unlock it"

JJ Richards
Richards fully expects that of the games that launch in the Android store every week, a subset of those will be suitable for a dual stick control scheme, and those should appear in the MOGA Pivot app.
"We'd love to see every developer out there to have a game that uses complicated multitouch controls on glass or virtual stick controls [embrace MOGA]. If you think about games where you would put two thumbs on the screen at the same time...we've got a gamepad, and a real gamepad is going to always be better than a virtual gamepad in terms of user experience, so that's our focus to improve that experience for all of those games," he continued. "There are going to be a lot of games that, by design, [don't make sense on MOGA] - those super simple, one swipe or tap experiences. We're not going to covert those over to use the A button."
Really, what Richards is getting at is that MOGA is hoping to make mobile gaming on smartphones and tablets an experience that the core audience can connect with. He noted a trend of more and more social/mobile developers looking to create core games, like Zynga's iOS title Horn, for example.
"If I look at the mega trends in the gaming industry - and that's what's brought me to this because I think it's so exciting - everybody's focused on console games and we've had that ebb a little bit and everybody's been focused on casual mobile lately, and that's kind of going through a curve. The next thing I think is this core mobile market and this MOGA controller is going to unlock it," he said
"It unlocks it from both sides. It unlocks it from console guys getting off the couch and mobile people upgrading from games they've spent $.99 on, but they've never spent another nickle into anything. If you just played Dungeon Hunter you'd think it is such a great experience compared to your first touch swipe game, so it takes casual players and moves them up the core gaming curve and gives core gamers a way to get mobile, so that's where I think it's going to tap into both markets in the mega trend. I think that's going to be the next way we have gaming in general is core mobile."
MOGA is launching into a very crowded and competitive market, and peripherals don't typically sell very well. The product does have some advantages, however. Importantly, hands-on demo stations are now available at Toys"R"Us and select Best Buy stores, and not only that, but T-Mobile will be helping to push the controller. Having a carrier get involved could be a huge win.
"T-Mobile has an incredible line-up of smartphones with amazing screens and lightning fast processors," said Brad Duea, senior vice president of marketing at T-Mobile USA. "We partner with innovative leaders like MOGA to provide our customers the best mobile gaming experiences and we're excited our customers will be able to take their Android devices, pair them with MOGA, and turn their phones into a complete mobile game platform."
"I think we're first to market and I don't think we have any competition. So think about walking into a phone store for the holiday and you're either getting a new smartphone or tablet, or you're looking for an upgrade or accessory for the one you have, and you're going to have somebody in one of those carrier stores say 'Hey for 49.99 you can turn that smartphone or tablet that you're just about to buy or just bought a couple months ago into a console quality gaming experience'," Richards enthused.
Another key advantage could be a financial one. After all, if you're a parent and have an Android phone you're looking to upgrade, you could just turn it into a dedicated portable for $49.99 and give it to your child. It's certainly a lot cheaper than a PlayStation Vita or Nintendo 3DS, and most software is either free, one dollar or just a few dollars. That makes it attractive to parents or even to cost conscious gamers who want a handheld experience without breaking the bank.
It's also worth noting that MOGA could become an attractive option for developers by bolstering game discovery through the MOGA Pivot app and increasing a player's chances of actually paying for some micro-transactions.
"If you think about everyone that has a MOGA controller, when they go through the games and are able to go through the subset of the marketplace that is MOGA enabled, so you don't have to go search for it, that really increases discoverability for those games, so it's another place for users to find those games if they're hidden in the main marketplace," said Richards.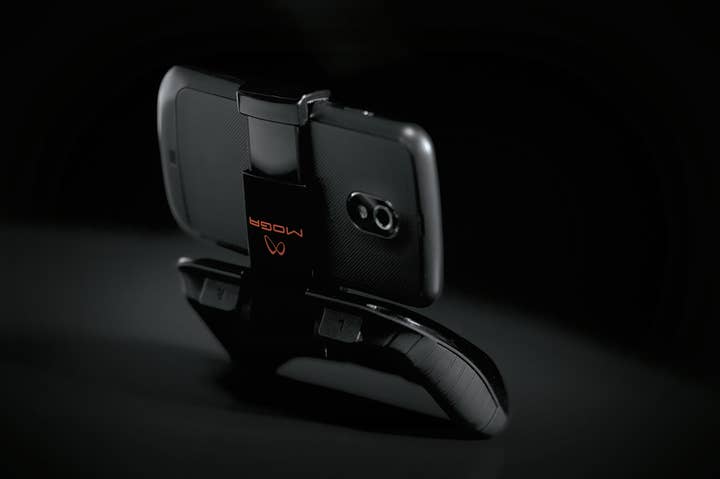 He continued, "More importantly, once you're playing those games - and I can't wait to be out there in the real world where we get some hard statistics - but we've seen internally is you just play a lot more with the MOGA than just the glass controls. So if you think about how long you might play Riptide, how far through the game will you play without a MOGA and then how far and how well will you do on Riptide with the controller? What I think you'll find is you're going to get a lot better scores and you're going to get through a lot more of the levels with the controller, because it's more comfortable to play, you're better at it, you score better, which for any game developer who is thinking about add ons or micro-transactions that are correlated with gameplay, they're going to get a better share with the MOGA controller than without. So those are just some of the incentives for developers."
MOGA appears to be off to a good start, but the elephant in the room is iOS. If the controller can get Apple's support so it can become a universal smartphone device, tapping into millions of iPhones with the Pivot app launching in the App Store, the market potential would grow substantially.
When we told Richards that we were disappointed that we couldn't use the MOGA with our brand-new iPhone 5, he responded, "You and me both! We hear that every day, especially from our developer partners, and gamers too. We're talking with those folks and we're talking with a lot of other folks because we think this control would apply to any platform because any smartphone and any tablet I think needs controls so we're doing that; it just so happens that we got it done with Android first."
Android's known for being far more open, whereas Apple has a very closed and controlled ecosystem. Will MOGA ever make it to iOS? The company certainly hopes so. "I think they have a well documented process you have to go through, and we're doing that now and we'll hopefully fill the need for iPhone games," Richards concluded.