How do you sell FIFA 18 on Switch?
Possibly the most important third-party title to come to Nintendo's console has a difficult message to get right
The PR line that accompanied the full reveal of FIFA 18 on Nintendo Switch was that this is the 'best portable FIFA game ever.'
If you've played the game at any of the various events it's been at over the past few months, then that's a line you can easily agree with. But it also undersells it. Handheld FIFA games have rarely been better than OK, and FIFA 18 on Switch is closer to its console sister titles than the portable editions.
Yet, comparing FIFA 18 on Switch to the PS4 and Xbox One versions is also something that should be avoided. The Microsoft and Sony editions are prettier, with their Frostbite-powered visuals, and feature several high profile modes (such as the story) that are missing from the Switch edition.
One glance at a screenshot and you can see the difference between the two versions. So how do you pitch the Switch edition?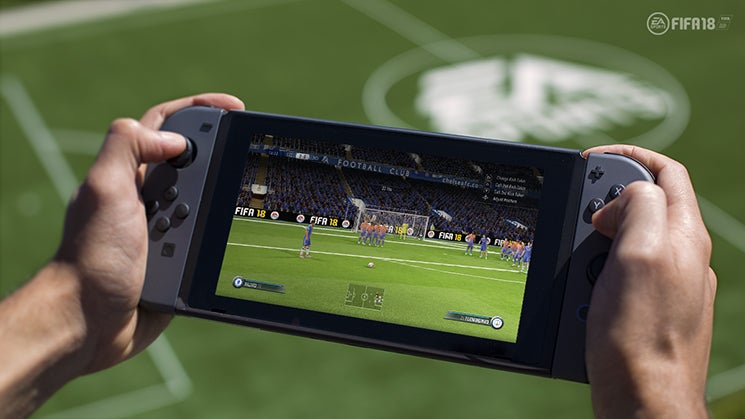 "I've been encouraging people to play it because then they will realise that it's a really quality product," says producer Andrei Lazarescu.
"Although I've talked about it, and that team has talked about it, people see us as being biased. So hey, try it, and everyone who tries it says... 'OK, I'm going to get this.' We need people to get their hands on it.
"That's the frustrating thing about it. I wouldn't put this against the PS4 or Xbox One version, or vice versa, I would look at them as two individual football games. This one's biggest advantage is that you can play it on the go."
Lazarescu, who works as part of EA's Bucharest team, is clearly very proud of FIFA 18 on Switch. He believes it will be one of the platform's very best games, but it has a lot of baggage to shake off. For one, it's a FIFA game on a Nintendo platform, and the franchise doesn't have an especially strong reputation on those machines.
"This is the first FIFA I've made for a Nintendo platform, so I'm not in a position to speak about what has happened in the past," Lazarescu says. "But what I can say, is that for this one, before we started, we looked at what the platform is, what its audience is, and we looked at our own game and asked ourselves: What do we actually want to make? How do we want to make people feel? What we came up with was things like 'fun', 'responsiveness', 'fluid'... things like that.
"So what did we do about it? We went down the route of not using the Frostbite engine, because we would have most likely had to dumb it down to make it work. So we decided not to do that, and wanted to make a game that was custom-built for this platform. Sure, we have a fundamental base code, because this is a football game and the basic rules don't change. But what we've ended up with is very close to our ideal vision. For people to quickly get into it, to understand it, to have fun... to experience an immersive game of football, either by themselves or with friends, and experience FIFA like a regular FIFA... that's not like previous FIFA games [on Nintendo]. This is a full FIFA, and it is by far the best FIFA we've ever made for a Nintendo console."
He continues: "People were saying we've never been able to pull FIFA off on Nintendo. Even the team was feeling the pressure from past years. But once they saw the plan and we decided what the game should be, we all rallied around that goal."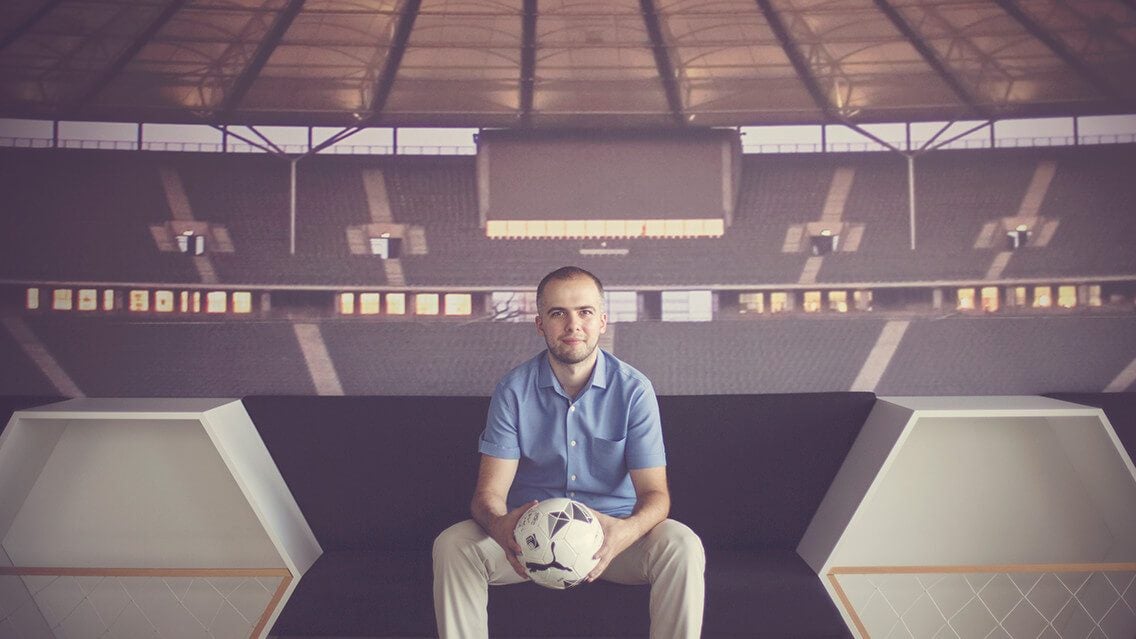 The team has been sharing its Switch expertise with the rest of EA, although the tech the company has developed won't suit most other titles within the publisher. "If you wanted to use [our custom tech] for Battlefield... it wouldn't work," Lazarescu says. "You might be able to use bits, but there would still be a significant amount of work that would be needed to be done."
The Switch edition marks the first time Ultimate Team has come to a Nintendo console. It's the full mode, although it is missing a few extra features in an effort to make it a bit more accessible. EA expects FIFA 18 on Switch to appeal to a new audience, and was wary of Ultimate Team proving unwieldy to first time players.
"We are introducing things gradually," Lazarescu explains. "We are looking at this as a foundation year. Not only for Ultimate Team, but for the game overall.
"This is the first time that these players will be able to get hands on with Ultimate Team. If you think of Ultimate Team's history, it's been going for around six or seven years. And it has evolved and the players grew with it. If we fling it all in from the get go, it might not have the desired result. Because Ultimate Team, at this point, for someone who has never interacted with it, it's not that easy to get into it. So we focused on a core set of components. It has a transfer market, it has single player, online tournaments, challenges, and all of that. It has all of the live campaigns, ones-to-watch, team-of-the-week, and it also has icons. It's a full Ultimate Team."
"I hope people will get a chance to play it, and not judge just based on a screenshot or putting it against the PS4 and Xbox One"
There is specific Switch functionality, too. Tabletop mode is supported, and players can compete with one Joycon each. There's also local wi-fi 5-match seasons, because EA feels Switch has a strong local multiplayer following.
It's clear a lot of effort has gone into the product by the Bucharest team, and that's important. FIFA 18 on Switch may prove to be one of the most significant third-party titles on the platform. Although EA has other games for the console in the works, this is by far its biggest bet, and its success or failure may go on to dictate its ongoing support.
But its commercial performance will matter most to the development team. Lazarescu calls this a "foundation year" and lists off numerous things he and his team hope to include in future iterations. That will only happen if the game succeeds. The franchise received just one entry on Wii U due to its under-performance. Whereas on Vita - the previous 'best portable FIFA ever' - the lukewarm reception meant the game wasn't given much time and effort beyond the initial 2012 release [indeed, subsequent Vita games simply boasted an updated roster and little else].
EA Bucharest feels it's played its part in creating a strong FIFA game on Switch. Now, it's up to the market to respond.
"The list of features to include is never-ending," Lazarescu concludes. "With FIFA, you have a fixed amount of time every year. So you have to make the best choices really fast to deliver the best thing possible. Overall, for a first year, this is an incredible game and it allows us to build on it. That was the main goal besides doing a very fun, responsive and immersive game that feels like a FIFA. We don't want to do a one-off. We want to do something that we can build on.
"I think we have achieved 99% of our goals. Once you play it, you'll see what we've done and you'll get it. And I hope people will get a chance to do that, and not judge just based on a screenshot or putting it against the likes of PS4 and Xbox One."