Hooplo: Usain Bolt, Ronaldo and a Shortcut to Social Discovery
The UK start-up is using star power to achieve niche success in the crowded landscape of social gaming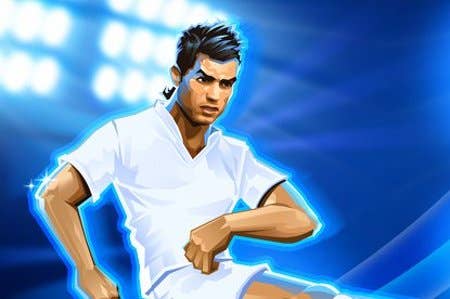 There are still fortunes to be made from social games, but it seems increasingly unlikely that any will match the pile amassed by Zynga.
Slowly but surely, the notion that there will be a substantial rival to Zynga any time in the next few years has been eroded. The gap between the market leader and its nearest rival is simply too large, and its former rivals for supremacy in the mass casual market, Playdom and Playfish, have entirely lost their momentum; the old tricks simply aren't working any more, and a new generation of publishers and developers must come to terms with a longer, more demanding route to success.
For these up-and-comers the future of social gaming is niches: niche audiences, niche game genres, niche subject matter; forego the breadth of a game like CityVille in favour of drilling down into a more clearly defined segment of the market where a more engaged player-base awaits. This is what Bossa Studio is doing with Monster Mind, it's the reason why Kixeye believes its games can generate 20 times the ARPU than competing products, and it's at the very core of Hooplo Media's strategy.
Hooplo is both a publisher and a developer and, with a network of 5 million MAUs, it is already the largest independent social gaming company in the UK. The executive team brings high-level experience from Activision, EA, Playfish, Adobe, Digital Chocolate and Glu Mobile. It has secured angel financing from a string of investors, including the venerable Ian Livingstone, Babel Media founder Algy Williams, and Rage Software founder Paul Finnegan.
"One of the challenges of building a game for a global audience is that people react to things differently, but every country understands how to play football"
By any measure, this is the sort of company the UK's resurgent development scene needs. In a landscape heavy with small, agile developers working in mobile and social, Hooplo is a rare example of a company with the highest of ambitions. Speaking to Aly Chesney, co-founder and CEO, and Ed Chin, vice president of product management, it's clear that they don't want to simply compete in the social market, they want to lead it - Zynga notwithstanding, of course.
"One of the advantages of the areas we're focusing on is we're not going directly head-on with Zynga," Chesney explains. "Sports is the first vertical we're going after, and there'll be some announcements later this year about some of the other verticals we'll be focusing on."
While virtually every possible variant of the isometric strategy game and the hidden-object game is available to play for free, Hooplo is intent on developing perhaps the most curiously overlooked genre in the social space. In the console world, sports has produced some of the most evergreen brands in the history of the industry; products with a truly global reach, and with peerlessly loyal audiences who are more than happy to spend money on a regular basis.
That sports titles aren't already one of the pillars of social gaming is surprising. According to Chin, it's only now that the technology is able to offer the sort of experiences that sport fans demand. He offers the Hooplo published Howzat! Cricket as an example: it has PvP multiplayer in real-time, with visual presentation that, by Chin's estimation, falls somewhere between the PlayStation and PlayStation 2. It already has 220,000 DAUs, and that number is climbing.
"It was quite hard to do this in Flash a couple of years ago," Chin says. "The technology is at a point at which we're really able to develop and distribute sports games with very high-calibre graphics. It's what people expect to see. Some other genres aren't quite so intensive."
Importantly, Howzat! Cricket plays just as well to an Indian audience as it does to a British audience, and that isn't news to Hooplo. With social and mobile gaming booming in emerging markets in Asia and South America, the strong sporting sub-cultures in those countries offer a gilt-edged opportunity to capture market share before behemoths like Zynga arrive in full-force. Hooplo builds its games so they can be localised as quickly and efficiently as possible, and it asks the same of its third-party partners.
"We're in a good position to dominate. We can tap into Ronaldo's 42 million Facebook fans. Any other company thinking of launching a football game should bear that in mind"
"That's a big focus for us," Chesney admits. "In certain territories these sports are enormous, and football in particular, has such a global reach. One of the challenges of building a game for a global audience is that people react to things differently, but every country understands how to play football. It has a huge resonance across many different cultures."
More to the point, it has a huge resonance across Facebook, and Hooplo has managed to engineer a partnership with the sport's biggest star: Cristiano Ronaldo. With 43 million Facebook fans and 7 million Twitter followers, Ronaldo is the most popular sporting figure in social media by some distance, and Hooplo's new game, Ronaldo Footy, will be able to leverage that for its own ends. It has also struck a deal with the record-breaking athlete Usain Bolt, who has an admittedly smaller presence on Facebook, but it's still 6 million strong.
"Not many companies have really cracked social sports games," Chesney says, "so especially with the backing of these sports stars we're in a good position to, hopefully, dominate. We can tap into Ronaldo's 42 million Facebook fans, which is something that any other company thinking of launching a football game should bear in mind."
In prospect, at least, these partnerships offer a compelling answer to perhaps the most difficult question surrounding crowded platforms like Facebook and iOS: How will people discover your game? In a landscape replete with affordable alternatives, how do you stand out from the crowd?
Obviously, partnerships with the biggest names in sport won't be available to every company, but Hooplo has taken the first steps along what could be a highly lucrative path. If Ronaldo Footy and Usain Bolt Athletics are successful - and it would be a mistake to assume that games like CityVille have satiated every corner of the casual audience on Facebook - both Chin and Chesney expect similar deals to follow, leading to greater success, leading to still more deals. And as the company expands into other verticals, it will employ the same strategy.
"We measure a lot of success at the moment by DAUs, but that doesn't really tell you the whole story," Chin says. "There are developers out there with much lower DAUs but their ARPUs are significantly higher. With the mass casual market, there are a lot of players there now, but as we introduce new niches we'll get more traditional gaming audiences, who have been more willing to spend in the past. We'll start seeing games with much smaller audiences but a lot more spenders."