HoloLens dev kit ships March 30
Microsoft launching $3,000 Development Edition hardware with three games, including a new Conker title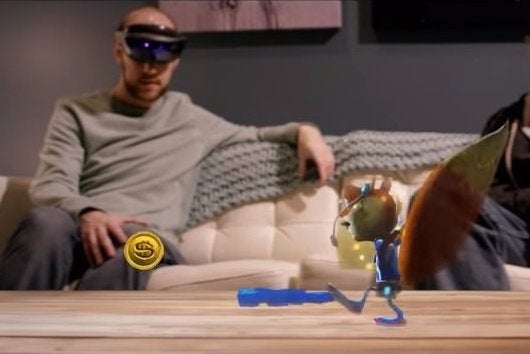 Developers will soon be able to get their hands on HoloLens, as Microsoft today announced that the Development Edition of the augmented reality headset will begin shipping on March 30.
However, HoloLens kits won't be available on a first come, first served basis. Instead, developers must apply to purchase the $3,000 hardware, with a limit of two units per application. At the moment, Microsoft is only accepting applications from Windows Insider program members in the US and Canada.
To assist developers in learning how best to use the new hardware, Microsoft is launching the dev kit alongside a handful of free HoloLens apps intended to show best practices and strategies for using the device. They range from productivity (Skype and 3D model creation tool HoloStudio) to entertainment (HoloTour, which lets users explore recreated 3D tourist destinations) to traditional gaming. The first HoloLens games include Young Conker--a platformer starring the (formerly?) foul-mouthed mascot that creates levels out of a user's immediate environment--the AR whodunit Fragments, and the first-person shooter RoboRaid. Young Conker and Fragments are being developed by Asobo Studio, while RoboRaid is being developed by a small internal Microsoft team.
HoloLens designer Alex Kipman has said Microsoft won't ship a consumer HoloLens until developers have created a range of quality software to not only sell plenty of units, but to justify their continued use. It's a lesson learned from Kipman's last big product, the Xbox Kinect.
"If a consumer bought [HoloLens] today, they would have 12 things to do with it," Kipman said earlier this month. "And they would say, 'Cool, I bought a $3,000 product that I can do 12 things with and now it is collecting dust.'"