HMV looks ahead to "strong" Q4 line-up
CEO Simon Fox hopeful of better results after a disappointing year so far
HMV Group CEO Simon Fox has told GamesIndustry.biz that he believes the release schedule for the rest of 2010 looks "strong" - and hopes that the retailer can benefit, following a disappointing year for the games business so far.
Speaking in a wide-ranging interview, the first part of which is published today, Fox admitted that despite the promise last year of more consistency outside of the pre-Christmas period, there hadn't actually been enough high points.
"I think it was disappointing - when we sat in Q4 last year it looked as if there would be a more even spread of hits throughout the year," he admitted. "Red Dead Redemption stood out as something very special - but it does look like, again, that all the hits are in Q4 this year.
"We are a highly seasonal retailer, and it's not just in games - we see the exact same thing in music and DVD, and a week in Christmas is equal to a month at any other time of the year. So Q4 - that is the time when customers are in our stores, and I do understand why publishers would want to make sure that's the time when they have their very best product available... you go fishing when the fish are in the sea, as it were.
"Over the last three years we've enjoyed two years of spectacular growth really, largely on the back of the Wii - not solely, but they've been two very strong years. That was followed by what's been a much tougher year in the last 12 months or so - the games market is cyclical and the last 12 months have been tough."
He added that he'd prefer to see "something every month, a reason to purchase, a reason to return, to keep playing games, keep them fresh and keep the interest high" - particularly as even though Modern Warfare 2 and Assassin's Creed II sold well, they hadn't been enough to generate strong results.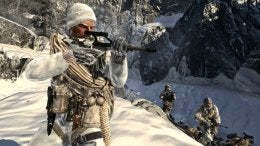 "Those were the stand-out releases, and they did fantastically well - but no, they weren't sufficient and our games, although we're been growing share, the Chart-Track stats showed games to be in decline last Christmas. So one or two stand-out titles aren't sufficient - you need people to be shopping across the range."
However, with motion control peripherals released as well as a range of top software, this year could prompt better results.
"Certainly there are new products coming out that give us cause for optimism - we're all very excited about the 3DS from Nintendo," he said. "Clearly we don't yet have visibility on a date for that, but the sooner the better. I think that's an unbelievably exciting device that will put product back in our hands, in our stores - we need product to sell, that's what brings people into our stores.
"And we need publishers bringing out big titles - the line-up looks pretty encouraging between now and Christmas. But that's what we rely on.
"With our mix of products we do think we've got everyone's Christmas gift covered - and books with Waterstone's, of course. Christmas is disproportionately important for us, and the success or failure of our year is governed to a huge extent by what happens over Christmas.
"As you'd expect it's something we plan day-by-day through those peak period very, very carefully. Last year we were hit by poor weather - snow - in those critical days up to Christmas, and we hope we're not going to get that again.
"This Christmas I do think, though, that the games line-up does look strong - with Kinect, Move and the big software titles, it feels like there will be some good product in people's stockings."
The full first part of the interview with Simon Fox, in which he also talks about the impact that free content is having on the packaged goods market, is available now.