Hitbox signs ESL, DreamHack deals
eSports streaming site lands rights to ESL-produced competitions, exclusive dibs on DreamHack's Russian, Portuguese content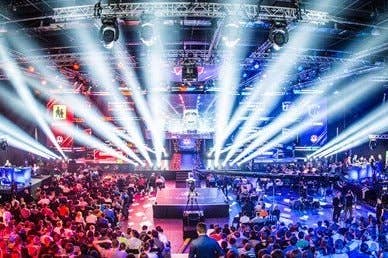 Not to be outdone by recent moves from rival streaming sites Twitch and Azubu, Hitbox today announced its own eSports partnerships.
First off, Hitbox announced a new two-year broadcasting deal that covers all ESL-produced eSports content. The two-year term mirrors the recent ESL deals announced by Twitchand Azubu. It's worth noting that of the three sites' deals, only Azubu's included exclusive content rights, although it hadn't said exactly what form that would take. The first ESL event to be covered under the deal will be this weekend's World of Tanks Grand Finals 2016.
Hitbox also announced a partnership with DreamHack that sees the eSports festival give the streaming site exclusive livestreaming rights to its Russian and Portuguese content. The site attributed the decision to pursue those rights specifically to its popularity in the Russian and Portuguese regions. Hitbox did not disclose the term of that exclusivity deal, and had not responded to a request for clarification as of this writing.
"We are very proud to partner with such high-profile eSports organizations who value and recognize the importance of our technology and dedicated community," Hitbox CEO and co-founder Martin Klimscha said. "eSports is a driving force for the industry, and Hitbox is on the cutting edge with much more to come."
[UPDATE]: Shortly after publication, a Hitbox representative confirmed that the DreamHack deal runs through this year only.